If you are reading these lines it is because you are looking for a rural house in Gran Canaria. Here we want to help you to find the best option. As you may know, our goal with localguidegrancanaria.com is for you to get to know the most authentic side of the island on your own. And, of course, rural houses are an excellent option of accommodation in Gran Canaria, since they allow you to discover special places. Likewise, if you are reading us from the island, you will know that it is the best way to disconnect from the routine and get closer to the rural environment. Below we share with you several rural houses in Gran Canaria so that you can choose the one you like the most.
Stay in a rural house in Gran Canaria
1. Rural house Los Cernícalos ravine, Valsequillo
This rural house is located a few steps from one of the most beautiful trails in Gran Canaria, the Barranco de Los Cernícalos ravine. The farm has three individual rural houses that can be rented separately and each one has its own privacy. The largest has capacity for up to 8 adults, private pool, billiards, ping pong table. Take a look at all the options below. Just 10 minutes by car you also have the beautiful town of Valsequillo.
2. Rural house La Asomadita, Agaete
This rural house is located in the Agaete Valley, a few steps from Puerto de Las Nieves. It is one of the essential places to see in Gran Canaria. Like the previous house, it has its own pool and, in addition, a pool table, fireplace and capacity for up to 10 adults (8 bedrooms). So that, we can say that is a rural house for groups. We are not going to give you more details, see for yourself in the following link.
3. Rural House Las Caldereras, Teror
Las Caldereras rural house does not have a private pool, but it is located in a unique setting surrounded by nature. The town of Teror is just 7 minutes away by car. Here you can also go hiking through Osorio and visit the farm. The house is quite spacious, although it only has capacity for 6 adults. It has a large solarium, terrace and barbecue. Check it out for yourself!
4. Rural House Villa Mica, San Mateo
It is a rural house with a private pool and capacity for up to six adults comfortably, but it can fit 8 people with the sofa beds. Therefore, it is an ideal rural house for groups. In addition, the house has four bathrooms, private parking, solarium and spectacular mountain views. It is located a few minutes by car from the town of San Mateo and in an ideal area for hiking in Gran Canaria.
5. Rural house El Rincón del Nublo, Tejeda
If you are looking for a rural house in Tejeda, this is probably one of the best. From the terrace they have spectacular views of Roque Bentayga and Roque Nublo. Therefore, from here you can comfortably visit Tejeda village, as well as go hiking through the Sacred Mountains of Gran Canaria. Two places you have to visit if you come to Gran Canaria. This accommodation can accommodate up to five adults and has a nice barbecue with a view. You can get more details below.
6. Rural house with private pool El Roble, Moya
This country house is located in Fontanales, a few steps from the town of Moya and Los Tilos, ideal for hiking lovers. It has a private pool, terrace, fireplace and capacity for 4 adults. You can see more details in the following link.
7. Rural House El Palmeral del Valle, Santa Lucía de Tirajana
This beautiful rural house is just a 10-minute walk from the town of Santa Lucía de Tirajana. From here you can also visit two spectacular sites in Gran Canaria: La Sorrueda dam and La Fortaleza de Ansite. It is a very authentic area of the island and little visited. The rural house has capacity for up to five adults and a shared pool, garden and barbecue. What we like the most is its patio.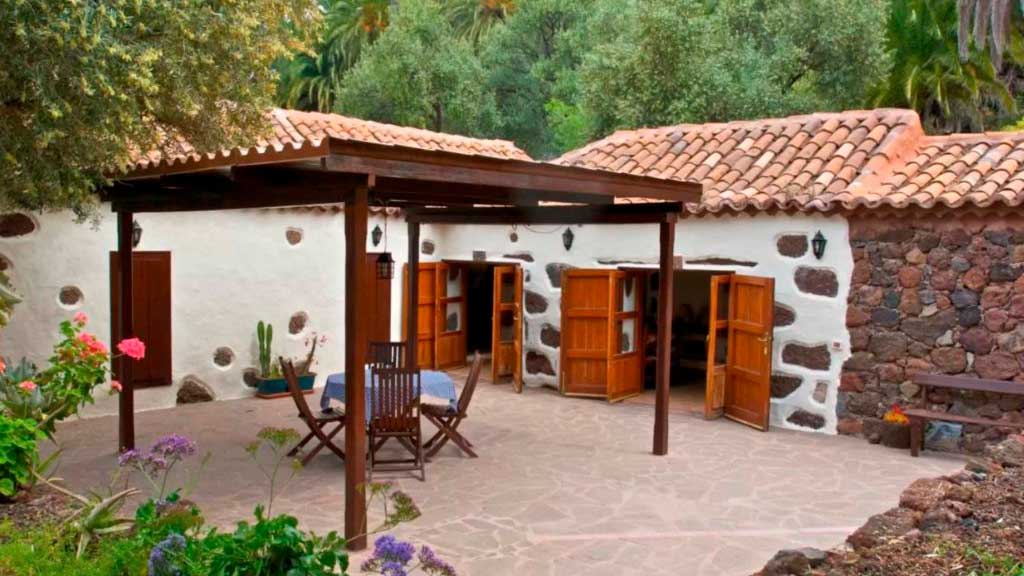 If you have come this far to find a rural house in Gran Canaria, you may also be interested in taking a look at our articles about cave houses in Gran Canaria and rural hotels in Gran Canaria. As you may have seen, the island is a paradise and rural tourism is an excellent option to enjoy Gran Canaria.
Gran Canaria travel guides
If this is the first time you are here, we would like to inform you that we have at your disposal different digital guides that will help you easily organize your next visit to Gran Canaria: a restaurant guide, a beach guide, a Complete guide with 35 plans to do and even guides for days with different itineraries to discover the island on your own. Do not miss it!
We are Ruth & Jorge, Gran Canarians with a travelling soul. Experts in tourism and digital marketing. We share the most authentic side of Gran Canaria (where we live) and… our adventures around the world!