Today we would like you to know the Recreational Area of La Laguna from Valleseco. A unique outdoor place in Gran Canaria island. It is located the middle of the nature, perfect to practice any sport or other activities. For example, it is also nice to meet friends and family to spend the day there because it has some picnic tables, barbacues and a playground for children.
Moreover, as its name says in Spanish, in the Area there is a lagoon (laguna) with different kind of birds and a simple of the Canary forest Laurisilva.
About the Recreational Area of La Laguna
The Recreational Area of La Laguna is located in the municipality of Valleseco, in the Rural Park Doramas. On this site have taken place boy scouts meetings, mountain bike competitions, the traditional apple fest from Valleseco and much more. Occasionally they celebrate horse races, in fact it used to be a racecourse and its trail is maintained.
In order that you can use the picnic area and the barbecues you have to pay a fee of 1,50€ per person and request before a permission to the town hall of Valleseco. You will have to call the +34 928 61 80 22 extension phone 102. If you are planing to have a walk or make some sport yo won't have to pay. Children under 6 neither. If the group is not that big, you can pay upon arrival to the guard. Otherwise, if it is a large group, you will have to make a wire transfer to the account ES88 2038 7216 10 6400000404. The receipt must be shown to the person who is controlling the space on the same day.
Services and information
-Public toilets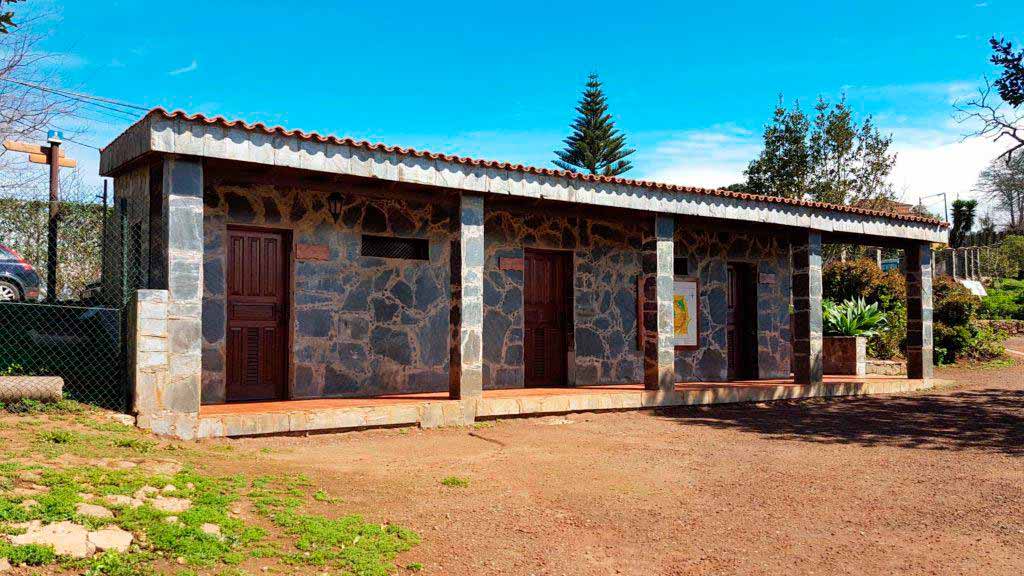 -Barbecue and picnic area. There is also a water tap close to the barbecue.
-Gym equipment for outdoor exercises
-Small children playground with with a padded area.
-Racecourse and trails. If you like to run, walk and ride mountain bike, you will love to know this place and go over the racecourse, so that over the trails which are next to the lagoon. The racecourse is circular and has almost 1km long. The trails could have about 500 meters long.
-Pets. It is allowed the entrance of tied dogs with muzzle. Although we have been there with our dogs without muzzle and there was any problem… Please remember to take with you some poop bags!!!
Finally, you should know that at the end of 2020 some conditioning works were carried out on the La Laguna racecourse. We show you how it has turned out below.
Opening hours La Laguna of Valleseco
The official opening hours are from 10:30 am to 6:30 pm. However, you can access before or later to have a walk or practice some sport, since normally it is open. If you arrive before or leave the facilities later, the toilets won't be open and probably there won't be surveillance. Moreover, there is no night lighting. Therefore, in winter from 6:30 there is no daylight and you won't see anything.
How to get to La Laguna of Valleseco
The Recreational Area of La Laguna from Valleseco is less than 3 kilometers from the town Valleseco. To get here you will have to look for Área Recreativa de La Laguna de Valleseco in your navigator and you will find it without any problem. It is aproximately 40 minutes away from Las Palmas de Gran Canaria and 1 hour and 10 minutes from the south.
Places to eat in Valleseco and Firgas
If you are not planing to make a picnic or barbecue you will have different options to eat around. We recommend you La Caldera restaurant with typical Canarian food, in Firgas municipality. Only 10 minutes drive.
Attractions of the area and weather
As we mentioned before, you have very close the town Valleseco and also plenty of trails. We recommend you to reach the top of Osorio peak and visit the Finca de Ossorio. Very near it is also Firgas village, nearby where we recommended you some places for lunch. It could be said that this area of Gran Canaria is one of the greenest from the island due to its weather. Therefore, you can enjoy a landscape that you won't imagine from Gran Canaria. Please take in mind that between November and May is cold and during the whole year you should take warm clothing, since it is a very wet area.
Video of La Laguna before and after
Below we show you a short video of the lagoon and the racecourse before and after. If you want to see more videos about Gran Canaria, you can subscribe to our YouTube channel here.
We hope that this information is useful for you and that you enjoy a wonderful family day or an amazing training day at the Recreational Area of La Laguna from Valleseco. We are sure that you want to discover more places like this in Gran Canaria. Have a look at our guides section and let us be your local guide of Gran Canaria!