Nativo Las Palmas is one of the most interesting and tasteful projects we have seen recently in Gran Canaria. It's a restaurant and bar with healthy cuisine, a lawn area for lounging and its own swimming pool. Best of all, it's not in the south – we'll tell you all about it below!
Nativo Las Palmas bar
Nativo Las Palmas is on the Moya road next to the north coast road of the island. In turn, it is located inside the Jacío House hostel. We love knowing that not all the tourism and attractions of the island are concentrated in the south. These two projects are a clear commitment to the authentic and the local. For giving more leisure options to the resident and our visitors.
Another thing we like about this place is that you can order their breakfast menu all day. They have delicious bowls, different options of toasts and even pancakes. At the same time, within these options they have lactose-free, vegan, vegetarian and gluten-free alternatives. We have only gone to breakfast at the moment, but we took a look at their menu. They have a good range of healthy cuisine for all tastes for the rest of the meals of the day. We tried the Avo Toast and the Iberian Toast + a natural fruit plate. All very tasty.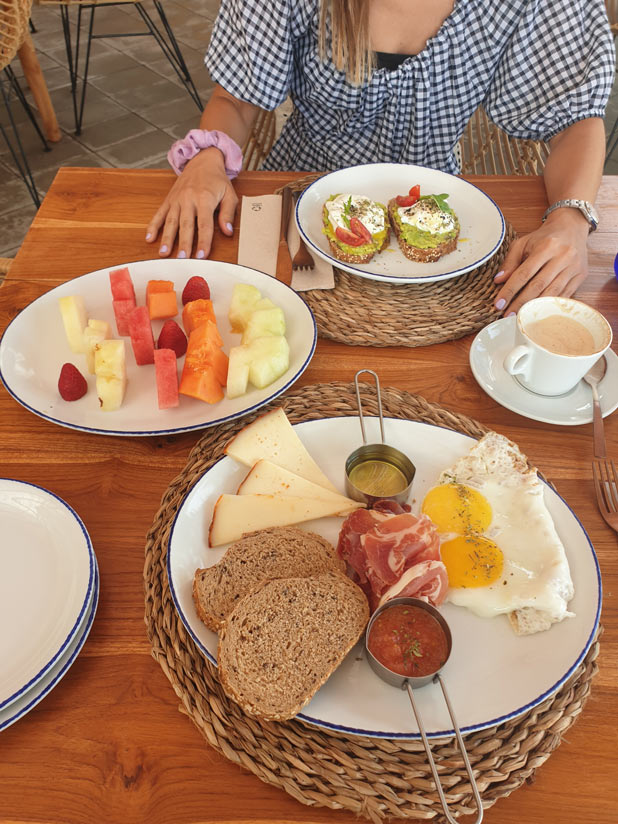 Finally, if you just want to go for a drink, they have both their own cocktail options, such as coffees, juices and even the famous Aperol Spritz aperitif. You can take these drinks both at the tables on your terrace, and on your loungers on the lawn.
As we told you at the beginning, the place is assembled with great taste, detail and care. It is noticeable both in the quality of the materials and in the work finishes. The site certainly invites you to spend the day there without looking at the clock.
And with a pool!
As we said at the beginning, inside this hostel and restaurant, guests will be able to enjoy this small pool. Super necessary for hot days or to lower the possible symptoms of one too many cocktails. In any case, there are many of the best natural pools in Gran Canaria nearby, such as the Charco de San Lorenzo.
Then we leave you with a short video of our visit to Nativo Las Palmas. You can subscribe to our YouTube channel so as not to miss more plans like this in Gran Canaria. What do you think about it? Have you ever been here? Tell us!
Guides to Gran Canaria
Finally, we hope this content has been of value to you. Remember that you can discover more places to see in Gran Canaria by browsing our blog. And, in case you don't want to waste your valuable time organising your routes, we invite you to take a look at all our guides to the island with the travel itineraries we would recommend to our friends or family coming to the island for the first time. Can we help you and you help us to keep this project going?
We are Ruth & Jorge, Gran Canarians with a travelling soul. Experts in tourism and digital marketing. We share the most authentic side of Gran Canaria (where we live) and… our adventures around the world!