In this post we are going to talk about an awesome plan: hiking in Los Azulejos and Inagua. On the road which links Puerto de Mogán with La Aldea de San Nicolás, we will find the natural and touristic resource Fuente de Los Azulejos. It is a set of mountains where we can appreciate some colored stripes created in a natural way. This is thanks to the mix of different type of rocks where it predominates the green clay.
As you may already know, the Canary Islands are of volcanic origin. Therefore it won't be strange that you will find some samples like this. However, in this part from the islands is where we can see it better, so that where we can find the biggest sample of colors. Though it is not very common, when it rains in this part of the island there are some cascades falling from the mountains and they are visible from the road. So that the landscape gets better. We show you below some marks of a waterfall after the rain.
Hiking in Los Azulejos & Inagua
If you like hiking, there is a circular route of about 16 kilometers with spectacular landscapes of Gran Canaria. The views of Los Azulejos, the nature of the route, the water and the absence of people make this walk one of the most beautiful in Gran Canaria. We leave you with some pictures of the route we made with our dogs.
In the route that we propose, you will pass through the Integral Nature Reserve of Inagua. Its Canarian pine forest is gorgeous as you can see.
Depending on the season of the year you visit this area, you will find more or less water puddles like the ones we show you.
We started the route around 9 in the morning to finish at lunch time and that's how it was. So that, we left home very early. As you can see below, to complete the 16 kilometers it took almost 6 hours with some pauses. You can also do it as a day plan and finish it in 8 hours. Anyway, please carry enough water and food, there is nothing to buy on the trail. Likewise, if you like to run, it is a fairly flat road except the first hour of the climb and the last hour of descent.
How to get to Fuente de Los Azulejos?
Finding Los Azulejos has no loss, as it is perfectly visible from the road that connects Puerto de Mogán with Agaete. By car it takes almost 1 hour and a half from Las Palmas de Gran Canaria and about 45 minutes from Maspalomas. If you do not plan to do any trekking in the area, the ideal is to visit the Fuente de los Azulejos as a stop on the route you take to the west of Gran Canaria.
Hiking track Los Azulejos & Inagua
If you are going to do the walk, you must park past the juice stand we mention below in the direction of Agaete. There is a wooden sign that marks the beginning of the trail up the mountain. In any case, if you want to do the same track of the circular route that we did, we give you all the details below.
| | |
| --- | --- |
| Distance | 16,5 Km |
| Estimated duration | 6 h |
| Circular | Yes |
| Picnic area | No |
This hiking route passes through Los Azulejos and Inagua and is of an advanced level, since it is more than 16 km. If you want to know how to download the track and follow it from your GPS or smartphone, we will explain it to you here. If you want to support us so that we continue to create content for you about Gran Canaria, we will appreciate if you purchase one of our tracks, either to enjoy incredible routes or as a donation. Oh, and don't miss the video we have prepared for you below!
If you only want to see the views and the possible water, with going up and down the same way you will have enough, it takes about 40 minutes to go up. Please consider that you must be equipped with shoes and clothing, since the climb is not easy. We invite you to take a look at our post on the basic hiking kit, you can use some tips if you are starting to hike.
A natural juice, the best recovery
Just in front of the colorful mountains you will find a nice fruit and local products stall. Here you can order one à la carte juice and buy other delicacies as pastries.
We recommend you the papaya, orange and prickly pear juice. Behind the stall there are also some seats where you can enjoy it with mountain view. Gorgeous.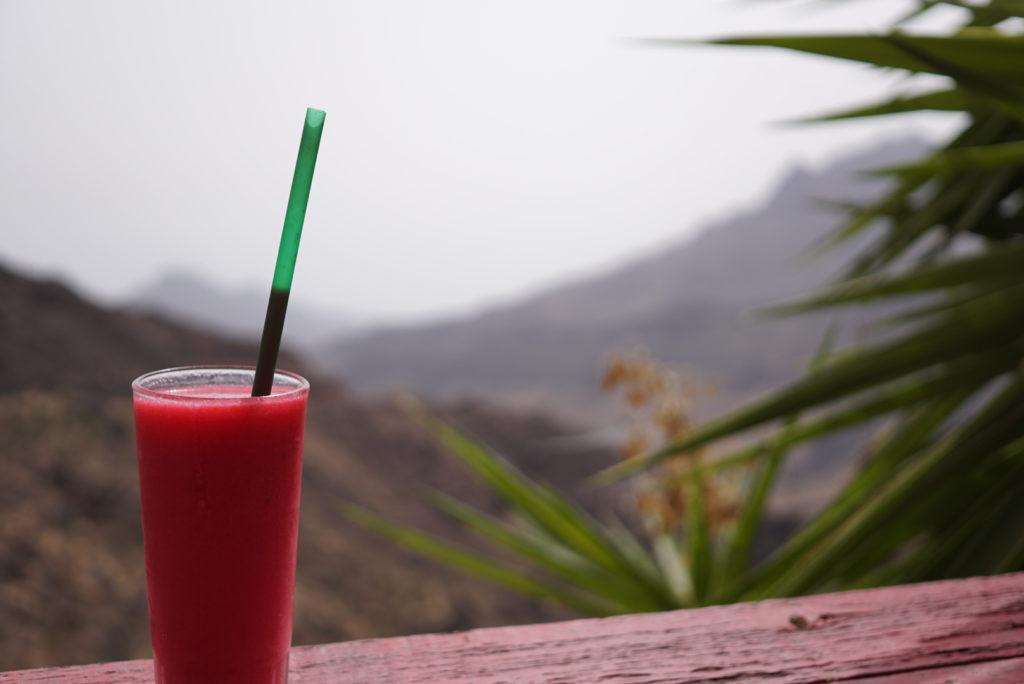 Video: Hiking in Los Azulejos & Inagua
Do not miss the video about hiking in Los Azulejos and Inagua! You can activate the English subtitles and subscribe to our YouTube channel to enjoy more videos of Gran Canaria 🙂
Do you want to discover more sites like this on the island? And places to eat? Have a look at our guides section and let us be your local guide of Gran Canaria!