Finding a place to have a yummy breakfast in Las Palmas de Gran Canaria and on the island in general is complicated. That's why this post is going to interest you. It is true that there are thousands of coffee shops, cafeterias and bars everywhere. In these cafeterias you can ask for orange juice, a sandwich and try the famous coffee leche y leche (coffee with milk and condensed milk). However, this post is dedicated to special places for breakfast healthy and unhurried, away from the traditional cafes of Gran Canaria.
The best b
reakfast in Las Palmas de Gran Canaria
We imagine that you are reading this article because you are looking for a nice place to go for breakfast in Las Palmas de Gran Canaria. Or maybe you want to celebrate a birthday, meeting friends or whatever. Below we give you the ones that are the best options for us so that you can choose the one that best suits you. Here we go!
1.

Fresquito Las Palmas, the best pancakes in Las Palmas de Gran Canaria

Fresquito Las Palmas has been one of the great discoveries for breakfast or brunch in Las Palmas de Gran Canaria. We love their juices, toasts, eggs and sandwiches, but we still have a lot more to try. We recommend the eggs florentine with creamy spinach and poached egg and the Gran Bikini sandwich with mozzarella, mushrooms, Serrano ham and truffle. If you're more of a sweet tooth, don't worry because they have pancakes and desserts for a happy ending or a more sweet-toothed breakfast.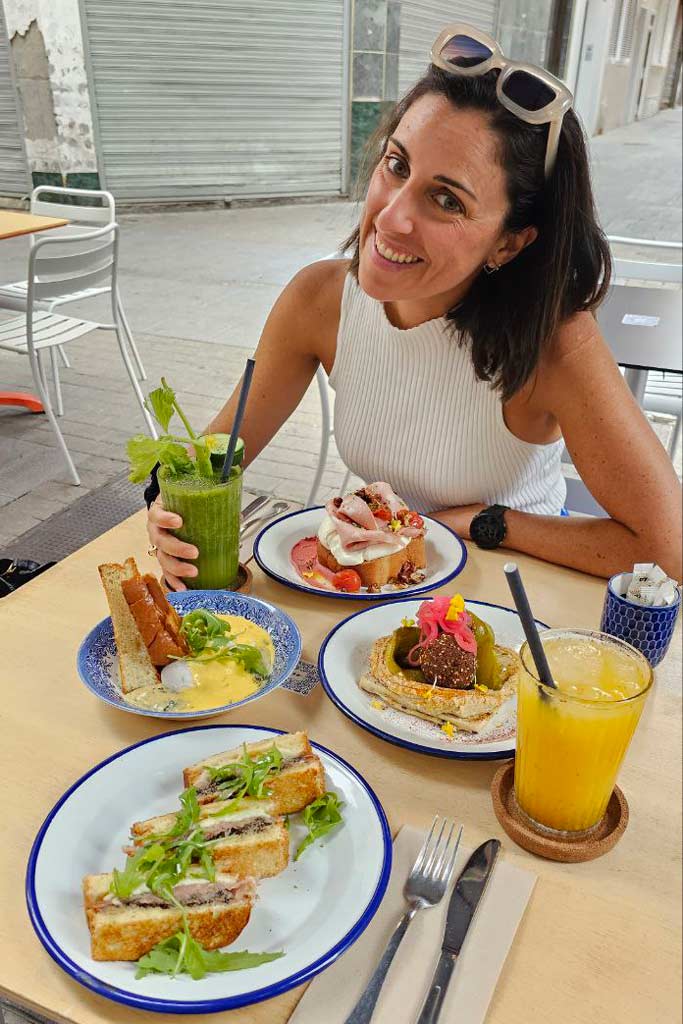 2. Suites 1478 hotel, buffet breakfast in Las Palmas
If you would like to enjoy a buffet-style breakfast, undoubtedly one of the best options is at one of the best boutique hotels in Gran Canaria: Suites 1478. Breakfast is served in the courtyard of this renovated Canarian house, surrounded by works of art with excellent music. The buffet breakfast can be enjoyed even if you're not staying here. It has fresh fruit, avocado, smoked salmon, tumaca, assorted breads, Serrano ham, Canarian cheeses, muesli, homemade sweets and pastries, fresh orange juice and very good coffee. It also includes hot options such as potato omelette, bacon, eggs, sausages, etc. In addition, for booking on our website you will be invited to a mimosa per person.
If you purchase your breakfast voucher here you will be invited to a mimosa per person. Keep in mind that you must book a table before showing up at the hotel by contacting them on the phone +34 928 847 772 or email direccion@suites1478.com. The buffet is open from 8:00 to 11:00 on weekdays and on weekends until 12:00. On weekends in December 2023, the buffet is open until 14:00.
3. Café Luwak, best vegan and vegetarian breakfast
If you are looking for a place for both breakfast and brunch in Las Palmas, you definitely have to consider Café Luwak. Here you will find healthy and flexitarian proposals, it is also a vegan-friendly place. On the other hand, if you are a coffee lover, you have to try their yummy specialty coffee. Café Luwak is open daily from Tuesday to Sunday for breakfast and lunch. On weekends they have their famous brunch until 4:00 p.m.
4. Bachaco, breakfast in Las Palmas de Gran Canaria, Triana area
Bachaco is another health food restaurant in Gran Canaria specialising in pokés, but their breakfasts won't leave you indifferent. We recommend the eggs benedict with brioche bread, the spinach pancakes with fried egg and cheese and the super pancake with fruit and mascarpone cream, although everything is delicious. They also have natural fruit juices and smoothies. The breakfast and brunch menu is only available from 9:30 am to 12:30 pm.
5.
Mr. Kale

, wide offer of breakfast and brunch in Las Palmas

It stands out for its offer of natural juices of different flavors mixing fruits and vegetables. In the same way, you can add the juices one or several super foods such as acai, chia seeds, oatmeal, gofio, matcha tea, spirulina, etc. You also have the option to try the trendy acai bowls and different types of toasts, eggs, etc. También tienes la opción de probar los bowls de acai que tanto están de moda y diferentes tipos de tostas, huevos, etc. You also have the option of trying the acai bowls that are so fashionable and different types of toast, eggs, etc.
Mr Kale has several locations, one in the Triana neighbourhood and another in the Mesa y López neighbourhood. You can also come here for lunch, it is one of our favourite places to eat in Las Palmas de Gran Canaria.
6. Organic Jungle, breakfast in Las Palmas (near Las Canteras)
Organic jungle is also a nice option for breakfast and brunch in Las Palmas de Gran Canaria. In their menu they bring original proposals such as eggs benedict with a waffle base instead of bread, bagels, American pancakes, etc. Likewise, they have smoothies, bowls and chia pudding, something difficult to eat anywhere. They also offer lunches, snacks and dinners. This place is located in the busy Plaza de Farray in the neighborhood of Guanarteme. Sometimes on Sundays they do special brunch menus.
7. Amélie Green, Las Canteras
This is a place with the concept of healthy real food. Finally, a tasty café for breakfast in Las Canteras beach. It is located just a few steps from La Cicer and we recommend you to make a reservation.
More breakfast places have also opened in Las Palmas de Gran Canaria, such as Maripili and La Picnictería, but we haven't been for breakfast yet. If it's your first time on the island and you're planning to visit the capital, we recommend our article with all the best things to do in Las Palmas de Gran Canaria.
✔ Video: places to have breakfast in Las Palmas de Gran Canaria
Below we leave you with a video from our YouTube channel about three of the sites that we mentioned above. Which one do you prefer? We take this opportunity to invite you to subscribe to our channel here.
Guide to restaurants in Gran Canaria
Finally, if you want to find out more places to eat and things to do in Gran Canaria, you can continue browsing our website for free. However, if you want to save time and support us, we recommend that you take a look at the guides and itineraries that we have already organised so that you can discover the most authentic side of the island on your own.
We are Ruth & Jorge, Gran Canarians with a travelling soul. Experts in tourism and digital marketing. We share the most authentic side of Gran Canaria (where we live) and… our adventures around the world!