One of the things you can do in Las Palmas de Gran Canaria is to visit the traditional Vegueta market. It is a local food and product market. It is not a market as such where you can usually buy other things such as clothes, local crafts, etc. However, here you can see the fruits, vegetables, spices, herbs, cheeses, eggs, meat and fish of Gran Canaria. In addition, there are also products from other Canary Islands and parts of Spain. Here we show you some of their stalls.
Get to know Vegueta market
✔ Fruit and vegetables stall
As you can see, there is a lot of fruit and vegetables variety. If you want to eat something healthy during your visit to Las Palmas de Gran Canaria, they also sell cut fruit and natural juices. Or you could also try the Canarian bananas. They are so tasty!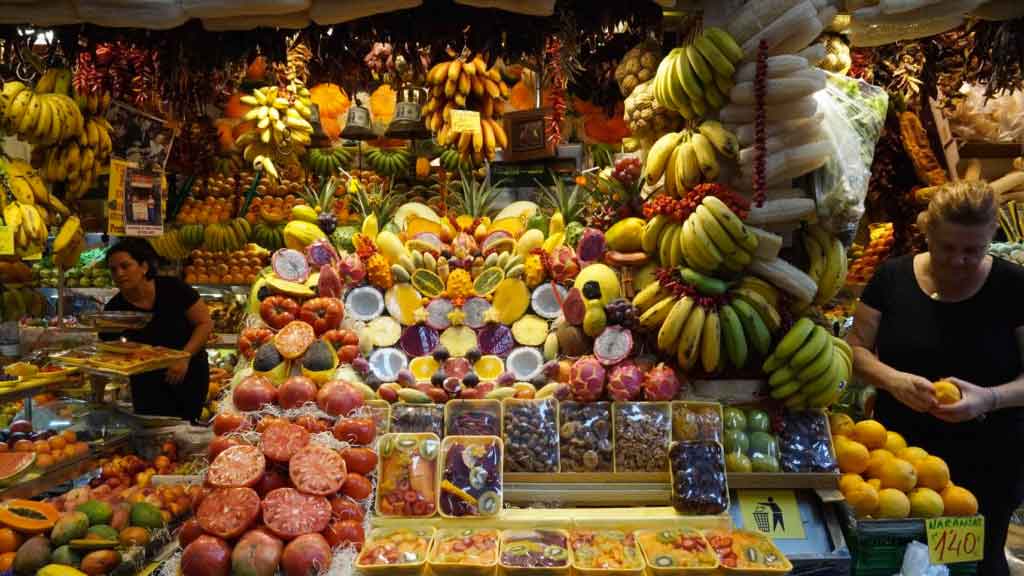 ✔ Cheese and eggs stall
In the next photo we see another market stall. It is one in which they exclusively sell eggs from happy hens and local cheeses.
✔ Spices and grain stall
At this stall spices, grain, flours and pasta in bulk are sold. Say no to plastic!
✔ Herbs stall
This stall is very well known in the market, since it is the only one where you will find all the herbs you are looking for. Basil, rosemary, laurel, oregano, mint…
✔ Meat stall
In the following image we have the sweet typical morcilla (blood sausage) of the Canary Islands. Unlike in the Peninsula, in the Canary Islands it is sweet and they usually put whole almonds inside it. You can not stop trying it on the grill at any local food restaurant.
✔ Fish stall
You can not miss the sale of fresh fish in the Vegueta Market. There are different places where you can see the seafood of the Canary Islands and the near coasts of West Africa.
✔ Iberian ham stall
In the Vegueta Market you can also have an aperitif. There is a stand selling freshly cut Iberian ham. If you have not tried this Spanish delicacy yet, the best is the one of "bellota" (acorn). This means that the Iberian pig is fed with this fruit.
Opening hours Vegueta market
The Vegueta Market is open every day except Sundays and bank holidays. From Monday to Thursday from 06:30 a.m. to 2:00 p.m. Fridays and Saturdays it is also open from 06:30 a.m. to 3:00 p.m.
Where is the Vegueta market?
Finally, if you are walking through the old town of Las Palmas de Gran Canaria finding the market has no loss. It is a quite large orange building in Mendizábal Street, 1. We leave you the telephone in case you would like to contact them for any question: +34928334129.
Is this the first time you read us? Did you know that we have prepared some Local Guides of Gran Canaria for you? You can see them by clicking on the following image.