If you want to know the things to do in Gran Canaria, you are in the right place. In this post we will share with you 20 things to see and do in Gran Canaria on your own. The island is not that big, but it offers endless places to visit. From its capital, to its beaches and coast, its interior with landscapes full of contrasts, its towns, its markets, etc. And we cannot fail to mention its typical gastronomy and its people, one of the main reasons for a destination to be memorable. Likewise, on the island you can do practically all kinds of activities, except skiing thanks to the good weather we have all year round. Here we go!
20 things to see and do in Gran Canaria
Next we will review the 20 essential things to do in Gran Canaria, passing through Las Palmas city, then through its beaches, followed by its towns, monuments and natural spaces and, finally, its gastronomy and the most important festivals. Don't miss our tips at the end!
✔ Visit Las Palmas de Gran Canaria
1. A walk through the neighborhoods of Vegueta & Triana
One of the essential things to do in Gran Canaria is undoubtedly to visit its capital: Las Palmas de Gran Canaria. Here, take a walk through Vegueta, the historic center and, stop by the Colón House-Museum, the Canary Islands Cathedral, the Santa Ana square, the hermitage of San Antonio Abad, the Canarian Museum, the CAAM museum, the Espíritu Santo square, etc. All the streets are pedestrianized, so great!
Then take a jump to the Triana neighborhood, one of the most beautiful and oldest in the city. Here you can take a walk through the street Mayor de Triana, go to the Literary Cabinet, visit the San Telmo park, the Benito Pérez Galdós museum and walk through its most beautiful pedestrian streets: Pérez Galdós, Perojo and Cano.
2. Las Canteras beach
One of the things to do in Gran Canaria is to swim in Las Canteras beach, one of the best urban beaches in Spain. If the weather is not so good, you can simply walk along its promenade from the Alfredo Kraus Auditorium to El Confital beach.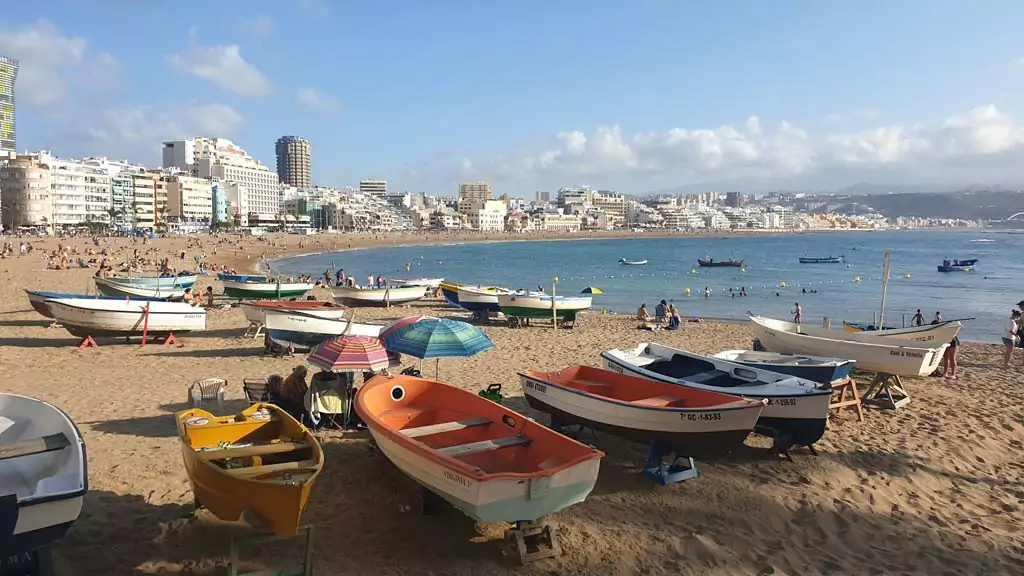 ✔ Beaches and natural pools. Things to do in Gran Canaria
One of the best plans you can do in Gran Canaria is undoubtedly discovering its coastline and enjoying its long beaches, as well as getting to know its characteristic natural pools. Below we will mention the most special and unique ones.
3. Maspalomas beach, San Bartolomé de Tirajana
Coming to the island and not visiting the Dunes, the Lighthouse, the Pool and the Maspalomas beach, is a crime. You already know, take note of these four places to see in the area. We recommend that you take a look at our detailed post about this beach with more tips, the best places to have a panoramic view of the Maspalomas Dunes, places to eat in the south that are not for tourists, etc.
4. Güigüi beach, La Aldea de San Nicolás
Güigüi or Guguy is located in the nucleus of the UNESCO Gran Canaria Biosphere Reserve, so you can imagine how virgin and paradisiacal these beaches are. It is an essential site to visit in Gran Canaria for the more adventurous, since to get here you must pass the test of walking a hard trail. One option for those who cannot go on foot is to book a boat excursion.
5. Sardina del Norte beach, Gáldar
The Sardina del Norte beach is one of the great unknown and, without a doubt, for us it is one of the places to see in Gran Canaria. The beach has the European Blue Flag and is located in a 100% local environment. Ideal for diving and eating good fresh fish. From here you can also see a beautiful sunset with views of Tenerife due to its orientation towards the west.
6. Tufia beach, Telde
In the coast of Telde is hidden this small cove of dark sand ideal for diving. The beauty of this beach is the town with marine details that surrounds it. In addition, thanks to the Tufia hill, it is not usually windy. However, the planes arriving or leaving the island pass through here. Keep in mind that there are no bars or toilets on Tufia beach.
7. Natural pool El Agujero, Gáldar
The north of Gran Canaria has a more volcanic coastline and, therefore, special and different. Thus, we invite you to discover one of the best natural pools in Gran Canaria, it is El Agujero, on the coast of Gáldar.
✔ Villages of Gran Canaria
As we said at the beginning, the towns and their people are one of the elements that make the difference in each destination. We are sure that the locals will make you fall in love and, therefore, the towns too.
8. Agaete & Puerto de Las Nieves
We can affirm that Agaete and its Puerto de Las Nieves is the most beautiful fishing village on the island. It is surrounded by cliffs, its houses are white with marine touches, its friendly people and, in addition, you can eat yummy!
9. Gáldar
Did you know that Gáldar was the first capital of the island of Gran Canaria? In its historic center you can still see its old theater, casino, market, church, pedestrian streets and, of course, the famous archeological museum of the Cueva Pintada. You can even try the challenge of doing the Way of St. James of Gran Canaria!
10. Tejeda
Tejeda is of mountains and valleys, one of the most beautiful towns in Spain. It is famous for its delicious almonds, Almond Blossom Festival and incredible views of Roque Bentayga. The houses in Tejeda are all white like the ones we show you in the next photo. Don't forget your coat in the months of October to June!
11. Teror, one of the best things to do in Gran Canaria
This is where the Virgen del Pino, patron saint of Gran Canaria, rests. A town that stands out for the Basilica of Teror, its Canarian balconies and pedestrian streets. We recommend visiting it on a Sunday, since it coincides with the local market. TIP: go early because many locals visit this village on Sundays.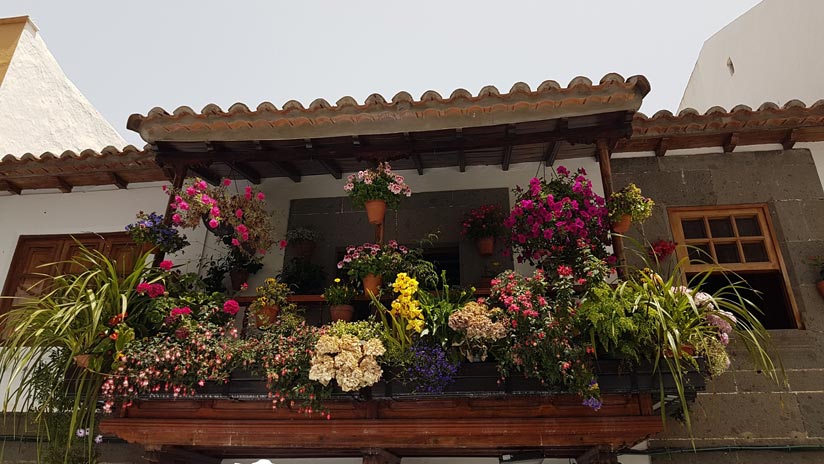 12. Puerto de Mogán, Mogán
It is one of the most visited towns in Gran Canaria given its proximity to the tourist areas. Puerto de Mogán is a claim for its white houses with colorful touches, its bougainvilleas and marina. In addition, it has a beach, Mogan beach, with calm waters highly recommended for families. From here you can see one of the best sunsets in Gran Canaria.
13. Agüimes
In the eastern part of the island, a little inland, we find the town of Agüimes. Its old town or historic center is full of metal sculptures such as the camel that we show you in the next photo. At the same time, its colorful Canarian houses make it one of the essential places to see in Gran Canaria.
Just a few minutes by car from Agüimes we have the Las Vacas ravine and its Tobas de Colores. If you are going to come to this area of the island and you have plenty of time, you can come, but we do not recommend that you come just to visit this place that has become so crowded. Please take a look at the link above with our tips to keep in mind if you decide to visit Barranco de Las Vacas. We show you a photo below. It's just that, there's no more.
14. Fataga, San Bartolomé de Tirajana
Fataga is another beautiful corner to visit in Gran Canaria. Also, to get here you will really enjoy the road. You cannot miss a stop at the Viewpoint Degollada de Las Yeguas.
✔ Natural monuments and sites
The sacred mountains of Gran Canaria and their entire surface offer endless trails. We highly recommend that you take a look at our section hiking in Gran Canaria. You can't imagine what the island hides! Meanwhile, we will tell you about the natural environments that we believe you cannot miss.
15. Roque Nublo, one of the best things to do in Gran Canaria
This monument is a symbol and icon of the island, which is without a doubt one of the essential things to do in Gran Canaria. If you like hiking, there is a trail to get on foot to Roque Nublo Natural Monument. It won't take you long and you can even go with children. The views from here are spectacular, one of the best places to appreciate the contrasts of the island's landscapes.
16. Guayadeque ravine, Agüimes / Ingenio
The Guayadeque ravine is one of the places that we love to go as a resident to get in touch with nature and enjoy good Canarian food inside traditional caves. An experience that you cannot miss in Gran Canaria.
17. Pico de Las Nieves Viewpoint & Nublo window, Tejeda
We recommend that you take a car ride to the Viewpoint Pozo del Pico de Las Nieves, since from here you can appreciate the highest mountains in Gran Canaria: Pico de Las Nieves, Morro de La Agujereada and Roque Nublo. In addition, from this point you can walk to the Nublo Window or Window Gañifa, a claim for the most adventurous and photography lovers.
18. Caldera de Bandama, Santa Brígida
Until now we have not recommended you to go through the municipality of Santa Brígida. Here is one of our most beautiful natural resources: the Caldera de Bandama. It is located next to the Bandama peak, where there is a viewpoint to appreciate the spectacular views. If you dare to go hiking, there is a circular route along the edge of the caldera suitable for children. Then you cannot miss on your visit to Gran Canaria the tasting of the wine from this area, grown on volcanic gravel.
✔ Local gastronomy. Things to do in Gran Canaria
19. Canarian food
A visit to Gran Canaria without being interested in the typical gastronomy of the Canary Islands is also a crime. The main ingredient could be categorically affirmed that it is cheese, especially flower cheese (vegetable rennet). Nor can you miss the Chorizo de Teror sandwich and the pork leg sandwich. On our blog, we recommend local food places, take a look.
On the other hand, we take the opportunity to inform you that in our Gran Canaria Travel Guides section we have an ebook with more than 80 restaurants to eat in Gran Canaria. It includes all the places we residents go. Also, here we mention sites that are not even on TripAdvisor 🙂
Keep in mind that if you buy other of our Travel Guides, we will give you a discount on the restaurants one, so we recommend you take a look at all the options below.
✔ Carnivals. Things to do in Gran Canaria
20. Carnival of Las Palmas de GC & International Carnival of Maspalomas
Both the carnivals of Las Palmas de Gran Canaria, as those of Maspalomas, are a tourist attraction to have a good time on your vacation. They normally take place in the months of February and March, it always depends on when Easter is. First, those of Las Palmas take place with key days such as: the Parade, the Drag Gala, Los Indianos and the Vegueta Day Carnival. On the other hand, once the capital's Carnival is over, the southern Carnivals begin, in Maspalomas. Here the biggest party is the day of the parade. A carnival in the street at more than 20 degrees in the middle of winter. How nice!
Well, these has been our list of the 20 things to see and do in Gran Canaria. It is normal that you do not have time to do them all if you come a few days, so you can always return. As we see it, it is a shame that those who visit Gran Canaria are left with the image of Amadores beach or Anfi beach. Two super tourist beaches with artificial sand, well, real sand but brought from the Caribbean. Does Gran Canaria have something to envy the Caribbean? Each destination must promote its local side, its most authentic side.
At the same time, we see a clear example of the destruction that has been allowed to be done in Puerto Rico, a beautiful beach, buuuuuut surrounded by cement from the coast to the mountains with restaurants that promote junk food and Irish pubs. Where was the love for ours? A shame. Luckily, we have a GREAT island.
✔ Hotels in Gran Canaria
We do not want to stop recommending that you browse a bit through our articles on the best places to stay in Gran Canaria. We talk about rural hotels, 5-star hotels, family hotels, private villas with pools, cave houses, etc.
✔ Rent a car in Gran Canaria
Finally, to be able to visit and tour all the sites that we suggest, the best option to get around the island is by car. We recommend a search engine such as Rentalcars.com in which you will see the price comparison of all the rent a car on the island, including Canary Island companies such as Cicar, Top Car and Auto Reisen.
Find more things to do in Gran Canaria in our travel guides
We hope that our blog will guide yourself and help you to discover everything you can see and do in Gran Canaria on your own. Anyway, if you don't have time to browse and read all our articles, we recommend our digital travel guides for Gran Canaria, something that will save you time when organizing your trip. In addition, our recommendations always flee from the touristy and bring you closer to the more local side of the island. We include tips, places to eat and the best itineraries so you don't miss a minute of your vacation.
By clicking on the above image you will be able to see them all and forget about wasting your time organizing things to do each day. Leave it in our hands and discover the most authentic places to visit on the island!
Finally, if you still do not have your travel insurance to Gran Canaria or to any other part of the world, benefit from a 5% discount for being our reader by booking through the following image.