One of the 4 urban beaches to visit in Las Palmas de Gran Canaria is Las Alcaravaneras beach. It stands out for its blond sand and small boats on the sand. It is not usually a crowded beach, since residents and tourists tend to prefer Las Canteras beach. Anyway, it is a very beautiful beach with its own charms.
Alcaravaneras beach
If we had to say something negative about this beach, it is not located in an open bay, such as other beaches of the island. That is, it has the Port of Las Palmas right next to it, so its waters are not 100% clean.
The residents usually practice here some sports such as canoeing, beach volleyball, football, swimming in the open sea… Therefore, every day here young and old gather to enjoy their hobbies. Las Alcaravaneras offers its visitors the following services:
Free showers and toilets. Opening hours from 10:30 a.m. to 6:15 p.m.
Surveillance and lifeguard. All Saturdays, Sundays and holidays from July to September from 11:00 a.m. to 6:00 p.m.
Sand playground for kids
Area for playing beach volley and football
Small kiosk to buy snacks or drinks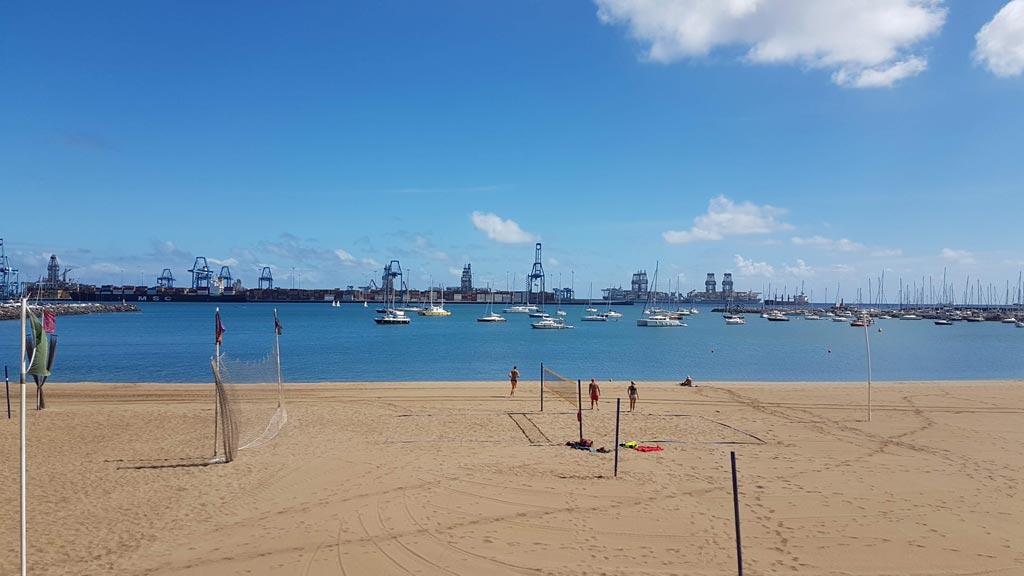 On the beach of Las Alcaravaneras there is no sun bed and umbrella service. There is also not a varied offer of places to eat in this area of Las Palmas. There are only some kiosks for snacks and ice cream. In any case, two steps away is the Muelle Deportivo (marina) and Ruiz de Alda street with a wide gastronomic offer. We recommend you Mr. Kale restaurant.
Gran Canaria guides
Finally, you should know that we have prepared for you a Guide with all the beaches and natural pools of Gran Canaria with more than 80 places to enjoy the coast and avoid the most tourist sites. We also have at your disposal the Restaurants Guide, itineraries per day, etc. You can see them all by clicking in the following image.