Holiday World Maspalomas center is an amusement and leisure park located in the south of Gran Canaria where both children and adults will be able to enjoy. Within the Holiday World you will find the mythical adrenaline-releasing attractions (for practically all ages). You can also have a good time with your loved ones in its bowling alley, escape rooms, karaoke and children's area with space reserved for birthdays. Lastly, we recommend eating or having a drink at its Nomad Gastro Market. A gastronomic space with more than 15 different proposals to eat delicious while having a good time. We will tell you how our visit was below. Let's go!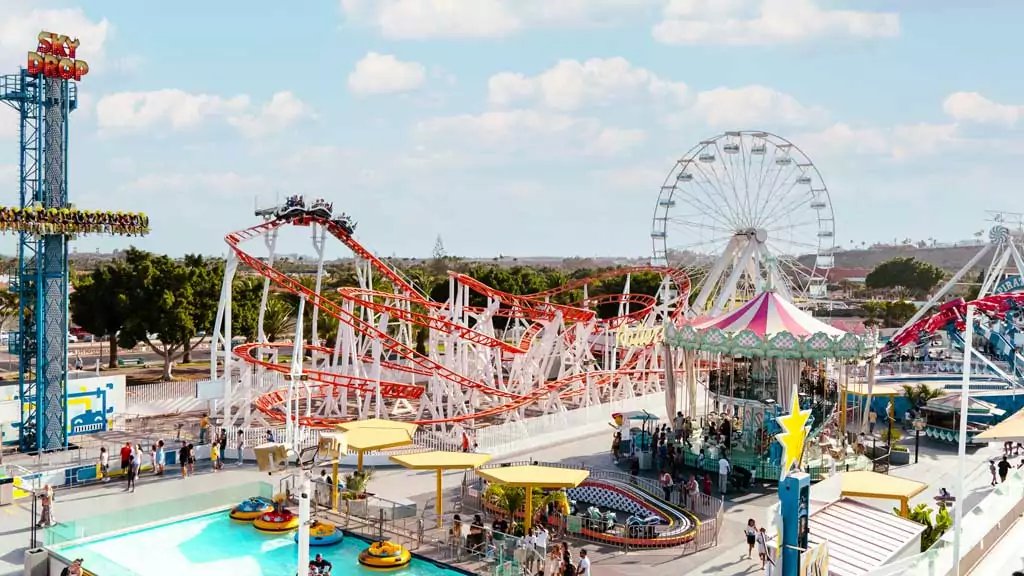 Holiday World Maspalomas Center, Gran Canaria
This Gran Canaria amusement park is just a few minutes' drive from the tourist areas of Playa del Inglés and Maspalomas. As we see it, it is a mandatory stop if you are looking for plans to do with children on the island, although let us tell you that the entertainment offer for adults is unique in the Canary Islands and highly recommended. We had a great time and we will tell you about it below in a video in our YouTube channel. The park is divided into several entertainment spaces. We will explain them one by one in the next lines. Join us!
Wooland Fun Park, amusement park in Gran Canaria
One of the fundamental pieces of Holiday World Maspalomas is its amusement park Wooland Fun Park. Here they have a roller coaster that goes over 60km/h, we let out a few screams hehe. They also have a ferris wheel with panoramic views of the south of Gran Canaria. On the other hand, we loved reliving the experience of the mechanical bull and the pirate ship. Likewise, for the most daring, they also have the mythical free fall or sky drop (adult and children's version), the loop turn, carousel, among others.
Finally, for the little ones they also have options that will make your child spend one of the best days of his life. For example, bumper cars, a jungle carousel, flying chairs, inflatable boats and quads, among many more.
✔ Holiday World Maspalomas center. Price Wooland Fun Park
Admission to Wooland Fun Park allows you to use all the attractions and for the whole day. That is, you can enter and leave the park as many times as you want. Prices are as follows:
–Special prices for residents:
Child € 10.90
Adult € 6.90
Senior € 2.90
–General prices:
Child € 14.90
Adult € 10.90
Senior € 5.90
Swing Bowling
The Swing bowling alley is another big attraction at Holiday World Maspalomas. It has 16 slopes and is the largest in Gran Canaria. Next to the bowling alley is the Mr. Kale restaurant with healthy cuisine. Here you can order whatever you want to eat while playing a game of bowling. The price per court and for 50 minutes is € 30 and this includes a maximum of 5 players. The opening hours are from 10:00 am to 12.00 pm and you can make your reservation here.
Karaoke Bamm. 4 super cool theme rooms
In the Holiday World Karaoke you will be able to pretend to be a star and sing your favorite songs. You can choose from more than 30,000 options and in different languages. Likewise, they give you the option to choose between four themed rooms: the tropical room, the 80's room, the factory room (industrial type) and the pool room with a ball pool to add more fun to the experience.
The price of Karaoke is 65€ per room (110 minutes) with a capacity of up to 15 people. There is a buzzer inside each room which notifies the Mr. Kale restaurant directly and they will bring you whatever you want to eat or drink. The karaoke in the ball pool is usually busy, so we recommend you book it in advance here.
Escape Rooms Anthology
Within the Holiday World leisure offer you will also be able to solve the mysteries of 4 different escape rooms. And what is an escape room? Well, it is a room in which, with the help of your partner or team, you will have to follow a series of clues to be able to leave within a certain time. They have two intermediate level rooms, one basic level and one high difficulty level.
The time you have to solve all the puzzles and leave the room is a maximum of 45 minutes. We tried the intermediate level one and we didn't manage to finish it on time. It was our first escape room, but we will repeat the experience for sure. You can check the rates and book on their website, the price varies depending on the number of participants.
Nomad Gastro Market in Holiday World Maspalomas Center
Finally, all this leisure offer can be complemented with a wide range of places to eat at its Nomad Gastro Market. Here you have more than 15 different national and international food options with the advantage of being able to share food from different places in a common space. Access to the Holiday World restaurants is independent of the park entrance, that is, you can go eat without having to pay the park entrance fee. We have a super detailed article about this gastro market in our section on places to eat: Nomad Gastro Market. Take a look and enjoy!
Next event: Jurassic Weekend 2 at Holiday World
On the other hand, take note of the next Jurassic event to be held at Holiday World Maspalomas. We give you all the details below.
Date: 23rd and 24th September 2023
Event included with your Wooland Fun Park ticket, we recommend you buy it online to avoid queues.
Activities: dinosaur sightings, virtual reality goggles, children's workshops and dinosaur parade.
It's for the whole family, as in addition to the big dinosaurs, there will be baby dinosaurs for the little ones.
Video of the Holiday World
Below you can check a video of our visit to Holiday World, you can activate the English subtitles. You can see more videos about things to do in Gran Canaria in our YouTube channel.
Did you already know the Holiday World Maspalomas Center? Without a doubt, a great plan to take into account to enjoy with family and/or friends on the island. Remember that they organise birthday parties and that on Saturdays and Sundays they are open from 4:00 pm. You can check the updated schedules of each of the spaces in the park here.
Guides to Gran Canaria
Finally, if you want to get to know the most authentic side of Gran Canaria on your own and not waste your valuable time looking for information, we invite you to take a look at all our guides and routes. We tell you the best things to do in Gran Canaria depending on the number of days you come to the island, we also have a foodie guide, a beach guide and more.