Guayadeque is a spectacular ravine located east of Gran Canaria. It is one of the longest ravines in the Canary Islands and divides the municipalities of Ingenio and Agüimes. It is characterized by its greenery and number of cave houses where you can enjoy very good Canarian food and even stay. In the same way, there are several picnic areas, trails and an Interpretation Center of the ravine. Likewise, it has a craft and local products shop inside one of its cave houses. From our point of view, it is a must in Gran Canaria.
Things to do in Guayadeque, Gran Canaria
First of all, you should know that just by driving along the ravine you will be impressed with the beauty of this place. As we see it, Guayadeque is one of the best places to visit in Gran Canaria. Keep in mind that there is no phone signal in the ravine, so you should have your guide on things to see and do in Guayadeque well learned. Below we detail everything we recommend.
✔ Guayadeque Ravine Visitor Center
At the beginning of the road that runs through the ravine, we find an Interpretation Center from this Natural Monument. Here you can get information about the archaeological monuments that exist in the ravine, as well as other environmental and cultural data of the area.
✔ Casa Cueva Canaria: local products and crafts
If we take a look at the promenade that overlooks the ravine from the La Era restaurant (the last of all), we will pass by several cave houses. One of those houses is the Casa Cueva Canaria, a super nice craft shop that you can visit. Here you can buy pure Guayadeque honey among other local products. If you follow the small path, you will pass several cave houses where you could stay for the night. You will also pass in front of the Tagoror restaurant, Vega and La Era. That is, it is a circular path. At the end we will tell you about our favorite place to eat in Guayadeque.
✔ Hiking in Guayadeque, Gran Canaria
Next we would like to share with you an advanced level circular hiking route, since it is about 15 km, 6 hours and with almost 1000m of elevation gain. It starts from the beginning of the ravine, very close to the first restaurant we meet. From here we will cross the entire ravine on foot next to a ditch until we reach the last restaurant where we take a dirt track towards Caldera de Los Marteles, but we will not reach it. Just a few meters before we will take the return path along the crest of the Montaña de Las Tierras with views of the ravine.
| | |
| --- | --- |
| Distance | 15 km |
| Estimated duration on foot | 6 hours |
| Total ascent | 992 m |
| Level | Advanced |
| Circular | Yes |
| Picnic area | Yes |
Download the track of the route
Then you can download the track of the circular route in .gpx format so that you can follow it on your own without getting lost. If you don't know how to download it and follow it from your navigator or smartphone, we'll explain it to you here. If you want to support us so that we continue to create content for you about Gran Canaria, we will appreciate if you purchase one of our tracks, either to enjoy incredible routes or as a donation. At the end of this post you can have a look at a video of this hike with more details with English subtitles, don't miss it!
As we said, a path for fit people. It does not have great technical difficulties, but you must have the capacity to endure 6 hours walking with a lot of elevation. Ah! And keep in mind that there are areas where there are no trees along the trail, or places to buy water or food, so it is very important that you bring enough water and supplies, as well as good protection from the sun. And finally, the right hiking gear.
✔ Stay in a cave house in Guayadeque
As we mentioned, there are cave houses in the ravine where you can stay. A unique experience in a totally rural environment. Also, in many points of the ravine there is no mobile network. The two options are Guayadeque Rural Houses and the rural house Ca 'Juani. The two are almost at the end of the road that crosses the ravine and bordering the path that we indicated previously.
Guayadeque restaurants
In Guayadeque there are several restaurants located in caves. We list them all: Restaurante Vega, Tagoror, La Era, El Centro and the Guayadeque restaurant. For us, the one we like the most is La Era, since it has a good gastronomic offer, views of the ravine and few tables, so that the service is closer and there is less noise. The Vega is not bad, but it is usually a bit scandalous. The restaurant La Era also has a spectacular terrace.
The last time we went, we asked for the wine "abocado", that is, sweet wine and red wine mixed. We also tried the local cheeses from Ingenio and the grilled meat for two with Padrón peppers and natural fries. All of them very yummy.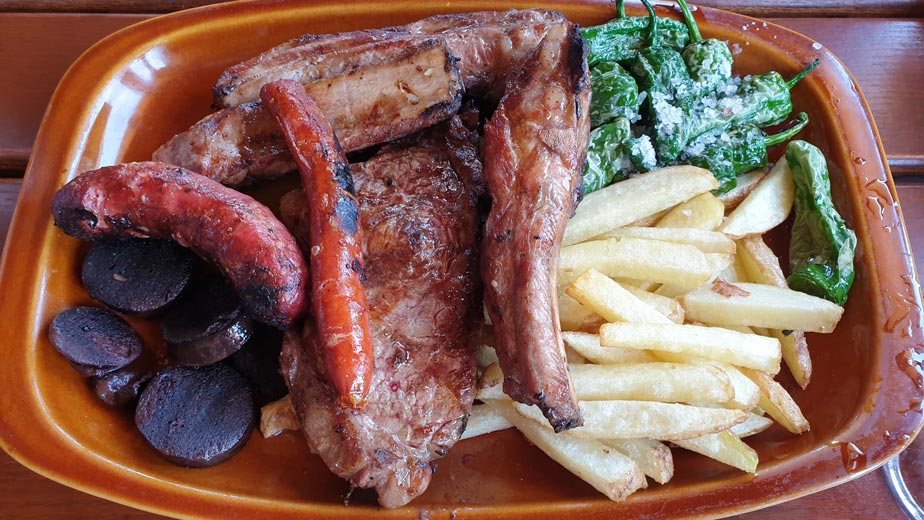 How to get to Guayadeque ravine
To get to Guayadeque you will have to do it by car, since there is no public transport that brings you here. From Agüimes village to the first restaurant there are 6 kilometers. On the other hand, from the historic center of Ingenio to the first restaurant are 5.2 kilometers, practically the same distance. Actually you can walk from both municipalities following the road. However, if you want to get to the top of the ravine where the Vega and La Era restaurants are, we are already talking about 9 kilometers (one way).
Our videos of Guayadeque
If you don't feel like reading this whole article, in the following video we give you all the details about this hiking route in Gran Canaria. You can activate the English subtitles and subscribe here for enjoying more videos about Gran Canaria.
We also have another video in which we visit Guayadeque and eat in one of its cave-restaurants, as well as Las Vacas ravine, Agüimes and Ingenio.
We hope you have enjoyed knowing another piece of the island with us. If you want to know the most authentic and real Gran Canaria, you can not miss our guides of the island: things to do and places to eat. Thanks for your support!