If you are reading these lines it is because you are interested in finding out more about typical Canarian food. We can affirm that in all the islands we have similar typical dishes, although each island can give it a different touch. At the same time, there are certain products that are exclusive of each island or municipality, such as the famous and award-winning Canarian cheeses. In any case, we are going to tell you everything below, with special focus about the gastronomy of Gran Canaria.
Keep reading because at the end of the post we show you a video of 10 Canarian dishes we recommend you to try in the local restaurants!
Typical Canarian food
✔ Canarian potatoes or papas con mojo
Within the Canarian cuisine the best known are its Canarian potatoes with mojo that we showed you in the previous photo. The mojo is a Canarian sauce that can be red, with red pepper as the main ingredient. There is also green, with coriander as the protagonist. The mojos always accompany Canarian potatoes or papas arrugás. Likewise, they are usually served in restaurants with bread as an appetizer and to accompany the Canarian fish (especially green mojo).
✔ The gofio
Another typical Canarian food is the gofio, which are ground cereals. We eat it in the Canary Islands either escaldado (scalded), that is with meat or fish broth. Also in pella or mashed (with water and oil), although you can add honey, nuts, cheese, etc. Moreover, you can eat this cereal is sprinkled with the vegetable soups or with milk for breakfast. You can also have a delicious gofio mousse for dessert. Below we show you a photo of how it is usually served in Gran Canaria. In other islands they put bits of cheese, pepper, meat, etc.
✔ Fruit and vegetables from the Canary Islands
Canarian bananas and much more
On the other hand, in the Canary Islands the fruit is usually abundant and tasty thanks to the subtropical climate. The most recognized fruit of the islands is the Canary banana. It is very likely that wherever you go through Gran Canaria you will meet banana trees. However, papaya is also cultivated in many areas. At the same time, it highlights the mango and avocado from Mogán, the strawberries from Valsequillo, the apples from Valleseco, the almonds from Tejeda, the apricots from Tunte and Fataga, the oranges from Telde, the olives from Agüimes and Santa Lucía de Tirajana, the coffee from Agaete and the prickly pear in the drier areas.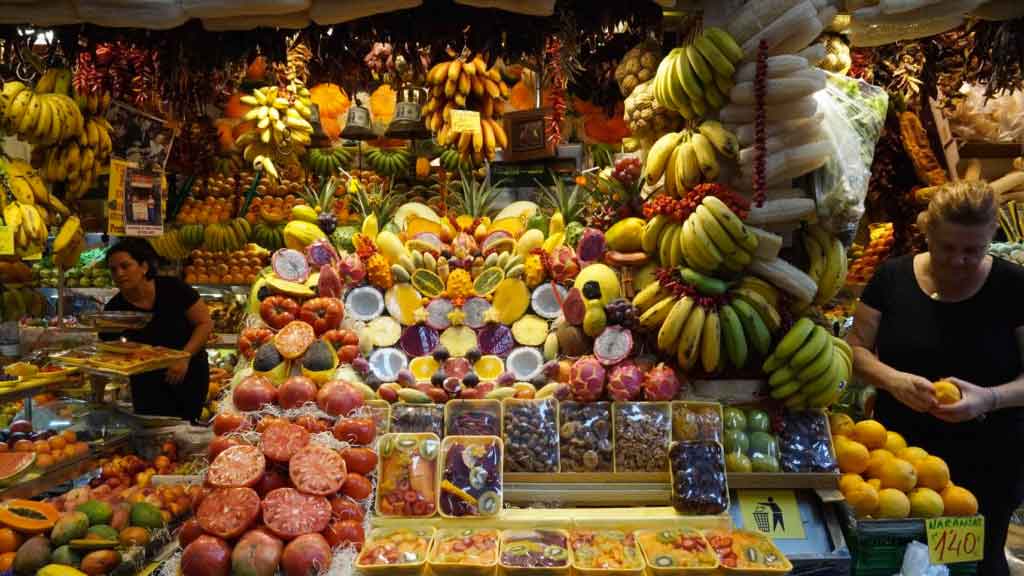 The Firgas potatoes, the Gáldar onions and the tomatoes from La Aldea de San Nicolás cannot be missing either. All grown in the Canary Islands!
✔ Local cheeses, the best Canarian food
We can't avoid writing about the internationally awarded Canarian cheeses. Testing them is mandatory, trust us. In Gran Canaria, cheeses are produced in most municipalities: Guía, Moya, Gáldar, Valsequillo, San Mateo … cured and semi-cured cheese, goat cheese, goat's milk with sheep and goat, cow and sheep (mix). Also highlight the soft cheese or white cheese and even the flower cheese (with vegetable rennet). Our favorite cheese is the flower cheese from Cortijo de Caideros and you can get it in Gran Canaria at the Casa del Queso de Guía, in the central market, in the Telde market and in the Gáldar market.
If you are a cheese lover, it is a must to order an assortment of Canarian cheeses in any restaurant. Make sure before they are from the Canary Islands.
Likewise, in many restaurants they have grilled cheese with mojo on their menu. A delicacy that you have to try.
You can buy good Canarian and artisan cheeses to take home as souvenirs in the market of San Mateo, Mercadillo de Teror, Recova de Gáldar and Central Market of Las Palmas de Gran Canaria.
With regard to typical Canarian products derived from cheese, we cannot avoid mentioning the famous Gomeran almogrote. It is a kind of gomeran cured goat and sheep cheese pâté that also has oil, garlic and spicy red pepper.
✔ Canarian fish
Also, being an island, fish and seafood cannot be missing. For example, the octopus, the squid, the pink dentex, the red porgy, the famous 'vieja' … The vieja is a parrot fish with a peculiar flavor very common in the waters of the islands. The white grouper is also very common, although it comes from the neighboring waters of West Africa. On the other hand, a fairly typical but scarce dish is grilled limpets.
Almost everywhere on the island you can find a restaurant with good fresh fish. However, it is usually cheaper and more fresh in fishing villages. In Gran Canaria this is the case of the Cofradía de Taliarte, also in the towns of Agaete, Arguineguín, Castillo del Romeral, Puerto de Mogán…
✔ Canarian meats
Regarding meats, we cannot forget the pork ribs with corn, goat meat, pig meat, rabbit, etc. In the Canary Islands there is an exclusive variety of pork: the black pig. A place where you can try various dishes with black pig is in La Vaquería Las Salinas, in the town of Arinaga. The Canarian food of ribs with corn is more of a typical Tenerife meal, although in Gran Canaria you can eat it in Firgas at La Caldera or Casa Pepe restaurants.
Other dishes or products of animal origin are the Chorizo de Teror, which is a kind of Canarian sobrassada (Majorcan sausage). Here we usually eat it in sandwiches, although restaurants introduce it more and more in their dishes. For example, huevos rotos (broken eggs) with Chorizo de Teror.
Finally, regarding meats, you should try the roasted pork leg, either in a sandwich with cheese or as a starter with its crackling. This Canarian food dish is more traditional from Gran Canaria and you can try it at Las Lagunetas, in the Triana neighbourhood. Also at Bar Yazmina in Telde they have some delicious sandwiches.
✔ Soups and stews, my favorite Canarian food
One of the most common Canarian foods is the stew. There are many types, but perhaps the most typical is the watercress stew with corn, vegetables and beans. Add some gofio or accompany it with a good Canarian cheese!
Other typical Canarian food are the ropa vieja, the rancho, the puchero and the chick peas. The ropa vieja is the dish that we show you below made mainly with potatoes, chickpeas and meat or octopus. The puchero (a kind of stew) is more difficult to get in restaurants, rather we cook it at home. What a pity!
✔ Canarian Desserts
If you have a sweet tooth, you will be interested in this part. One of the desserts that has become famous in Gran Canaria is the polvito uruguayo. Normally it has dulce de leche, biscuit, cream and above meringue of Moya, a delight.
You should also try the gofio mousse and all the local fruit that we mentioned before. As for coffee, if you want a coffee with condensed milk, in the Canary Islands we call it "leche y leche". Then, in Tenerife we recommend you try the barraquito that also has condensed milk, but they add liquor, coffee and foamed milk.
Finally, you should know the bienmesabe, one of the typical products of the Canary Islands that is made mainly with almonds. It is usually used as an accompaniment to desserts to give it more sweetness, for example, with ice cream or gofio mousse. In addition to almonds, it contains eggs, palm honey and lemon zest.
There are also more industrialized ones with sugar. In fact, you can find them to take away as a souvenir in practically all supermarkets in the Canary Islands. The best known in Gran Canaria is the one of the sweet shop Dulcería Nublo made in Tejeda, the town of almond trees.
✔ Canarian wines
Finally, you should know that exclusive wines are also grown in Gran Canaria. The most cultivated black grape variety is Listán Negro, practically exclusive to the Canary Islands. Sometimes cultivated even on volcanic gravel as is the case of the entire Bandama area. On the other hand, we have the Agala wine, cultivated at 1212 meters of altitude in the municipality of Tejeda. Regarding white wine, we also enjoy good wines such as the award-winning one from the winery Bodega de Los Berrazales in Agaete. You can't miss the wines of the Canary Islands!
Finally, you can also try the sweet red wine named abocado in some Canarian food restaurants. In Gran Canaria you can find it in the Guayadeque ravine cave restaurants. Try it!
Enjoy typical Canarian food with our restaurant guide
Finally, if you want to know all the places where you can try the best Canarian food in Gran Canaria, as well as different restaurants of other types of cuisine that the locals frequent, you will love our Restaurant Guide. It includes more than 80 places to eat divided by type of cuisine and by area of the island. So that, depending on what you want to eat and where you are, you can choose or plan your route. Likewise, you should know that many restaurants that we mention in our guide also worry about sourcing of local raw materials. That is, although they do not cook typical Canarian dishes, they do introduce the local genre into their dishes.
The Canarian food is to lick your fingers and we do not want you to miss it!
Here we leave you with a short video about 10 dishes of the Canarian gastronomy that we recommend you to order in restaurants. If you don't want to miss more videos about the Canary Islands and Gran Canaria, you can subscribe to our channel here.