In this article you will find best things to do in Costa Rica. Our trip through Costa Rica lasted 10 days and we were able to see more than 50 different species of birds, mammals, amphibians, insects, crustaceans and reptiles in their natural habitat. Species that we had not seen until now and that increased as we visited each of the national parks and biological reserves in the country. That without counting the flora.
In the following lines we are going to tell you about our trip to Costa Rica on our own. If you have more or less days to enjoy the country, surely with this guide to Costa Rica you will be able to select the places that you like the most to complete your itinerary.
Things in Costa Rica: travel insurance, flights and rental car
First of all, we booked our travel insurance with IATI and chose the IATI Backpacker option for the type of trip we were going to do. It cost us about €64 for the 10 days with a 5% discount that you can also benefit from here. Our flight itinerary was Gran Canaria – Costa Rica with a stopover in Madrid, all with Iberia. The flight from Madrid to the capital San José is direct (11 hours).
We rented a 4×4 for possible rain and to cross small rivers to get to Drake (if you don't go to Drake, we don't think it's necessary). We rented it with Sixt, they had a small shuttle from the airport to their office 5 minutes away by car. You can compare all the international and local rental companies that operate at the San José airport here.
Places to visit Costa Rica. Our 10-day trip!
Next, we show you our 10-day and 11-night itinerary with all the best things to do in Costa Rica.
San José – Isla Verde Hotel
Bahía Drake – Pacheco Tours & Cabins
Corcovado National Park – Top Trails Corcovado & Corcovados Backyard
Marino Ballena National Park (Uvita) & Manuel Antonio National Park – Uvita Paradise
Santa Elena, Monteverde Cloud Forest Biological Reserve – Camino Verde B&B Monteverde
Santa Elena, Monteverde Cloud Forest Biological Reserve – Camino Verde B&B Monteverde
Río Celeste Waterfall (Volcán Tenorio National Park and La Fortuna Waterfall (Volcán Arenal National Park) – Casa Luna Hotel & Spa
Tortuguero National Park – Tortuguero Casa Pelican
Cahuita National Park & Puerto Viejo de Talamanca – Black Bamboo B&B
Rafting down Pacuare river, Turrialba – Casa de Lis Hotel & Tourist Info Centre
San José – Radisson Hotel San José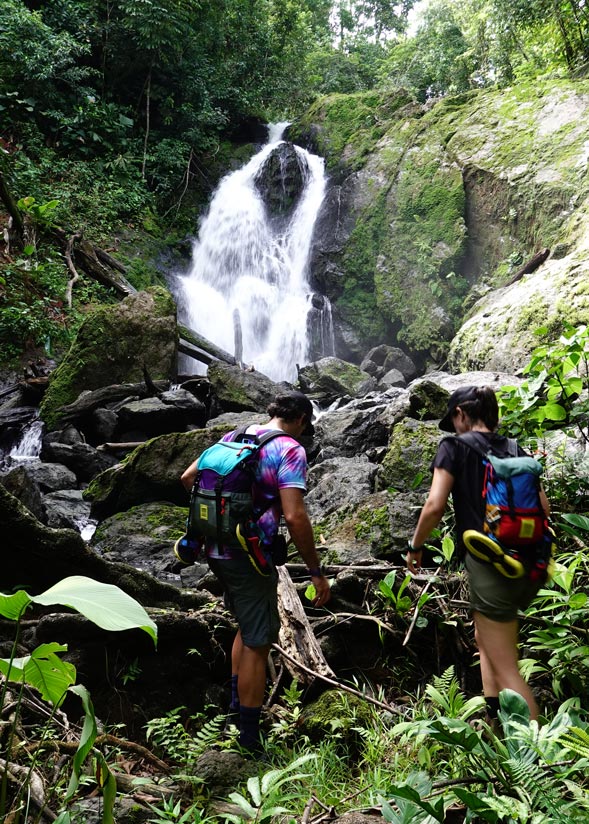 We did a total of 1600 km by car, so we did not stop. But, if you like road trips, this itinerary can be done and it will be of great help to visit the most important places to visit in Costa Rica. We visited a total of 7 National Parks, the Monteverde Biological Reserve and some biological corridors such as Kinkajou. In this article we are going to tell you day by day the places we visited, where we ate, tours in Costa Rica, tips and the hotels that we stayed at. In this way, you can save time when planning all the things to do in Costa Rica in 10 days (or more). As we mentioned above, in total there were 11 nights, but we will count 10 days of enjoyment.
Day 1, San José – Drake Bay
One of the things to do in Costa Rica that we didn't want to miss was the Corcovado National Park. So when we woke up at the Isla Verde hotel in San José and we headed to Drake. During the trip we decided to take the road without tolls that crossed the Cerro de la Muerte and the Quetzal National Park. We stopped for lunch in Buenos Aires. Throughout this area we will find large plantations of the tropical pineapple "Del Monte".
Day 2, Corcovado National Park, one of the best things to do in Costa Rica
Corcovado is located on the Osa Peninsula. 2.5% of the world's biodiversity is concentrated in this national park, which includes dangerous animals such as the bull shark, the crocodile, the velvet snake and the jaguar. Therefore, to enter Corcovado you must do so with an official guide of Costa Rica. As we were telling you, we did our research on the different options and the one that convinced us the most was Top Trails Corcovado, managed by Charly and Laura. One of the best experiences of our life. We left by boat at 6:00 am from Drake Bay. We were sailing for about 1 hour and a half until we reached the main entrance to the park and then Sirena station.
Here we traveled a path of about 8 kilometers in which we could see the famous tapir, several coatis, tiger herons, titi monkeys, white-faced monkeys and an endless number of birds. We also stop for a snack at the Sirena station, one of the few where you can spend the night (the most touristy option). Finally, we visited the crashed plane nearby Sirena and took a boat to San Pedrillo.
San Pedrillo, Corcovado
In San Pedrillo is where we can enjoy the wildest nature of Corcovado. Here you will find yourself in the middle of the jungle, surrounded by its primary forest. The boat left us on a paradisiacal beach next to the station. Caño Island can be seen perfectly from here. As soon as we arrived we could see a pair of macaws. Also, you should know that this area of the park is where you will have the best chance of seeing felines, snakes and other dangerous species. We could only see the footprints of a jaguar. Charly's scares brightened up the day without a doubt.
On the other hand, during the route through the jungle, Charly was warning us and explaining each of the species of flora and fauna that we encountered. In addition, he took us to bathe in some pools and waterfalls in the middle of the jungle. After bathing we stopped to eat and headed to our Eco Lodge Corcovados Backyard. This site is amazing! An environment of 10 surrounded by nature, outdoor showers, ecological plantations, free chickens, etc. All the meals we made here included products from his farm: pineapples, avocados, organic eggs, etc. We tried yummy Costa Rican food with views of nature.
The second day we did a small bird watching tour and then we walked to the Río Claro. Here a surprise bath awaited us under a large waterfall. What a feeling of freedom. Finally, we walked to a small soda (Costa Rican homemade food house), practically arriving at Los Planes station. Another homemade Costa Rican meal awaited us. Delicious. Once we finished eating, they dropped us back at Drake where we had our Suzuky Jimmy and we headed to the next stop. Our incredible adventure through the Osa Peninsula was over.
Restaurants in Drake. We recommend the Bahía Azul restaurant. The ceviche was delicious.
Hotels in Drake. To sleep in Drake everything is a bit old. We chose Pacheco Tours & Cabins for the views and proximity to the bay from where the tour left at 6:00 am. Do not expect great luxuries.
How to get to Corcovado?
You can do it by boat from Drake Bay or from Puerto Jiménez. We chose from Drake, since this is where our tour with the company Top Trails Corcovado started from. In addition, the information we found about Drake Bay landscapes caught our attention.
How to get to Drake Bay?
To get to Drake Bay you have two options. One of them is by boat from Sierpe leaving your car in Sierpe. And the other (the one we did) is by car on an unpaved road that passes through several rivers. Depending on how much it has rained, you can do it or not. You can always ask the guys of Top Trails Corcovado first. In any case, you must have a 4×4. There are some ways to get there by land, all with the passage of rivers. We chose the shortest dirt road on the way out and the longest on the way back. To go for the longest, at the end you must upload your car on a kind of platform and pay about $ 7. Both overland routes last approximately two hours.
Drake Bay is a small coastal town with beautiful beaches. There are no ATMs here, but you will find supermarkets and restaurants. The sites we visited and the establishment where we stayed, Pacheco Tours & Cabins, accepted card payments. We paid for the tour in cash. We did a small hike to Cocalito beach from where we watched the sunset. Here the sea is a bit rough, so be very careful. We were alone…
Video of Corcovado and Drake Bay (days 1 and 2)
Then we leave you with a video of our first days in Costa Rica. You can subscribe here to our channel so you can see the whole play list of the trip. We have English subtitles in all the videos!
Day 3, Uvita (Marino Ballena National Park) and Manuel Antonio National Park
In the Marino Ballena National Park you can visit the famous Uvita beach shaped like a whale's tail, as well as take a whale watching tour. If you want to see the formation of the whale's tail and walk along it, remember to go at low tide. We rested like kings in Uvita paradise and ate delicious in a pizzeria called La Fogata.
On the other hand, despite being a very touristy place, in our trip through Costa Rica we did not want to miss the Manuel Antonio National Park. Apparently one of the parks in the country where you will be able to see more species in a smaller space. We get to see poisonous frogs, toads, deer, white-faced or capuchin monkeys, lizards and sloths. The beaches here are dreamy and suitable for swimming, so pack your swimsuit!
Restaurants in Manuel Antonio. We opted for the Falafel Bar. We had read good comments and the truth is that we ate very well and cheaply.
Video about Marino Ballena and Manuel Antonio (day 3)
Then we leave you with a video of our visit to Marino Ballena and Manuel Antonio, you can subscribe here to our YouTube channel so as not to miss the rest of the trip.
Days 4 and 5, Santa Elena: Monteverde Cloud Forest
In Santa Elena we decided to stay two nights, as we would be late the first day after visiting Manuel Antonio and we did not want to miss the famous night tours of Monteverde. In the morning we decided to do the best canopy in Costa Rica or zip line in Selvatura Park. It is the only one within the Monteverde Cloud Forest. The activity was very good, especially the final tarzan jump. Also, we were lucky to see the famous Quetzal bird. Spectacular!
After this, we returned to our Camino Verde B&B hotel to recharge our batteries. By the way, this hotel is highly recommended. The rooms are very good and the breakfast too. Look what it looks like! To eat we went to Sabor Tico, we did not remember the name of the dishes we ordered, but it was all very tasty and at a good price.
Night Tour Monteverde
In the evening we chose the Kinkajou night tour ($ 24 per person) outside of Monteverde. There are so many options. We chose this following the recommendation of the receptionist of our B&B and we believe it was a success. Here we were able to see new species: two types of tarantula, scorpions, bobo bird, toucans, spotted owl, endemic frogs, giant snails, stick insects, etc.
This same day we went to dinner at The Tree house. A restaurant with a large tree inside. We ate an exquisite barbecue of meat for $ 18 per person, highly recommended. The night before we went to the Mexican in town, but we don't recommend it.
Video of Monteverde cloud forest and night tour (days 4 and 5)
Next we leave you with a video of our adventure with the zip line through Selvatura Park in the Cloud Forest and the animals that we could see in the night tour of Kinkajou. You can see here all the videos of the whole trip. We have English subtitles in all our videos!
Day 6, Río Celeste (Volcán Tenorio National Park) and La Fortuna (Volcán Arenal National Park)
On the sixth day of our trip, we dedicate it to two of the best places to visit in Costa Rica: the Rio Celeste Waterfall and the La Fortuna Waterfall. To visit both places you must pay an entrance fee. In the case of Río Celeste, it is around €12 per person to enter the Tenorio Volcano National Park. Then you must walk a path of about 2 kilometers. It caught us on a super rainy day and we couldn't see it blue. There are 3 other points to visit that extend the path and that you will be able to see in our video soon.
After our stop in Río Celeste, we headed to La Fortuna. We wanted to see the famous La Fortuna Waterfall. Keep in mind that in the country it gets dark before 6:00 p.m., which means that many national parks close around 4:00 p.m. or 5:00 p.m. We arrived just at the end of the day, even so, there were a lot of people. The water was cool, ideal for hot days. You also have to pay about $ 18 per person to access.
In La Fortuna there are several hot springs, the only free ones are those of the Chollín River and, therefore, overcrowded. We did not go anywhere and decided to enjoy the Jacuzzis among nature at our Casa Luna Hotel & Spa. Finally, if you want to see a cocoa plantation in Costa Rica, there is a small one on the main road in the town of La Fortuna.
Restaurants in La Fortuna. We recommend the Victorinos restaurant. We stopped on the road between Rio Celeste and La Fortuna.
Visit to the Volcano Arenal. If you have time, you can do a hiking activity to the Arenal Volcano that includes the visit to the waterfall and some hot springs (11 hours). It has very good reviews from other travelers and you have all the info here.
Video of Río Celeste and La Fortuna (day 6)
Here is the video of our rainy stop at Río Celeste with a happy ending at La Fortuna Waterfall. If you don't want to miss the rest of the trip, you can check all the videos here.
Day 7, Tortuguero National Park
Another of the things to do in Costa Rica is to visit the Tortuguero National Park. To get to Tortuguero, it is only possible by boat. We parked the car at Rancho La Pavona and from there we took the public boat to town. The journey takes about 45 minutes and it cost us about $ 9 per person round trip. In La Pavona you will feel like a real tourist because the guides will harass you upon arrival, you have to pay to go to the toilet and there are signs indicating that you do not trust certain excursion companies. These are the boat tickets that they gave us, one for the outward journey and one for the return. Below you can see the schedules of the boats to Tortuguero.
Be very careful. To this day, we still don't know if we were scammed or not. In any case, what matters is that everything went well and the car was in perfect condition on the way back.
Things to do in Tortuguero
Concerning the things to do in Tortuguero, there are three main attractions:
See the turtle spawning. The best time is from July to October, the rest of the months is a lottery. In any case, you can walk along the beach, since swimming here is dangerous.
Canoeing the Tortuguero National Park along its water trails. The entrance to the park is about $ 18 per person, the guide is not included.
Climb the Cerro de Tortuguero to have panoramic views. The entrance fee is around $ 3, but you have to go by private taxi
We did the tour of the water trails. During the excursion we were able to see alligators, howler monkeys, spider monkeys, giant iguanas, river turtles and beautiful birds.
Restaurants in Tortuguero. We recommend a restaurant called Mi Niño, right in front of where the boats arrive in town. Another option is El Patio, especially to watch the sunset and have a cocktail (although we also had dinner). Finally, for breakfast with views of the Tortuguero lagoon, we suggest Dorling's Bakery.
Hotels in Tortuguero. We think that it is best that you stay in the center of town. Otherwise you will have to pay for private boats (taxis) to go to restaurants and tourist sites. The same thing happens in this town as in Drake, everything is old. We were lucky to find availability at Casa Pelican Tortuguero, according to what we need to rest when we travel.
Video of Tortuguero (day 7)
Below you can check how was our stay in Tortuguero in our YouTube channel.
Day 8, Cahuita National Park and Puerto Viejo, two must sees in Costa Rica
On the eighth day of our 10-day tour of Costa Rica we decided to stay in Puerto Viejo de Talamanca. Here it seems that you are in another country. In Puerto Viejo there are spectacular Caribbean beaches such as Punta Uva, reggae, abandoned boats on the beaches, coconuts, hermits, sloths, pelicans and lots of partying. When we arrived, we rented a bike for 24 hours (only $7) and did 13 kilometers to Manzanillo. Here we visit the famous Manzanillo beach and its stranded ship, Punta de Uva and Cocles beach.
Cahuita National Park
The next day we went to the Cahuita National Park. Important: if you enter the park through Puerto Vargas, they will make you pay entrance. If you enter through Cahuita, access is free (you only pay the will). We made the mistake of not taking our swimsuits, swimming is allowed, so don't miss these beaches next to the coral reef. Here you will be surprised by the millions of hermits that live in Cahuita.
The park takes about 4 hours to visit. We were able to see raccoons, squirrels, many hermits, insects and small reptiles. Unfortunately we didn't get to see any sloths.
Keep in mind that if you start the visit to the Park in Cahuita, you will end up in Puerto Vargas and vice versa. It is not a circular route. At the exit of the park you can take a public bus that passes every hour to return to where you have parked. Likewise, we recommend bringing flip flops or a towel to visit Cahuita, since you have to cross two rivers. Ah! And take the mosquito repellent, here the massacre was brutal!
Things to do in Puerto Viejo and places to eat
Apart from all the beaches that we have mentioned before and the visit to Cahuita, if you want to see sloths in Costa Rica, apparently the best place is in Puerto Viejo. We could not see any in the town. However, already leaving Puerto Viejo, just arriving at the Aviarios del Caribe sloth Sanctuary we found a couple of them hanging from the trees outside. They are spectacular.
Restaurants in Puerto Viejo. We loved De Gustibus Bakery, very close to the hotel. On the other hand, for a drink overlooking the sea we liked Grow (the food was horrible). Finally, to eat we recommend the Puerto Pirata with views of the sea and the Soda Riquísimo. In Puerto Viejo the Patí is famous, a kind of empanadilla that you can buy in many stalls. There are sweet and salty.
Hotels in Puerto Viejo. We recommend the Black Bamboo B&B. The owners are Spanish, so it gave us even more confidence. It has private parking, swimming pool and laundry service. It can be easily reached on foot from the town.
Video Puerto Viejo de Talamanca and Cahuita (day 8)
Below you can check a video about our visit to Puerto Viejo de Talamanca. You can see more videos about our adventure through Costa Rica in our YouTube channel. You can activate the English subtitles in all our videos.
Day 9, Rafting down the Pacuare River, Turrialba
Without a doubt, one of our essential tours in Costa Rica is rafting down the Pacuare River. One of the longest rafting in the world with around 23 kilometers. We did it with Tico's Rivers & Adventures and we loved it. Along the river you will find spectacular waterfalls and several rapids that will get your adrenaline pumping.
Nearing the end of the tour, we had a delicious taco picnic. 100% recommended activity. This tour costed us approximately $ 85 per person. Includes food, transfers and about 3 hours of rafting.
Hotels in Turrialba. We stayed at Casa de Lis Hotel & Tourist Info Center. There are hardly any hotels here, it is a very tico city.
Restaurants in Turrialba: A few steps away there is a bakery, try the sweets named orejas (ears). They are a kind of sweet puff pastry shaped like a pizza base. Delicious.
Excursion from San José. If you don't want to sleep in Turrialba, you can also do this Pacuare River tour with transfer from San José.
Rafting on Pacuare river video
Below you can watch a video of one of the longest rafting in the world. You have a playlist with all the videos of our trip here.
Day 10, San José city. A place to visit in Costa Rica
On our last day of the trip through Costa Rica, we could not miss a visit to the city of San José. Of course, very carefully, since apparently it can be dangerous, especially at night and in the market area. We went during the day and did not notice anything. We visited the Central Market, some main shopping streets and the National Theater.
If you are looking for a souvenir shop in San José, in the central market we could buy everything we were looking for: mugs, magnets, bookmarks, educational games with animals from Costa Rica, handmade slingshot, etc.
Hotels in San José. To sleep this time we chose the Radisson San José hotel. It has buffet breakfast, super spacious rooms, private parking, swimming pools, check out at 12:00 and very close to the center on foot.
Restaurants in San José. For lunch / dinner we recommend the Escalante neighborhood. One of the coolest and most posh areas of San José. We loved it, although we were not right with dinner, we went to an Arepas bar and the truth is that it was normal. In our case, as it is not recommended to walk at night, we went with the car and there was no problem parking.
Tamarindo, one of the favorite things to do in Costa Rica
As you may have appreciated, in our itinerary we have not included the tourist area of Tamarindo or Tamagringo, as they call it in Costa Rica. Needless to say, it is for all the gringos who visit it. In addition, we live in Gran Canaria where we have sun and beach the whole year. For this reason, it was a priority for us to visit the most important and beautiful National Parks in the country.
Costa Rica travel price
The flight per person from Gran Canaria (Spain) costed about $ 970 and at the destination we spent about $ 2000 per person including the car, hotels, gasoline, tours, guides, tickets to national parks and meals. We can say that it is an expensive destination except for food and hotels. You can eat from $ 8 to $ 20 per person (no more). Regarding accommodation, you find wonders for $ 60 per night. On the contrary, keep in mind that you have to pay to enter all the parks and adventure activities are expensive. Only the tour with stay in Corcovado and meals cost us more than $ 300 per person.
On the other hand, when renting the 4×4 type car and with full insurance, we had to pay about $ 1000 in total. Can this trip be done for less money? Surely yes.
Best time to visit Costa Rica
Costa Rica has two distinct seasons, the dry one that goes from December to April and the rainy one that goes from May to November. We went at the end of May / beginning of June and the truth is that we only got heavy rain on one day of the 10 days. Of course, from a certain time in the afternoon it always used to rain. Therefore, the best time to travel to Costa Rica may be during the dry season. In this way you will avoid the heavy rains and the roads will be in better condition. Likewise, when we did rafting, for example, they told us that in times of heavy rain it could not be done because the level of the river rose a lot. Likewise, surely the roads to Drake would be practically flooded by rivers.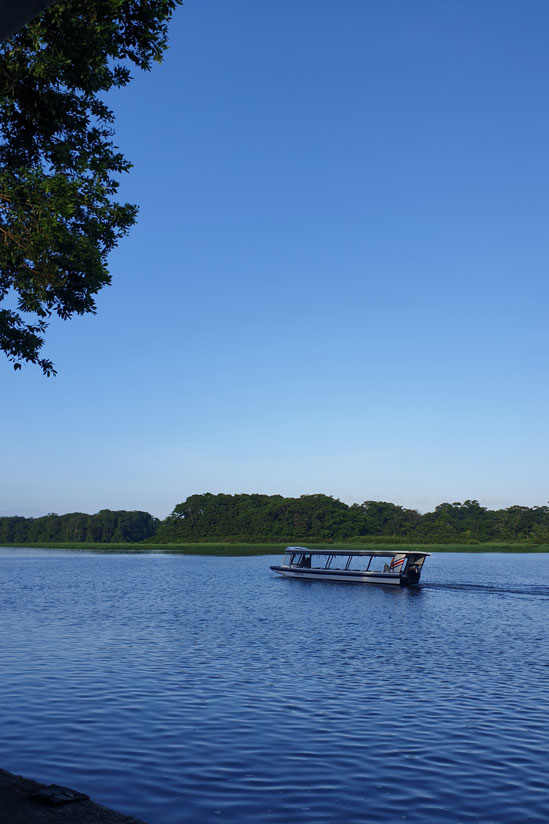 From our experience, traveling in late May and early June was great. Despite the intermittent rain, the climate is tropical, that is, it is quite hot and, above all, very humid. On the other hand, as our Tortuguero guide told us, on the Caribbean side the stations are not so marked. There are just sunny days, very sunny days, rainy days and days of a lot of rain 🙂 We were lucky to have some very sunny days.
Costa Rica travel tips
Travel insurance. Remember that we have a 5% discount here. We hire the IATI Backpacker. All IATI policies include COVID-19 travel assistance coverage.
You don't need an international driving license, with your own driving license is enough to rent a car.
Carry a card that allows you to pay at all businesses and withdraw money at ATMs in Costa Rica. We took our Revolut card, with the lowest commissions abroad. Remember to always pay in colones!
If you are going to do a road trip, get colones as soon as you can, tolls are only paid in cash
Bring mosquito repellent and use it every day, especially in national parks
Try the local food in the traditional sodas, they are usually cheaper places and the portions are super huge
Costa Ricans are called Ticos, in case you hear and read it in some of their establishments. For example, the Tico's River & Adventure company.
Normally, the suns come out around 5:45 am and gets dark around 5:45 pm. We recommend you follow the rhythm of the country, that is, get up at 6:00 am and be asleep at 10:00 pm.
Avoid driving at night, as the roads are not very good and, in addition, it can rain heavily.
Costa Rican coffee
On the other hand, if you want to buy Costa Rican coffee, you can do it at the airport or at any Wallmart supermarket. The guide Charly of Top Trails told us that the best coffee in Costa Rica was Dota and we got it at any Wallmart supermarket. We also bought some Costa Rican chocolate.
Finally, we can already say that we know firsthand why in Costa Rica the phrase Pura Vida is used for everything. Now is your turn to experience it yourself. We hope this article has inspired and helped you. If you have any question, leave us a comment, surely your questions will help more travelers. Pura Vida localguiders!
We are Ruth & Jorge, Gran Canarians with a travelling soul. Experts in tourism and digital marketing. We share the most authentic side of Gran Canaria (where we live) and… our adventures around the world!