In this post we are going to share with you detailed information about the shopping in Gran Canaria. If that's okay with you, we'll start by talking to you about shopping in Las Palmas de Gran Canaria and, later, we'll take a tour of the southern and more touristy area. Let's go!
Las Palmas & Gran Canaria Shopping
In Las Palmas de Gran Canaria we will always recommend you to go shopping in open commercial areas. This is where you will find that small shop or local business and, in addition, you will be able to get to know the city better. The main shopping streets in Las Palmas are Calle Mayor de Triana street and Avenida José Mesa y López. Both are pedestrians. Then you should also know that the island has several large shopping centers, one of them an outlet type. Next, we are going to explain a few lines about each commercial area of the island and, afterwards, we will list the main shopping centers in Gran Canaria.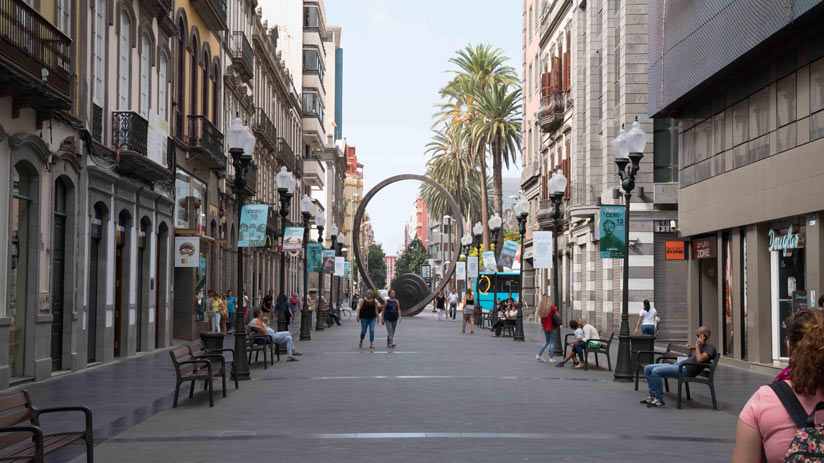 ✔ Triana comercial area
As we see it, Triana street is one of the most pleasant for shopping in Gran Canaria. Here you will find the main stores and franchises found in European cities. These are: Mango, Zara, Bershka, Intimissimi, Calzedonia, Women's Secret, Guess, Apple Store, Decathlon City, etc. In the same way, you will also find shoe stores, perfumeries, luxury jewelers and other small shops.
On the other hand, if you are looking for the typical special store which is hidden in each city, we recommend you take a walk along Cano Street where there are unique stores such as Regaliz Funwear. Here you will mainly find men's fashion. They bring exclusive brands to Gran Canaria that you won't find anywhere. True truth. Bear in mind that parking in this area is quite difficult, although the shopping experience is worth it. In addition, it has a good range of restaurants.
✔ El Corte Inglés Las Palmas and Avda. José Mesa y López
Another of the main shopping areas in Las Palmas is located on Avenida José Mesa y López, closer to Las Canteras and the Port. In Mesa y López there are also some of the main franchises in each city in the world, as well as the El Corte Inglés department stores. El Corte Inglés has two buildings: one dedicated to fashion and the other for the home.
In the fashion building, on the top floor, they have their à la carte restaurant and a cafeteria. In the homeware building they have about 300 square meters of Gourmet products from around the world, as well as their Gourmet Experience with several restaurants, such as Cuernocabra. If you are a non-resident foreign visitor, at the international desk of El Corte Inglés you can request the tourist card 10% reward card for free, as well as the form for the TAX FREE (for non-EU citizens). Parking here is paid.
Shopping center Gran Canaria
As we see it, there is an excess supply of shopping centers in Gran Canaria island. And this is so because it seems that the locals likes this format of leisure space a lot. Next we are going to mention the main shopping centers of the island so that you can choose the one that best suits you.
✔ Las Arenas shopping center
Las Arenas is one of the largest shopping centers in Gran Canaria and, at the same time, one of the oldest. Here you will find practically all the franchises in Europe as a clear protagonist of Primark. There is also Media Market, Carrefour, there are movie theaters and restaurants. Here you have 2 hours of free parking or you can make a purchase over € 20 and you have free parking all day next to Las Canteras beach.
✔ El Muelle shopping center
This is located next to the Santa Catalina Pier, which is the first thing you will find if you arrive in Gran Canaria by cruise. Its commercial offer has been reduced, to the point that there is no longer any Inditex group store inside. If you will find Women's Secret, Calzedonia, Fund Grube, Levi's and little else… It has some restaurants like the classic 100 Montaditos, gym, supermarket and cinemas. Parking is not free.
✔ Siete Palmas shopping center and El Corte Inglés Siete Palmas
In the upper part of the city, in the Siete Palmas neighborhood, you will find this shopping center with a cinema and a wide range of restaurants. In Siete Palmas there is also a small IKEA store. Parking is free. Right next to it is the other El Corte Inglés of Gran Canaria, a little smaller than that of Mesa y López, with a smaller offer of firms and services.
✔ Los Alisios shopping center
This was the last shopping center to open in the municipality of Las Palmas de Gran Canaria. It has practically all the franchise stores, including Media Market. A short walk away is Leroy Merlin and Decathlon. It has a wide range of leisure activities: cinema, restaurants and entertainment for children. Parking in this shopping center is free.
✔ Outlet Las Terrazas and El Mirador shopping center
On the highway that connects Las Palmas with Telde we find two shopping centers: Las Terrazas and the El Mirador Shopping Center. Las Terrazas is all outlet, although it also has a supermarket, restaurants and cinemas. With regard to El Mirador, here the large Primark store stands out, as well as all the stores that we will find in most shopping centers and shopping streets. Both sites have free parking.
Maspalomas shopping and the south of Gran Canaria
If you are going to spend most of your time in the south of the island, there are several areas where you can shop and that you should take into account. Take note!
✔ Atlántico Vecindario shopping center
It is located in Vecindario, about 15 minutes from Maspalomas and about 10 minutes from the airport. Here are also all the typical shops, cinemas and a great Carrefour. Parking is free.
✔ Boulevard El Faro
On the Meloneras sea promenade we find several signature boutiques, perfumeries and jewelers. For example, Hugo Boss, Lacoste, Ralph Lauren, Fund Grube, and jewelry stores like Geneve's.
✔ El Tablero shopping center
If you are looking for Zara in the south of Gran Canaria, El Tablero is the only shopping center that has it. Well, also in Vecindario, but it is already about 25 minutes from Maspalomas. Here there are also other Inditex group stores, a supermarket and restaurants.
✔ Mogan Mall, Puerto Rico Gran Canaria Shopping Centre
This is the last shopping center that opened in Gran Canaria. It is an outdoor mall as you can see in the next photo. It has a wide gastronomic offer, a supermarket and stores such as Mango and others from the Inditex group such as Lefties, Pull & Bear and Bershka. This is one of the best things to do in Puerto Rico.
And these are roughly the main commercial areas of Gran Canaria. Therefore, depending on what you are looking for and where you are going to stay, choose the one that suits you best 🙂
TAX FREE in the Canary Islands
Finally, you should know that the Canary Islands are governed by a different tax regime than the rest of Spain (Peninsula). In the Canary Islands the tax is not called IVA as in Spain, it is the IGIC. The generic percentage is 7% (compared to 21% in the Peninsula), although there are high-value items such as jewelry that in the Canary Islands are taxed at 13%. By contrast, fashion is taxed at just 3%.
In this sense, there are certain articles that are cheaper in the Canary Islands than in other countries. This is the case with perfumes, electronics, tobacco and alcohol. On the other hand, if you are from outside the EU and want to request TAX FREE for your purchases in the Canary Islands, the minimum amount per item is € 36.06. However, at the moment it is a process that has not been digitized and is therefore horrible.
Likewise, even if the store provides you with the necessary documentation, then you will have to look for customs at the airport or port, confirm that it is open and present the merchandise along with the documentation. If everything was correct, the customs would seal the documentation so that you can send it back to the merchant by ordinary mail and they can make the refund of the IGIC. Finally, about 2-3 weeks later, the IGIC will be credited to the bank card that you have provided to the merchant. In any case, if you read us from Europe, this content about TAX Free is only for non-EU tourists. Anyway, this has been all for the moment related to shopping in Gran Canaria. We hope it has been useful to you. Until the next localguiders!