In this post we want to share with you everything we know about rural hotels in Gran Canaria. We will give you 10 options to stay in the rural environment of the island and get to know its more local side. Here we go!
Rural hotels in Gran Canaria
Gran Canaria is a little known destination for rural tourism. Rather the opposite: a sun and beach destination. The good news is that we have both. The island has a lot to offer. In addition, even residents have the option to organize a weekend getaway to another side of the Gran Canaria and relax in the nature. In the following lines we are going to mention 10 rural hotels in Gran Canaria that you cannot miss.
1) Parador Cruz de Tejeda, Tejeda
Tejeda is a 100% inland municipality on the island. In this municipality we find several rural hotels. One of them belongs to the network of Paradores in Spain. In other words, charming rural hotels due to their unique location in natural settings and / or historical character. We recommend a getaway to the Parador of Cruz de Tejeda to enjoy its hanging pool overlooking Roque Bentayga and Roque Nublo, the Sacred Mountains of Gran Canaria.
2) Rural Hotel Las Tirajanas, San Bartolomé de Tirajana
This rural hotel is also located in an idyllic location. The views from here to the mountains of San Bartolomé de Tirajana and surroundings are spectacular. It is very close to the town of Tunte.
3) Hacienda del Buen Suceso, Arucas
If anything differentiates the rural landscape of the Canary Islands from the rest of the world, it is the banana trees. The Canary banana is a symbol for the islands and, of course, an indispensable food. At Hacienda del Buen Suceso you can stay among banana trees. Also a few minutes by car you have the town of Arucas.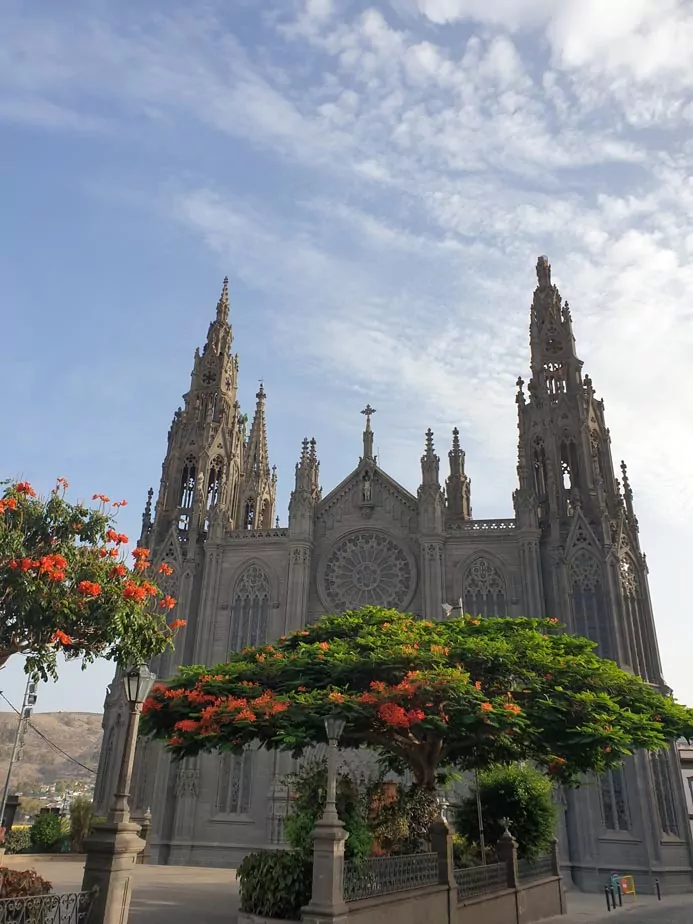 4) Redondo de Guayedra, Agaete
El Redondo de Guayedra is a rural hotel perfectly integrated into the landscape that makes up the ravine of the same name. A few meters away we also have the Sotavento and Guayedra beaches. In this area of the island there is much to do and see: the Puerto de Las Nieves, el Charco Azul, etc. The sunset and the views of Tenerife from here are a spectacle.
5) Rural Hotel Maipez THe Senses Collection, Santa Brígida
This hotel is chosen for weddings because of its beautiful surroundings and common areas. It is a few steps from the Jardín Canario.
6) Rural Hotel El Refugio, Tejeda
In the same Cruz de Tejeda, a few steps from the Parador, you also have the option of staying at El Refugio. This hotel is a little older, but still has its charm.
7) Rural Hotel Melva Suite 4*, Firgas
In the La Caldera neighborhood, municipality of Firgas, you have the option of staying at the Melva Suite rural hotel. A wonderful area if you like hiking. Likewise, just five minutes by car is the town of Firgas, a charming little town. You cannot miss a meal at the La Caldera restaurant.
8) Rural hotel Las Calas 3*, San Mateo
It is a 17th century mansion converted into a rural hotel. It is just 5 minutes from the Vega de San Mateo. A town full of local life where its main attraction is the San Mateo market. Here they come from all over the island to buy fruits, vegetables, cheeses, breads, etc.
9) Rural hotel El Mondalón, Las Palmas de Gran Canaria
This hotel is located in Marzagán, a town in Las Palmas de Gran Canaria very close to Santa Brígida. A large part of the production and cultivation of wine from Gran Canaria is concentrated in this area. Therefore, it is an ideal area to stay and practice wine tourism and / or visit the wineries in the area. Also, very close is the Caldera and the Pico de Bandama, there are good restaurants with Canarian food, etc.
10) Villa Bandama Golf hotel, Santa Brígida
This rural hotel is so close to the Caldera de Bandama. An ideal environment for hiking, wine and / or golf lovers. Next to the hotel is the Bandama golf course, one of the oldest in Spain and Europe.
We hope that all of this information is helpful for you. In case you are also interested in rural houses in Gran Canaria, have a look at the previous link.
Finally, if you still have no idea about the things to do in Gran Canaria or where to eat, we encourage you to take a look at our section of local guides. It will your best choice you if you do not have time to look for the info and prefer to let yourself be advised by a local.