Where is the best pizza in Las Palmas? Surely here there are differences in opinions. Some of us like them finer, others with sauces, others with a cheese rim, others prefer the cheapest ones, etc. Taking into account that the pizza is originally from Naples, we will try to follow this criterion to select the best ones. That is to say, the authentic Neapolitan pizza is thin crust with thicker edges, in addition, it has fresh natural tomato and mozzarella. Here we are going to avoid mentioning pizzas such as the ones from Pizza Hut or Telepizza with cheese edges, or pizzas with canned mushrooms and tomato.
Pizza in Las Palmas
Next we will mention the restaurants with the best pizzas in Las Palmas de Gran Canaria and, therefore, those that use the freshest and most original ingredients in their recipes.
✔ Comando Pikza, pizza in Las Canteras
At Comando Pikza you will be able to savor the best pizzas in Gran Canaria. They are made with sourdough and select ingredients from Italian cuisine. For example, we recommend trying their focaccia with pork guanciale or pizza with potatoes, gorgonzola cheese and smoked speck. It is clear that here you will not find the typical pizza with pineapple. What's more, we could classify their pizzas as gourmet and that, in addition, you can combine them with a delicious cocktail.
✔ Pizzeria Lacandella, pizza in Triana
This pizzeria has recently joined the offer of pizza in Las Palmas, but it has been going strong. They have a wood oven brought from Italy where they do magic. In their dishes they introduce exclusive ingredients such as the famous San Marzano PDO tomato or the fresh Fior di Latte cheese (mozarella type). One thing that we like and that most Spaniards will love is that instead of including Parma ham in their pizzas, they substitute Iberian Ham. Also, for dessert they have a Nutella pizza with Bandama cookies. A must for those sweet lovers!
✔ Napoli in bocca pizzeria, pizza in Las Palmas
It is another Neapolitan pizzeria in the heart of Triana neighborhood. As you can see in the next photo, their pizzas are thin, but with thick edges. Fresh tomato, mozarella and basil, what more could you ask for?
✔ La mafia se sienta a la mesa, pizzeria in Las Palmas
Despite the fact that La mafia se sienta a la mesa is a franchise, we can firmly affirm that their pizzas have something special. Especially those with truffled mayonnaise. Likewise, they have one of the best pizzas in Las Palmas recommended for lovers of a very thin dough. As we say, the pizzas with truffled mayonnaise or truffle cream are delicious. These are the Tartufata and the Funghi e Porchetta.
More pizza in Las Palmas
At the time, the Pizza Real pizzeria was very successful, but since 2019 they closed their doors. A classic in Gran Canaria. Other pizzerias in Las Palmas that our Instagram community recommends are: La Gustosa, 450 Gradi Pizzeria, La Gioconda, Piemonte, Monkey Las Palmas, La Piccola Italia and Il segreto di Pulcinella.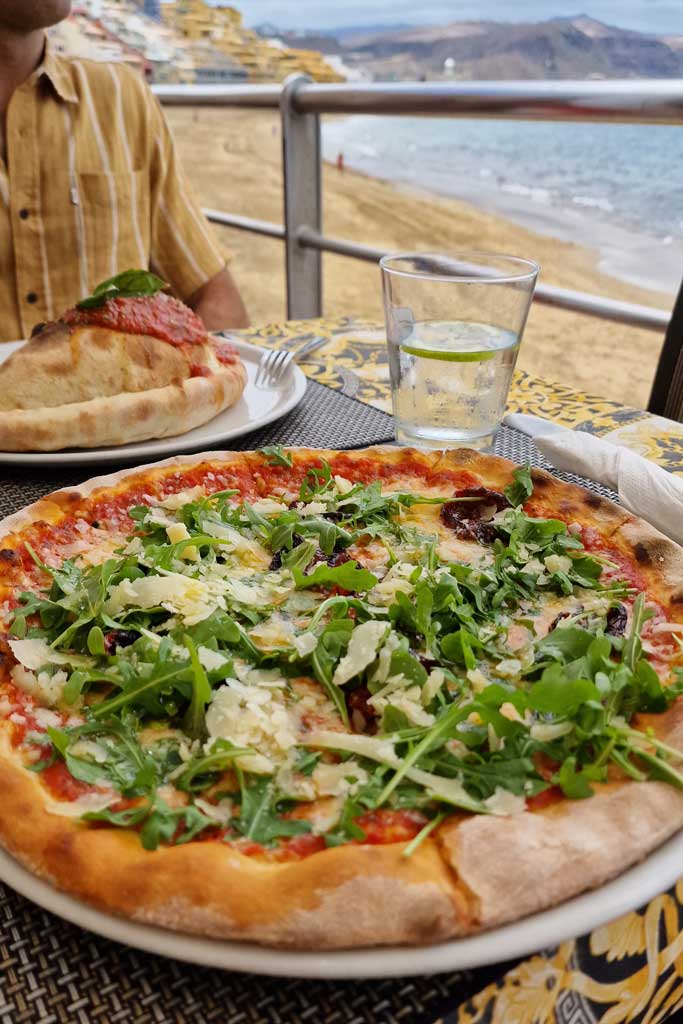 Pizzas in Las Palmas – home delivery
As for home delivery pizzas in Las Palmas, keep in mind that, if they do not have their own service, almost all these pizzerias work with Glovo, Uber Eats, Just Eat in the capital. If you are visiting the capital, but do not feel like going out to eat, this may be a good option. We leave you with our article and guide on things to do in Las Palmas de Gran Canaria. We are sure that it can be of great help to you.
Pizzerias in Gran Canaria
In Gran Canaria we also have master pizza makers distributed throughout the island municipalities. Below we tell you which are for us the best pizzerias in Gran Canaria and, in the end, the recommendations of our @welovegrancanaria community.
✔ Pizzería Addio Mare, San Agustín
We have already told you about this pizzeria in Gran Canaria. It is known for its delicious sirloin pizzas. For us the favorite is the sirloin with bearnaise sauce that we show you below. It is located a few steps from the San Agustín beach, in the San Agustín shopping center.
✔ Pizzeria La Cantina, Valsequillo
This pizzeria is not very well known, but behind its stoves there is a great expert on Italian cuisine. The place is located on the football field of the town of Valsequillo, but once inside the restaurant, everything is attention, good atmosphere and quality cuisine. We recommend the pizza "fuera de juego".
✔ El mago Karlín, Melenara beach
Coincidentally, El Mago Karlín was one of the Italian owners of the La Cantina pizzeria until he set up his own restaurant at Melenara beach. Their pizza and focaccia is undoubtedly among the best pizza in Gran Canaria. Moreover it is on the beachfront.
✔ Pizzeria Salento L'Aldea, La Aldea de San Nicolás
We discovered this Italian restaurant by chance one day when we were on a motorcycle route around the island and we stopped to eat at La Aldea. The truth is that it was a pleasant surprise. Everything we tried was delicious. The waiter suggested adding avocado to the pizza with tomato and arugula and it was spectacular. Also the buffalo mozzarella was a show.
In addition to these pizzas in Gran Canaria, we want to share with you those recommended by our Instagram followers. They are Pizza Flash in Vecindario, Buona pizza in Telde and Jevule in Playa del Inglés.
Pizza in Las Palmas and other restaurants in Gran Canaria
We hope this post about pizzas in Las Palmas and Gran Canaria has been helpful to you. Likewise, if you want to know more places to eat in Las Palmas de Gran Canaria and on the island, we have our Gran Canaria restaurant guide at your disposal. In addition to taking valuable information with you, you will be supporting us to continue creating epic content. Thank you!