A visit to Gran Canaria island will never be complete without a step by Maspalomas beach and tourist area. It is located in the south part of the island in the municipality of San Bartolomé de Tirajana and surrounded by the touristic areas Playa del Inglés and Meloneras, so that it is reachable from two sides. After Las Canteras beach in Las Palmas de Gran Canaria city, as we see it, Maspalomas is one of the best beaches of Gran Canaria.
Things to do in Maspalomas beach
At Maspalomas beach there are at least three things that you should discover: the Lighthouse of Maspalomas, the Maspalomas sand Dunes and the Oasis of Maspalomas. We will inform you what we know from each of them below:
✔ Maspalomas Lighthouse
The lighthouse is located at the end of Meloneras promenade and at the beginning of Maspalomas beach (or at the end, it depends on how you look it). Its construction was led by the Canarian engineer Juan León y Castillo. The lighthouse is working since 1890 until today, being considered an emblematic icon from Gran Canaria island. In addition, it is one of the most popular ones from the Canary Islands. You can visit the interior of the Lighthouse and have good views from the top of its base.
✔ Maspalomas sand dunes
The set of dunes was named Special Nature Reserve, this means that it is a protected area from the Government of the Canary Islands. It has approximately 400 hectares of surface. The best view from the Dunes could be seen from the top of one of them. If it is one of the largest, it is better. In that case you should walk a bit and suffer its rise. You have also an easier option which is to go to the hotel RIU Palace Maspalomas and at the end of it there is a view point (the one that we show you at the beginning of the post).
Camel ride through Maspalomas sand dunes
One of the plans to do in Gran Canaria is the typical camel ride through the Dunes of Maspalomas, a few steps from the oasis. It is one of the activities that we recommend you do with children during your holidays on the island.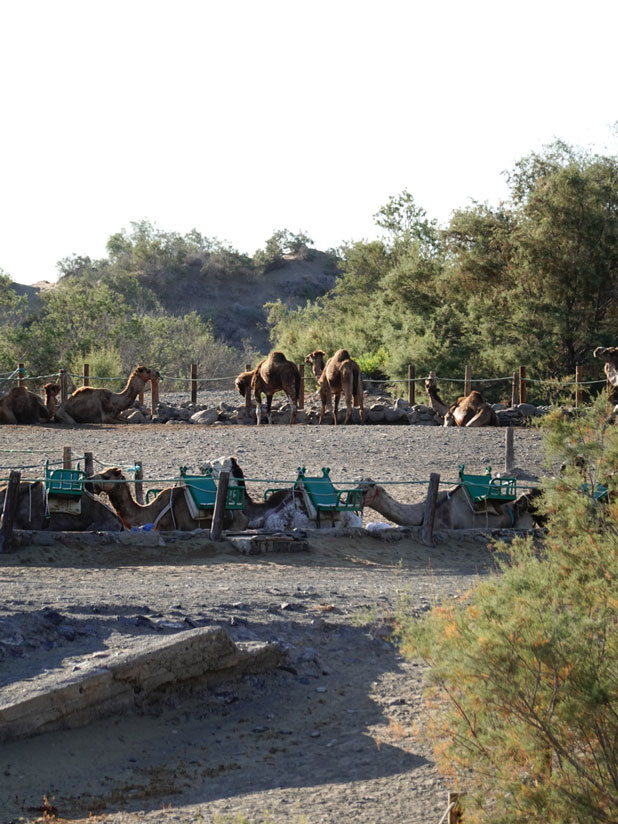 ✔ La Charca or Oasis of Maspalomas
As the Dunes, the Charca or Oasis of Maspalomas is also a Special Nature Reserve. Some years ago the Charca was connected with the sea and sometimes it also happens when there is bad weather conditions. This protected area has different species of flora and fauna. We are talking about birds, reptiles, fishes, crustaceans, insects, etc…. However, nowadays its environment has been modified because of the tourism, which has caused the disappearance of some species.
✔ Maspalomas beach
Maspalomas beach starts next to the Lighthouse and ends at the south part of Gran Canaria where Maspalomas joins with Playa del Inglés. Both beaches are about 6 kilometers long. We recommend you a walk through both beaches where you will be in the middle of sand, dunes and sea. You should know that the beach is the same, but in the point it changes the name to Playa del Inglés. If you are not that fit, get some money to take a taxi back. If you are not used to walk on the sand you can have some sole ache.
– Beach houses
Maspalomas and Playa del Inglés beaches have some beach bars along the beach. Don't wait a large gastronomic offer here, because there are only sandwiches, drinks and chips. It is true that this could be better exploited and why not having a Canarian fruit salad at the beach? Or some good papas arrugadas and Canarian cheeses?
Anyway, if you feel hungry and you haven't taken anything with you there are some beach bars at Maspalomas and Playa del Inglés. You should know that the beach bar number 7 is for gay clients. So that, as a general rule, the people which is at this area also. The most familiar area is located close to the Maspalomas Lighthouse.
– Nudist area
If you start walking from Maspalomas Lighthouse, about 20 minutes walk later you will find the nudist area. There is a sign which marks the beginning ant the end, but it takes until the beach bar number 3 in Playa del Inglés. Have a look at this post with more nudist beaches in Gran Canaria.
– Sun bed and umbrella rental
In some different parts of Maspalomas beach you can rent sun beds and umbrellas. It is true that the quality is not the best ant we would love that they renovate them soon.
– Toilets and lockers
Very close to the Charca where the restaurant area ends, there are some public toilets and lockers. If you would like to walk with al the stuff, you have the option of leaving them at one locker. Remember to put on sunscreen before leaving it!
– Surf in Maspalomas beach
If you like surfing, just where both beaches are joined there are some waves where some locals usually surf. Also, next to the lighthouse there are usually nice waves and locals surfing.
– Sunset in Maspalomas beach
From Maspalomas you will see one of the best sunsets of Gran Canaria. Do not miss it!
Restaurants in Maspalomas beach
If you have the option of taking the car, we suggest you take a look at our article about the best restaurants in Maspalomas and the south of the island. On the contrary, if you are only looking for restaurants on the beach, that you can go walking, we make several proposals below:
Restaurant El Senador. Here you can eat very well, but it is quite expensive compared to Gran Canaria prices. You have to consider that it is almost located inside the Maspalomas beach, next to the lighthouse. As we have tasted this restaurant, the food is from good quality. This restaurant has also a beach club where you can spend the day at.
Restaurant Samsara. It is better for dinner because it is more fancy and it is not in the same beach. Its cuisine is awesome, they mix food from different parts of the world. Take in mind that you have to book in advance and it is also quite expensive.
Restaurant Casa Antonio El Velero. It is also located in the same beach of Maspalomas, but it is more cheaper than El Senador. The food quality is a bit worse, so that the food preparation.
Bar Surf Burger. It is also on the beachfront. If you feel like eating a sandwich or a hamburger, this could be a good option. We have been here sometimes and it isn't that bad. However, it is only fast food. The alioli is home made and delicious.
Finally, if we walk along the promenade towards Meloneras beach, we also find the El Churrasco restaurant. A very famous place for its grilled meats. The location of this site is idyllic, although bear in mind that the site is quite expensive.
Hotels in Maspalomas beach
We confirm that Maspalomas is one of the best places to look for hotels in Gran Canaria. It's a tourist area, but nice and peaceful. Also, having a beach like this during all your vacations is priceless. Check all the hotels in Maspalomas below.
Video about Maspalomas
If you want to see our video about the sunrise and sunset in Maspalomas Beach, we leave it to you below. To see all our videos, have a look at our Local Guide Gran Canaria YouTube channel and subscribe! 🙂 We have English subtitles in all of them!
Finally, we introduce you to our Gran Canaria digital guides and the best places to eat on the island. With more than 80 restaurants of local, international and Spanish food, places to have breakfast, etc that the locals frequent. Do not miss it!