Las Canteras beach is the 365 days outdoor park for the residents in Las Palmas de Gran Canaria. A huge beach from around 3 kilometers long. It is considered one of the most important and urban beaches in Gran Canaria and in Spain. In fact, it has some nacional and international recognitions. Along the beach we have the sea promenade Las Canteras, where you will find a wide offer of restaurants, hotels and leisure.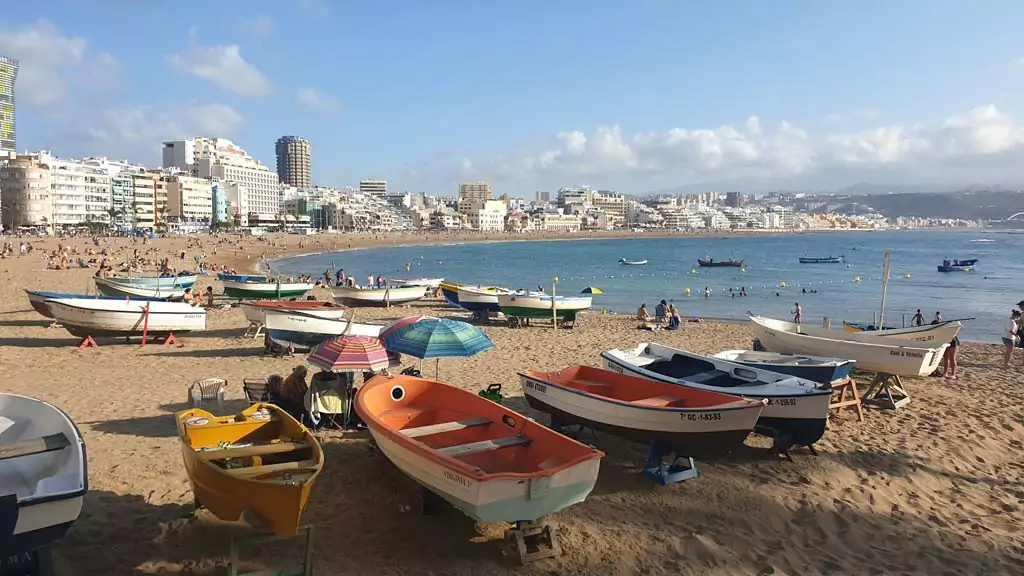 About Las Canteras beach
Las Canteras beach is divided in different areas where the sand color even changes. However, in general, the beach is well known because of its clear water and blonde sand. Additionally, one of its highlights is the reef which goes through most of Las Canteras. We call it "La Barra" or stone barrier reef. Thanks to La Barra most of the beach parts are calm, since the reef is like a seawall. When the tide is low, the residents usually swim until they reach it.
So that, from here we can see the beach from another point of view and swim into the open sea. In the same way, if the sea isn't rough, you can snorkel here and sight the sea life from the area. To highlight the Canarian vieja or parrot fish.
Concerning its facilities, it has sun beds and umbrellas areas to rent, public toilets, showers, lockers, parks for kids, surveillance and life guards. Moreover, it is accesible for people with reduced mobility, even to reach the sea. Las Canteras beach also has the distinguished European blue flag since 1989. You should know that after consulting the citizens of Las Palmas de Gran Canaria, smoking is prohibited on the entire beach since the end of 2017. Finally, it is open for swimming the whole year thanks to the good weather of the island and that the sea in this area is usually quiet.
✔ Alfredo Kraus Auditorium
Next we have made for you a small summary of the wonders that you will find along these three kilometers from end to end. This means from the Auditorium Alfredo Kraus until La Puntilla. However, the best is that you have a walk from side to side so that you can appreciate all its beauty. The first attraction is the Alfredo Kraus Auditorium, the cultural and congress building that you see below with the name of the Canarian tenor.
✔ La Cícer
If we start the sea promenade from the Auditorium Alfredo Kraus we will reach La Cícer. From black sand and some stones. Surf and body board paradise, so that where other sports are permitted. For this reason, it is usually very frequented by young people. In this area you can receive some surf lessons. There are many schools and courses daily. This area is not that recommended for families because the sea is not that calm.
✔ Peña La Vieja
If you keep on walking, you will reach Peña La Vieja. It is characterized by having very close to the shore an outstanding rock called Peña La Vieja. Normally the young people scale it and jump into the water. Also, in this part of Las Canteras beach there is one of the bests artisan ice-cream parlours from the island. It is the Peña La Vieja ice-cream parlour. Moreover, it is one of the unique places in Gran Canaria where you can enjoy a real and fresh tiger nut milk or horchata (typical from Valencia).
Please consider that they only sell to take away. This means that they do not have tables or seats. However, what better plan than walk along the Paseo de Las Canteras enjoying an ice-cream or a glass of tiger nut milk? Our favorite one is dark chocolate with orange and the green tea.
✔ Playa Chica and Muro Marrero
Playa Chica and Muro Marrero are located just in front of La Barra and here the sea is very quite. In addition, at Playa Chica there is a small bay, hence its name, and here is where most of the families like to be. As you can see, in this part of Las Canteras Beach the water is especially clear.
✔ Playa Grande
Then you will come across Playa Grande, the widest area of Las Canteras Beach. Next to this part you will find parks for children in the sand, rent of sun beds and umbrellas and even the possibility of placing nets to play beach tennis or volleyball. Here is where you will find the ramps enabled for people with reduced mobility to access the sand and water. As for its sea, it is ideal for swimming, diving and / or snorkeling. In Playa Grande, hotels and apartments are concentrated. It is where in its day the city saw emerge a tourist boom, especially with the Nordic tourism.
✔ La Puntilla
Once we pass Playa Grande, we reach the fishing area of La Puntilla and, therefore, the end of Las Canteras. From here you can enjoy magical sunsets, as well as photograph the fishermen's boats that we show you in the first photo of this post. Likewise, if you continue walking towards El Confital beach you will see corners like the one we show you below, known as Los Nidillos.
Restaurants in Las Canteras beach
We recommend you to have a look at our post about places to eat in Las Canteras beach. There is a wide offer of restaurants and some of them are for tourists. Have a look at those the locals visit!
Hotels in Las Canteras beach
If you are looking for hotels in Gran Canaria, staying in Las Canteras beach is a very good option. Have a look at the offer of hotels and apartments below and choose yours!
We hope you enjoyed our walk through Las Canteras. Without any doubt is one of the best beaches of the island and you can't miss it in your visit to Gran Canaria! Then we leave you with a video that passes through each of the areas that we mentioned earlier. If you want to see more videos like this, please join our YouTube channel.
Finally, if you want to discover more authentic places to eat and to visit on the island, you can not miss our Gran Canaria guides! Forget about wasting time organizing your trip and let someone from the island do it for you.