El Burrero is a coastal town located to the east of Gran Canaria that belongs to the municipality of Ingenio. It is located next to the airport, so it coexists with aircraft traffic. However, its coast is very beautiful and there is a good local atmosphere. A few meters from El Burrero is the hidden beach of San Agustín, which can be reached by a beautiful walk. Here we tell you a little more about this area of the island and places to eat. Let's go!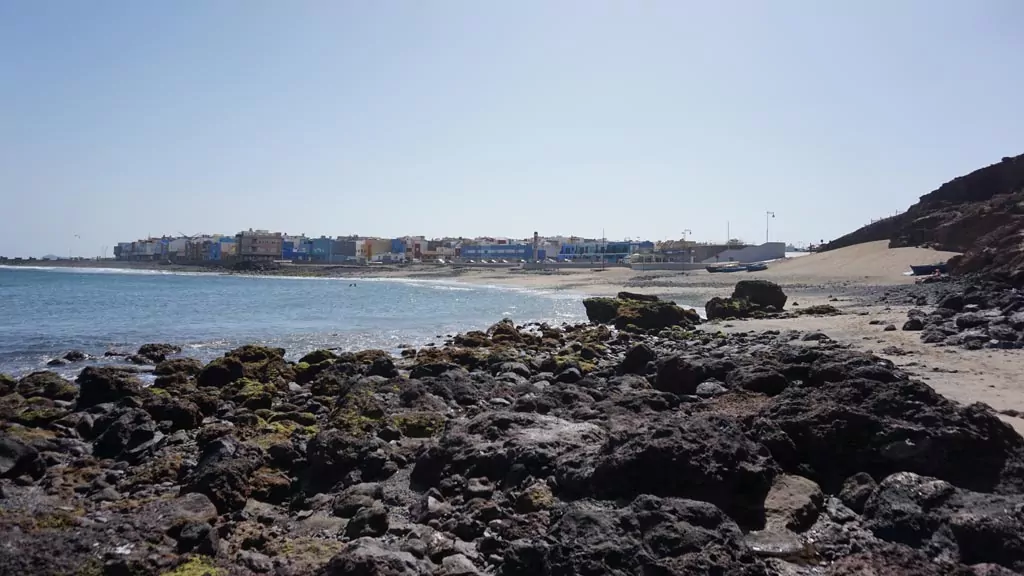 El Burrero beach
As you may know, the entire southeast coast of Gran Canaria is quite windy, so El Burrero too. Therefore, it is ideal for practicing water sports such as surfing, kite surfing and wind surfing. In fact, the beach is divided into several parts: for bathing, for surfing and for windsurfing or kitesurfing.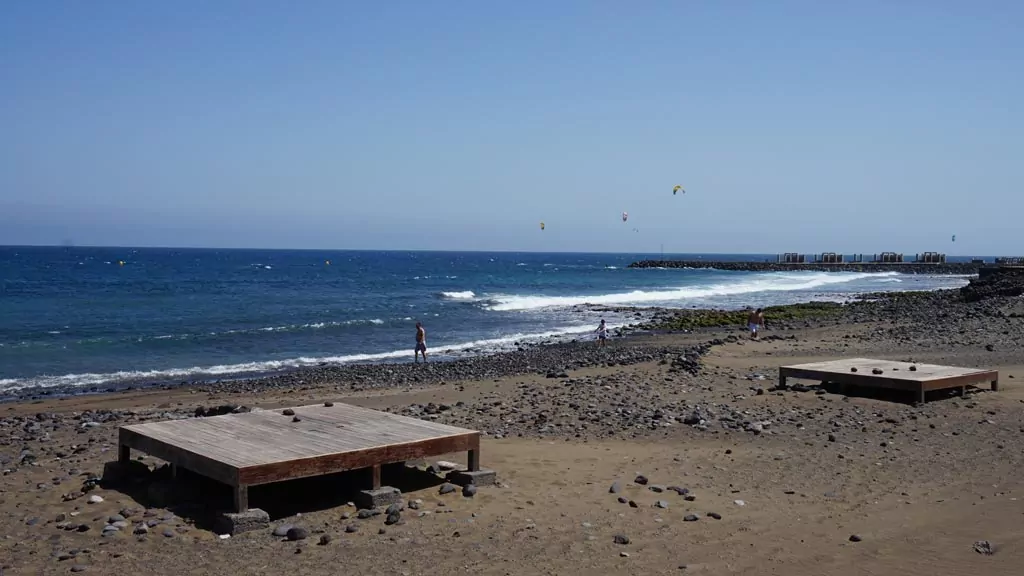 The part suitable for swimming is the one that is most whipped by the wind because of a beautiful volcanic hill that stands out in the sea. Even so, you should know that the beach is usually quite windy and you should check if it is a suitable day to visit it. If you don't come to surf, the best months, due to the lack of wind, are usually September and October.
✔ Blue Flag
El Burrero beach is one of the beaches of Gran Canaria that has been awarded the distinguished blue flag. That is, an award that certifies its environmental quality, both the quality of its waters, and the number of services it offers. In this case, it has access for people with reduced mobility, showers, services, surveillance and parking. It does not have sun beds, but it does have large wooden tatami to lie on.
✔ New promenade El Burrero beach
Recently a one kilometre long promenade, the Tomás Cruz Alemán promenade, was inaugurated. This small path goes from the pier of El Burrero in a southerly direction. The path ends in some land that we leave it up to you to investigate further as far as Arinaga. Remember that on windy days it will not be very pleasant to walk here. We share a photo with you below.
San Agustin beach, Ingenio
There is a promenade that joins the beach of El Burrero with that of San Agustín (the one of Ingenio). It is a dark sand beach, but without surveillance and without services. In addition, access from the promenade is complicated. To get to San Agustín beach, take the promenade that runs along the coast of El Burrero towards the airport and you will arrive. The walk is super nice and pleasant, we show it below and in the video at the end of this post.
If this is your first time visiting Gran Canaria, keep in mind that there is another beach on the island called San Agustín in the tourist town of San Bartolomé de Tirajana, so don't get confused.
Places to eat in El Burrero
Just 5 minutes by car is the Las Lilas grill, in the industrial area of Las Majoreras. A hidden gem to eat in Ingenio. However, it is a place not suitable for all because of the prices, although the service and the quality of the food are awesome.
If you don't know where to stay in Gran Canaria and you like this area of the island, have a look at all the options below.
Video about El Burrero beach and San Agustin
Below we leave you with a short video of El Burrero beach and the promenade that joins this beach with San Agustín (Ingenio). Remember that if you subscribe to our YouTube channel you will have free content about plans to do in Gran Canaria.
We hope you continue learning about things to do in Canaria with us! If you want to know more places like this, you can not miss our guides on the island. Both restaurants and authentic places to visit. Thanks for your support!
We are Ruth & Jorge, Gran Canarians with a travelling soul. Experts in tourism and digital marketing. We share the most authentic side of Gran Canaria (where we live) and… our adventures around the world!