If you are reading these lines it is because you want to know the best burgers in Las Palmas de Gran Canaria. Here we will mention all those that are worth trying taking into account the quality of their meats, bread, ingredients, garnish, variety and the service. The best hamburgers in Las Palmas can also arrive at your home with companies such as Just Eeat or Glovo, so in some cases the restaurant service will not be taken into account. Here we go!
The best burgers in Las Palmas
Below we list the best burgers in Las Palmas de GC according to our opinion and after the votes of our Instagram community at @welovegrancanaria.
1) Burger La 66, Las Palmas
It stands out for its beef burgers of 100, 200, 300 and up to 800 gr. They all come with artisan bread, lettuce, tomato, onion and pickle, like the typical American ones. You can also add cheddar or Monterey Jack cheese. They also have gourmet sirloin burgers and angus entrecôte on their menu. Keep in mind that you can confuse it with route 66 burger (in the south), but this burger joint in Las Palmas is called La 66 and is in the La Puntilla area, in Las Canteras. You can see the menu here (only in Spanish).
2) Rockabilly Burger Bar
This burger in Las Palmas could not be missing in this article about the best hamburgers in Las Palmas. Here they have several flavors, highlighting the Canarian black pig burger, as well as their 100% Galician cow burgers without additives that can be from 125gr to 375gr. You can see all the options of their menu here. Rockabilly has three hamburger restaurants scattered around the capital in the areas of Triana, Mesa y López Avenue and the port. Anyway, if you are looking for burgers to take away or with home delivery in Las Palmas, almost all of them are on Glovo, JustEat and UberEats.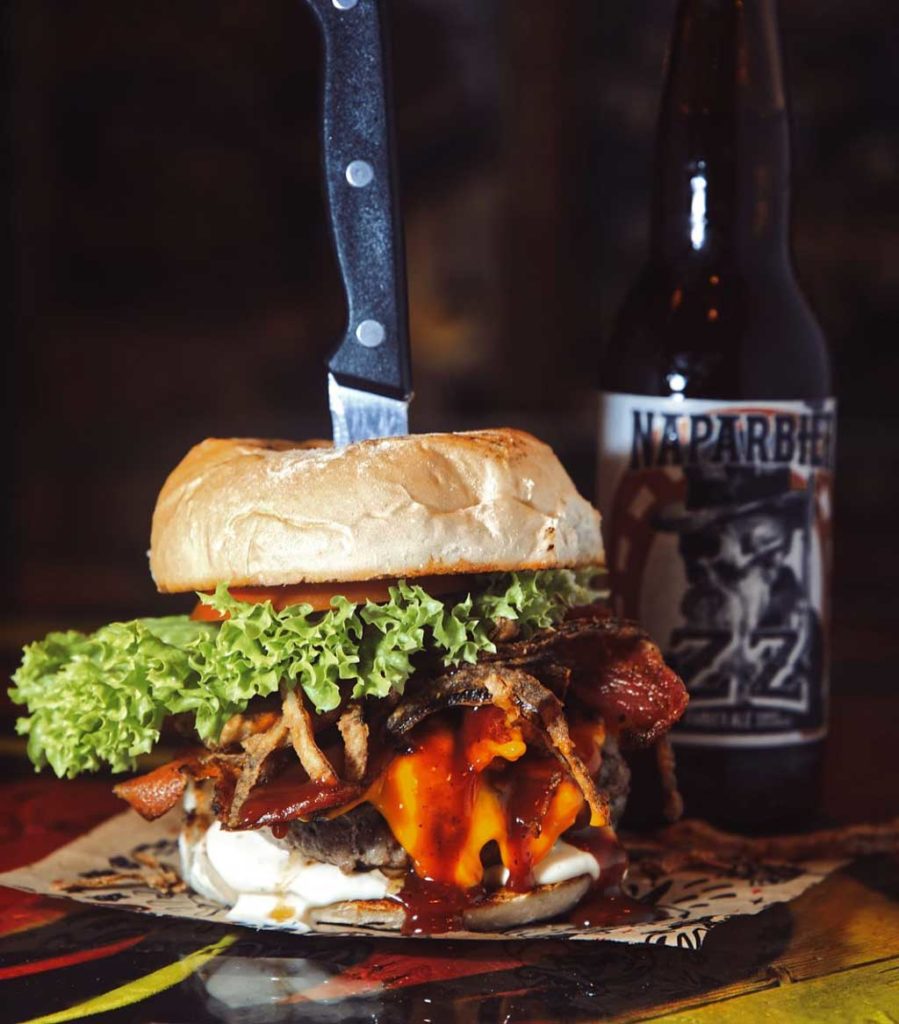 3) 200 Gramos burger
This burger house has grown little by little and already has four restaurants in Gran Canaria. One of them in the south. They are specialized in gourmet burgers with 100% beef without additives cooked on the grill, natural fries and homemade gofio or brioche bread. We invite you to take a look at your menu with the different options (I hope you are not reading us without having eaten). We wanted to highlight its "Del Monte" hamburger with spinach leaves, grilled foie, pineapple and gofio chutney, port reduction and seasonal sauce. You can see the full menu and book your table here.
4) Bioloco
If you are vegan, there is also a vegan burger option in Las Palmas. Bioloco is a 100% vegan restaurant specialized in fast food. Here you will find different types of hamburgers and all "cruelty free" (movement against animal torture). They have mushroom burger, vegan chicken, soy, seitan, tofu, chickpea burger and the famous Beyond meat burger (which tastes 100% meat). You can also accompany your vegan cheeseburger and mayonnaise 🙂
In addition to this top 4, we mention other places to eat a delicious hamburger in Las Palmas de Gran Canaria that our Instagram community has valued:
Natural Burger
Café Central
Food truck La Quícara
Costumbres argentinas food truck
Rodilla / Hamburguesa nostra
Burgers in Gran Canaria
On the other hand, we take advantage of this post to mention other burgers out of the city that you should take into account in Gran Canaria:
La Taberna in Telde and in Maspalomas
DeLorean burger, Santa Brígida

Road Rider, Santa Brígida

El Pucha, Arguineguín
La Brasa Steak y Tapas, Santa Brígida
We hope that this post about what for us are the best hamburgers in Las Palmas has been interesting for you. Remember that if you are looking for a hamburger restaurant in Las Palmas with home delivery service, almost all of them are in Just Eat, Glovo and Uber Eats. Anyway, as we have left you the link to each burger joint, you can see on their website which home delivery operators they work with and you just have to order. Enjoy your meal!