If you are reading these lines it is because you want to know the best burgers in Las Palmas de Gran Canaria. Here we will mention all those that are worth trying taking into account the quality of their meats, bread, ingredients, garnish, variety and, where appropriate, the service. If you are looking for burger delivery in Las Palmas, many of these are sent to your holiday home by companies such as Just Eat, Uber eats or Glovo, so in some cases the restaurant service will not be taken into account. Here we go!
The best burgers in Las Palmas
Burger bars are all the rage in the capital of Gran Canaria, with more and more restaurants opening with original proposals. Here, we're going to tell you about the best burger bars in Las Palmas de Gran Canaria according to our humble opinion and after voting with our Instagram community @welovegrancanaria.
1) Burger Qué Guay, fish burgers and surf 'n' turf specialities
This burger bar in Las Palmas has 30 types of super original burgers. Their speciality is fish and surf 'n' turf burgers (combining seafood and meat), although they also have beef, chicken and vegan burgers. We were won over by the "Medusa" with fried octopus, caramelised onion, goat roll, crispy onion and squid ink aioli. We also tried the surf and turf named Big Caribe. It has 200 grams of black angus, prawns, squid ink aioli, mushrooms, blue cheese, crispy bacon and crunchy cheese. Brutal!
The venue is huge enough to host groups and events (it has two floors). It is also full of super cool decorative details such as neon lights, murals, chairs with chains and bicycle pedals, etc. They are in the port area, very close to Las Canteras, you can see how to get there here.
2) El Tiburón, best burger in Las Canteras beach
En El Tiburón is undoubtedly the burger bar with the best views in town, as its terrace overlooks Las Canteras beach. Here each burger has the name of a city, like the Torino, with mortadella, stracciatella cheese, pistachios and spinach. They also have other cities like the Toronto with spinach, goat cheese, fig jam and walnuts and the Tokyo which is vegan. As you read, they are very original. In addition, they all come with semi-wholemeal artisan bread and 200g of veal (you can change it for chicken). By the way, they have wine from Piemonte (an Italian region with very good wine). You can tell the owner is Italian 🙂
3) Burger La 66, American burgers in Las Palmas
It stands out for its beef burgers of 100, 200, 300 and up to 800 gr. They all come with artisan bread, lettuce, tomato, onion and pickle, like the typical American ones. You can also add cheddar or Monterey Jack cheese. They also have gourmet sirloin burgers and angus entrecôte on their menu. Keep in mind that you can confuse it with route 66 burger (in the south), but this burger joint in Las Palmas is called La 66 and is in the La Puntilla area, in Las Canteras.
4) Toro Burger Las Palmas de Gran Canaria, the best cheeseburger in Spain
The Toro Burger hamburgers are already in Las Palmas and here they have the MAYA hamburger, "the best cheeseburger in Spain". In addition, for each Maya sold, they contribute €1 to social projects. In addition to the famous burger, they have 18 different types of burgers on their menu and the typical American starters: wings, chicken fingers, onion rings, etc. The chef, the Brazilian Dado Lima, has burger joints all over Spain: Barcelona, Valencia, Madrid, Malaga, Seville, Salamanca, Tenerife, León…
5) Rockabilly Burger Bar
Rockabilly could not be missing in this article about the best burgers in Las Palmas. Here they have several flavors, highlighting the Canarian black pig burger, as well as their 100% Galician cow burgers without additives that can be from 125gr to 375gr. Rockabilly has three hamburger restaurants scattered around the capital in the areas of Triana, Mesa y López Avenue and the port. Anyway, if you are looking for burger delivery in Las Palmas, almost all of them are on Glovo, JustEat and UberEats.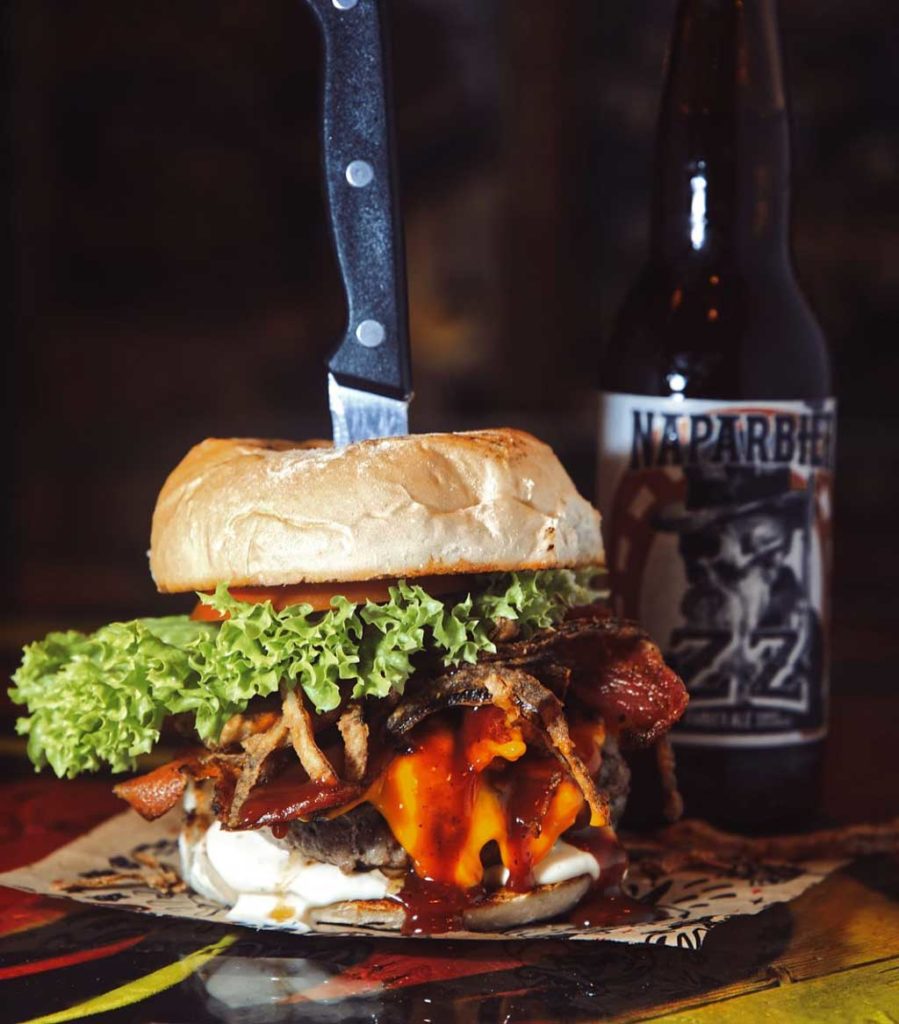 6) 200 Gramos, a must for eating burgers in Las Palmas
This burger house has grown little by little and already has four restaurants in Gran Canaria. One of them in the south. They are specialized in gourmet burgers with 100% beef without additives cooked on the grill, natural fries and homemade gofio or brioche bread. We invite you to take a look at your menu with the different options (I hope you are not reading us without having eaten). We wanted to highlight its "Del Monte" hamburger with spinach leaves, grilled foie, pineapple and gofio chutney, port reduction and seasonal sauce.
Finally, the famous Spanish hamburger franchise Goiko has opened its first restaurant in Gran Canaria in the Triana neighbourhood. As soon as we try it, we will update this content if it is really worth it. On the other hand, below, we mention other burger bars in Las Palmas de Gran Canaria or places to eat a delicious burger that our Instagram community has rated:
Food truck La Quícara
Costumbres argentinas food truck
By the way, if this is your first time in the city and on the island, we invite you to take a look at our articles:
Burgers in Gran Canaria
On the other hand, we take advantage of this post to mention other burgers out of the city that you should take into account in Gran Canaria:
La Taberna Burger Art in Telde
DeLorean burger, Santa Brígida

Road Rider, Santa Brígida

El Pucha, Arguineguín
La Brasa Steak y Tapas, Santa Brígida
We hope that this post about what for us are the best hamburgers in Las Palmas has been interesting for you. If you want to discover more places to eat in Gran Canaria, as well as our itineraries to discover the island on your own, take a look at all our guides below.