If you are reading these lines it is because you want to know the best places to visit in Belgium and we will do everything possible to help you organize your trip. In this case, we will focus on telling you the things to do in Belgium if you want to get to know some of the most touristy and populated cities in this country: Brussels, Ghent, Bruges and Antwerp. We also tell you about it on video at the end, in case it is more comfortable for you than reading all our tips. Here we go!
This is the summary of the contents of this article on places to visit in Belgium and tips.
Best things to do in Belgium: Brussels, Antwerp, Ghent and Bruges
You should know that this tour of the tourist attractions in Belgium is valid to visit the country in the order you prefer. The train connection is fantastic and the best cities to visit in Belgium are less than an hour by train from each other. What we did was sleep one night in each city (except Bruges). This has several advantages: you see the cities at night, you don't waste time going back to Brussels and you avoid paying more train journeys (round trip). Our itinerary through Belgium was as follows:
Arrival day by night with stay at Hotel La Bourse
Day 1, things to do in Brussels: Hotel La Bourse, 5 minutes walk from Grand Place and 10 minutes walk from the central station.
Day 2, things to do in Antwerp: hotel Premier Suites Plus Antwerp, 5 minutes walk from the central station and in the city center.
Day 3, Ghent things to do: Hotel Chamade, 5 minutes walk from the central station and 20 minutes walk from the city center.
Day 4, things to do in Bruges: Hotel La Bourse. Train from Ghent to Bruges, we left our bags at the Bruges station and at the end of the day we traveled by train back to Brussels.
Return trip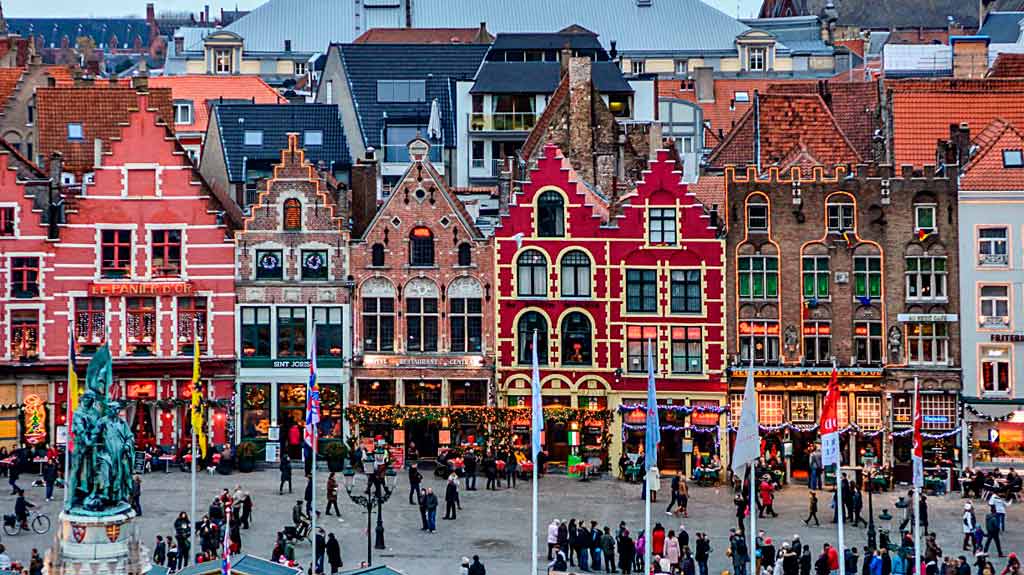 Hotels in Bruges were very expensive, so to visit this city we took an excursion from Ghent (30 min by train). We found it super practical to leave our suitcases in the station lockers. The center can be walked on foot in about 5 hours. At the end of the day, we returned to Brussels by train (approx. 1 hour) and spent the last night there to fly back the next day. At the end we will also tell you how to get around Belgium by train. Next, we will tell you the detailed itinerary on the best Belgium attractions.
DAY 1: Things to do in Brussels, one of the best places to visit in Belgium
One of the best Belgium cities to visit is its capital, also the capital of the European Union. So Brussels cannot be missing from your list of things to see in Belgium.
✔ Grand Place, one of the most amazing must see in Belgium
For us, the Grand Place in Brussels (Grote Markt in Flemish) is one of the best places to visit in Brussels. It is completely surrounded by monuments and you will not get tired of appreciating the different details of each of the buildings: gargoyles, golden figures, incredible facades… The different Brussels free tours depart from this main square. You can book it for free and see the reviews of other travelers here.
It's also one of the best things to see in Belgium in winter, with a nightly light show on the Grand Place for Christmas. This 2023 will be from the 24th November 2023 to 7th January 2024. As we see it, this is one of the best things to do in Belgium at Christmas. We show you part of this show in the video of our visit to Belgium that you can see at the end of this article, but we give you a sneak preview in photos. We travelled in 2022 and the lighting was every hour from Monday to Thursday from 5:00 pm to 10 pm and from Friday to Sunday every half hour.
✔ Galeries Royales St. Hubert
Our second favorite Brussels must see may possibly be the Royal Galleries of St. Hubert. These are commercial galleries from 1847. If you walk through them, note that you will pass through the queen's galleries, those of the king and, in a perpendicular, those of the prince. Here you will find restaurants such as Le Marmiton (Belgian food), Le pain Cotidien (coffee and breakfast) and the famous Neuhaus chocolate shop (one of its several shops).
✔ Manneken pis, Jeanneke pis and Zinneke pis, three Brussels attractions
The Manneken Pis sculpture (1619) is one of the Brussels top attractions and one of the most mythical things to visit in Belgium. This black sculpture simulates a child urinating and measures only half a meter. It is located in the center, right next to the mural of the Tintin comic and Captain Haddock. If you want to know all the legends behind the city and this sculpture, you can hire a free tour. There is also a museum, the Musée de la Ville, where you can find more than 700 costumes that have been given to this child.
Another of the Brussels best places to visit are Jeanneke pis (1985) and Zinneke pis or Het Zinneke (1998). The first one is of the girl urinating, which is next to the famous Delirium Tremens Café brewery. On the other hand, the second is that of a urinating dog that is next to the Sainte Catherine square.
✔ Atomium, things to do in Brussels
The Atomium is one of the tourist attractions in Brussels and, therefore, one of the most photographed places in Belgium. Its figure represents nine atoms that correspond to each of the provinces that make up Belgium. We decided not to go because it is on the outskirts of central Brussels. It is approximately 8 kilometers from the center and we prefer to dedicate that time to other places to visit in Belgium.
✔ Everard T Serclaes Bronze Statue (next to Grand Place)
Another of the best things to do in Brussels that you can do is to go and touch the bronze sculpture of Everard't Serclaes. Apparently Everard'T Seclaes was a Belgian hero who faced the Flemish troops. You will see that the sculpture is somewhat worn, since hundreds of tourists come here daily to touch it because they say it brings good luck if you rub its arm.
On the other hand, we have also read that if you move your hand from head to toe it will help you get married and, conversely, if you touch it from head to toe it will help you separate.
✔ Sainte-Catherine church and square
The Sainte-Catherine square is known because here they set up a market with organic products. In addition, it is surrounded by bars and restaurants (we ate here at The Beers Garden). During Christmas they have several food stalls and a carrusel. Next to the square is the Sainte-Catherine church.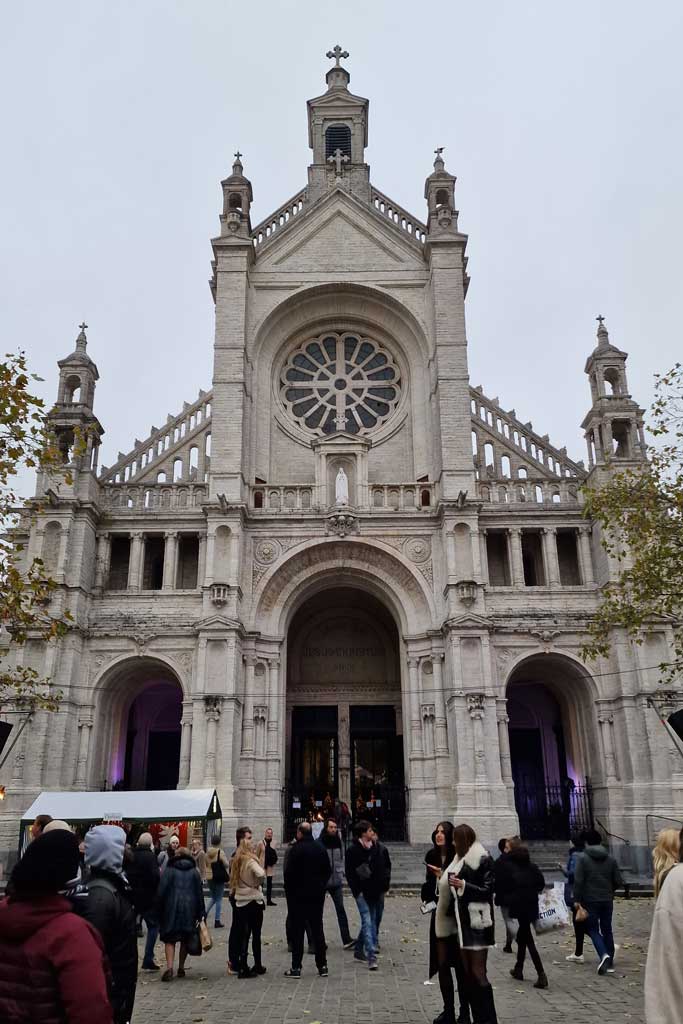 ✔ Brussels Palace and Park
If you want to take a nice walk among the trees, we recommend you visit the park in Brussels. It is next to the Palace of Brussels, so you can take the opportunity to visit both.
✔ Enjoy the view from Mont des Arts, one of the best activities in Brussels
Another very beautiful area to visit in Brussels is the Mont des arts, with one of the best panoramic views of the city. Here, in addition to its beautiful gardens, you are surrounded by buildings with incredible architecture.
✔ St. Michel Cathedral and Notre Dame du Sablon Cathedral
These two cathedrals are a spectacle inside and out. In the case of St. Michel, we recommend paying attention to its stained glass windows, organ and pulpit. Access is free. In the case of Notre Dame, its carved sculptures on one of its side doors are amazing, it also has very beautiful stained glass windows. We show you in the video!
✔ Comic murals, places to visit Brussels
Another thing to do in Brussels is the comic route. Throughout the center you will be able to discover several murals with characters from the most well-known Belgian and French comics such as Tintin. You have several of these murals in the video of the trip below. We do not follow any route as such, but we did pay attention to every corner and street we visited.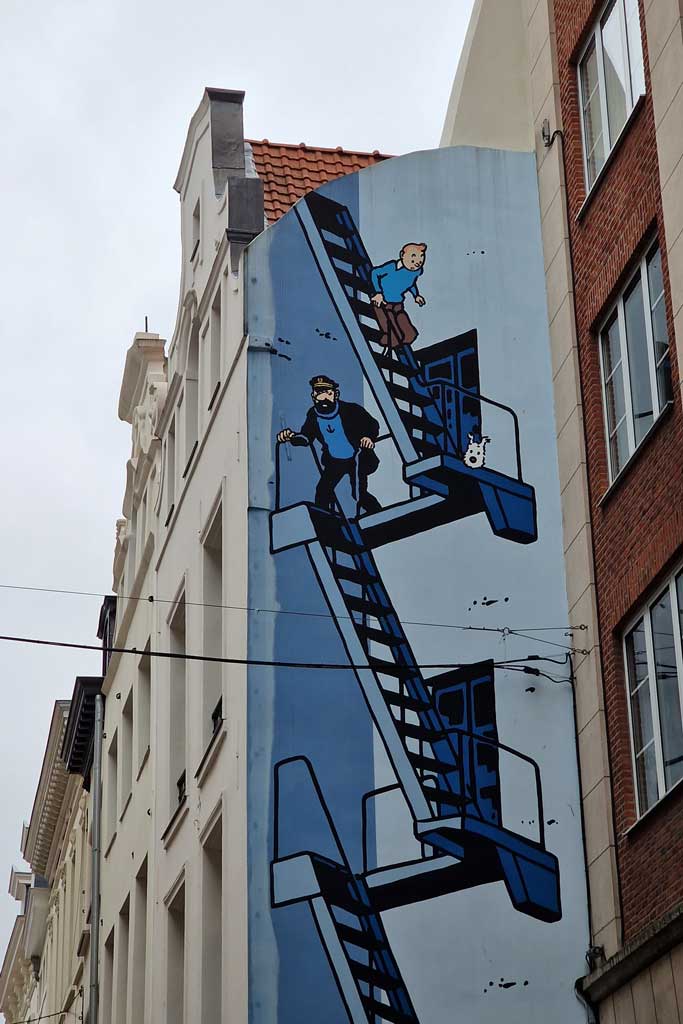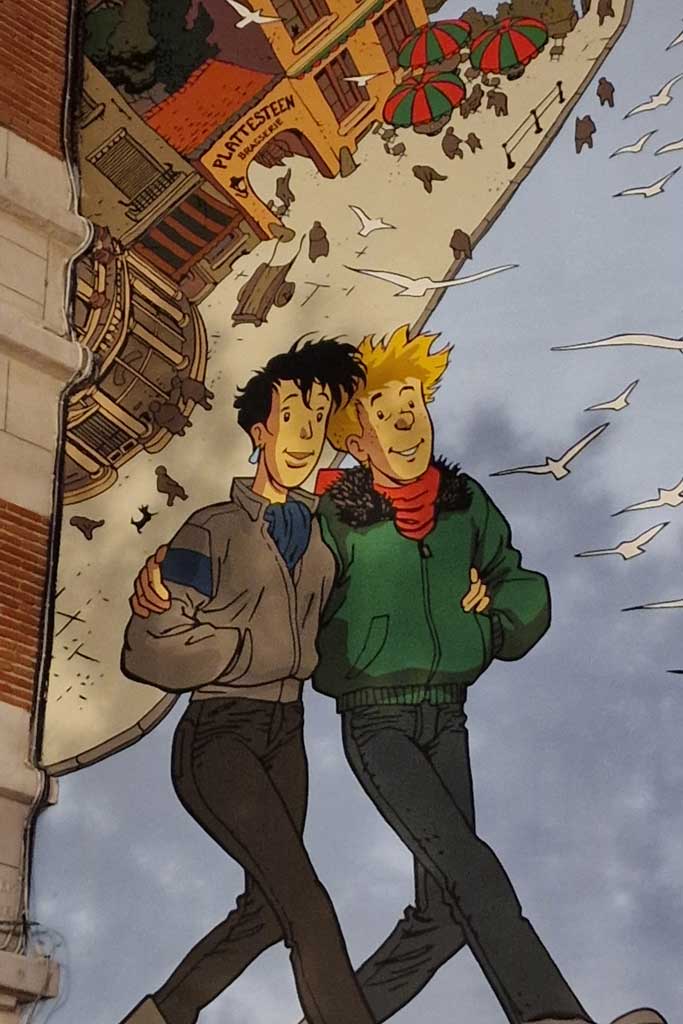 Finally, as you can imagine, there are several museums to visit in Brussels, so if you are looking for things to do in Brussels in two days, you will have time to go to the Atomium and other museums such as the Natural Sciences, the Brussels City Museum, the the Manneken pis costumes (Museum de la Ville), among others.
✔ Restaurants in Brussels
If you don't know where to eat in Brussels, write down these restaurants where you can try Belgian food.
Nüetnigenouh restaurant (near Grand Place). Here we recommend you order the famous beef stew with beer called "Carbonnade flamande" and the sausage with smoked rib "Saucisse de campagne et Kasselrib". Book online, since the site is small.
The Beers Garden, Sainte Catherine. Here we recommend the mussels with white wine sauce and a white sausage with mashed potatoes (we showed you the photo above). For dessert, you have to try the Brussels waffle and its chocolate mousse. If you want to try Belgian beer, ask for the Leffe Brüne, without a doubt our favorite
Brasserie Du Lombard. We recommend the mussels with French fries and salad with Chimay cheese. Here we tried the red Delirium Tremens beer brewed with cherry and the regular one. So yummy!
On the other hand, to buy chocolate in Brussels, we did it at La Biscuterie, here you can even see how they prepare the chocolate bars live as we show you in the video.
✅ We also leave you our hotel in Brussels with a nice buffet breakfast, clean, comfortable, near the station and a 5-minute walk from the Grand Place.
DAY 2: Things to do in Antwerp, one of the best cities in Belgium to visit
One of the best places to go in Belgium is Antwerp. Keep in mind that it is the most populated city in the country and that is why it has several tourist attractions that we will mention below:
✔ Grote Markt, things to see in Antwerp
This central square, like the one in Brussels, is surrounded by emblematic buildings with golden touches. We highlight the town hall building and the Brabo fountain (1887) that we show you below. This sculpture represents the hero Silvius Brabo, who is said to have defeated the giant Antigoon, who charged a toll for crossing the bridge over the Scheldt river in this city. From here starts a free tour with very good opinions from other travelers, you can book it for free here.
✔ Antwerp Cathedral
It is the largest cathedral in Belgium and one of the most important in the Gothic style in all of Europe. Given its size, you will have the best view of the cathedral (and of the city) from the top of the MAS museum, which we will talk about below. It is impressive to walk next to this monument given its immensity, your neck will ache from looking up. When we went, it was under construction and access cost €8.
✔ Steen Castle, Antwerp sightseeing
The Steen Castle is the oldest building in the city of Antwerp (built between 1220 and 1225). It is a medieval fortress erected to control access to the Scheldt River. In case you don't know, steen means stone or rock in Dutch. At the entrance of the castle you will see the giant Antwerp Lange Wapper statue.
✔ Antwerp station (Antwerpen Central)
Another of the most emblematic buildings of Antwerp (built between 1895 and 1905) is the Antwerp Central Station. Any train you catch to visit Antwerp will leave you here, so you can now take advantage of it to visit it.
✅ We stayed very close to here (Premier Suites Plus Antwerp) so as not to walk too much with our suitcases, that is, in the diamond district. The rooms were super spacious, clean and comfortable. They had a kitchen, so we prepared breakfast at home this time, although they also have a breakfast buffet. In short, if you want to buy diamonds, take advantage of the fact that you are in this neighborhood of Antwerp 🙂
✔ Aan de Stroom museum, one of the top places to visit in Belgium
The visit to the Aan de Stroom Museum (in Flemish: "in the current") is one of the places to see in Belgium for its unique architecture and its views of the entire city of Antwerp. Its top floor (10 if I remember correctly) is 60 meters high and is outdoor. Here you will have a 360 view of the entire city.
When we went, access to the top was free and there was a photography exhibition on its stairs and corridors. It is a short walk from the Schipperskwartier neighborhood in the Eilandje district.
✔ Rubenshuis museum, Platin Moretus museum and Hendrik Conscience library
Finally, one of the best things to do in Antwerp is to visit the house-studio of the Belgian painter Peter Paul Rubens, although to access you have to pay. On the other hand, the oldest printing house in the world "Platin Moretus" is also an Antwerp must see. Finally, in this city we find the Hendrick Conscience Library, one of the most beautiful in the world.
✔ Restaurants in Antwerp
Bakkerij Diné: they have homemade waffles away from the tourist streets. We found it returning to the center after visiting the MAS museum and it was a awesome. I leave the address here. Look how these waffles look!
Grand Café De Rooden Hoed: it is a few steps from the Antwerp Cathedral. A super cozy place with Belgian food, good service and apparently nothing touristy (everyone who was eating here seemed local). In this case, we ordered some soups of the day to warm us up and sirloin with béarnaise sauce.
And here ends our mini guide to Antwerp tourist attractions. As you can see, the city is quite interesting and you can visit the most important places in a day.
DAY 3: Things to do in Ghent, Belgium
In the next few lines we are going to detail the things to see in Ghent and places to eat. Remember that if you don't want to waste your time reading, you can always hire a free walking tour of Ghent. You can book it for free and check the opinions of other clients here.
✔ Graslei and Korenlei, best places to visit in Belgium
One of the most beautiful places to visit in Ghent are the banks of the River Lys next to the streets of Graslei and Korenlei. You can take a walk on both sides of the river to appreciate the architecture of the houses. Even take a boat route to tour the city through its canals.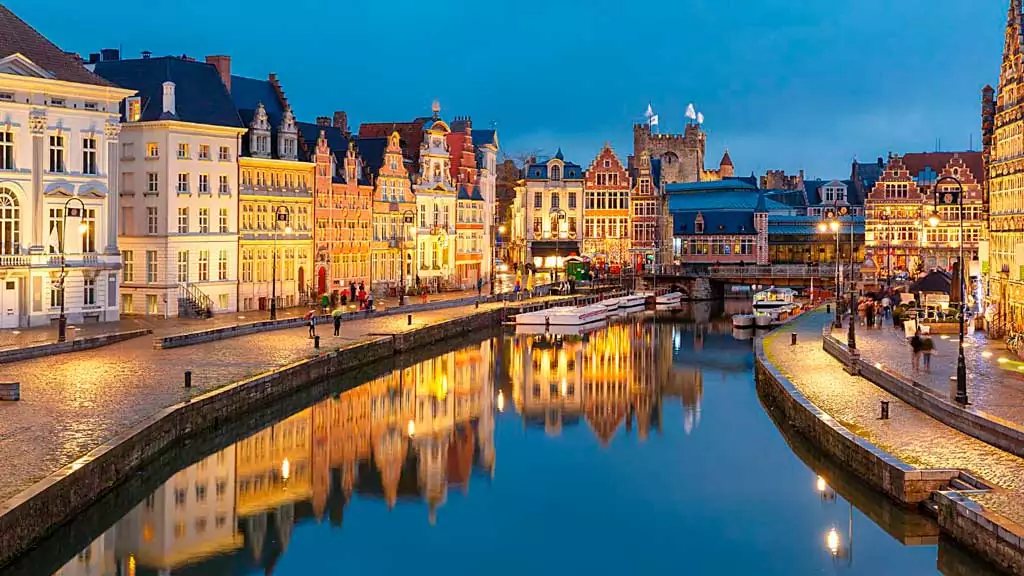 As we show you in the video, a few steps away is the red cannon Dulle Griet from the 15th century.
✔ St Nicholas church
It is possibly one of the most spectacular places to see in Ghent, both day and night. Access is free! You can see a picture below.
✔ St Michael's bridge
This beautiful stone bridge that has become one of the most instagrammable places in Ghent. From here you will have incredible views of the group of traditional houses that are at Graslei and Korenlei. Also, as we show you below, to the church of Saint Nicholas and, finally, to the church of Saint Michael.
✔ Gravensteen Castle of the Counts, Ghent attractions
It is the only medieval castle in Flanders with a practically intact defense system. Inside they have a collection of torture instruments and it is surrounded by the River Lys. Access is paid, but you can also see it from the outside, since its stone structure is beautiful.
✔ Belfry of Ghent
The Ghent Belfry is one of the city's three medieval towers (along with those of St. Bavo's Cathedral and St. Nicholas' Church). It is 91 meters high, so from here you will have one of the best panoramic views of the city. Of course, to get to the top you also have to pay.
✔ Saint Bavo's cathedral Ghent
The Cathedral of Saint Bavo (Sint-Baafskathedraal) began to be built in the year 1228. Here the central tower of almost 90 meters stands out. Inside there is also a work by Rubens, The Entrance into the Monastery of Saint Bavo. The visit to this cathedral is free.
✔ Vrijdagmarkt square
Another place to see in Ghent is the Vrijdamarkt square, the oldest in the city. Vrijdagmarkt means Friday Market in Dutch. The weekly fruit and vegetable market takes place here. The square is surrounded by the beautiful traditional buildings of Flanders. Next to these you will find several restaurants to have a snack and drink. In the center of the square is the sculpture of Jacobo Van Artevelde, known in Ghent as the "wisest man".
✔ Citadelpark
We also walked through this park, since it was on our way from our hotel to get to the center. However, it is not one of the Belgium must sees.
✅ By the way, write down our hotel in Ghent if you want to stay near the station so you don't have to carry your suitcases. The buffet breakfast was super complete with a variety of breads, pastries, cereals, yogurt, cold cuts and fresh fruit. The facilities and cleanliness are also super.
✔ Restaurants in Antwerp
Café 't Klokhuys: Here we ate quite well some vegetable soups and the famous traditional Flemish dish: chicken waterzooi. It is a kind of chicken stew that was sooo delicious. If you visit Belgium in winter, it is a dish that should not be missing.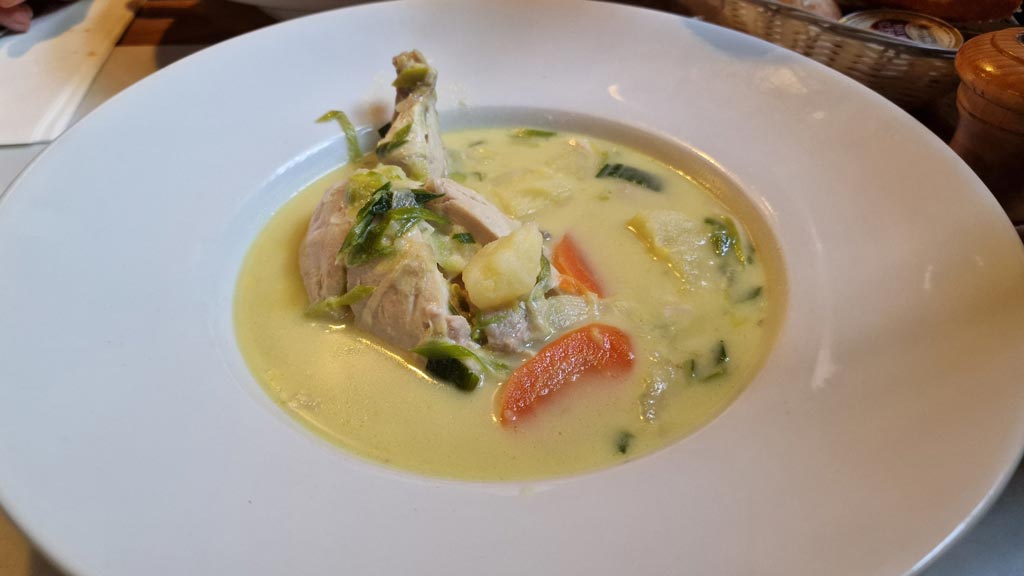 Cuberdons and Lieja waffles: in Ghent you can also try the typical cuberdons, made from syrup and gum arabic and traditionally flavored with raspberry. Here we also tried the Liège waffles with more sugar in their dough and irregular shape (unlike the ones in Brussels, which are perfectly rectangular).
Although waffles are traditional to Liège, you can find them almost everywhere in Belgium. However, cuberdons are an original Ghent sweet. In Flemish they call it "neuzeke" which means small nose and in French "chapeau de curé" (priest's hat). You can find them in the stalls on the streets of the city.
DAY 4: Things to do in Bruges, one of the most beautiful cities in Belgium
One thing to keep in mind is that Bruges is very touristy, so if you can, avoid weekends. As we mentioned, we did not stay there given how expensive hotels in Bruges were and the excursion from Ghent was a good idea. Next, we will mention the best Bruges attractions.
✔ Grote markt and free walking tour
Without a doubt, one of the most beautiful places in Belgium is the main square of Bruges. Here you will have a sample of the traditional Flemish houses (we show you at the beginning). All free walking tours depart from here. You can take a look at the opinions of other travelers and book your free tour here. As it does not have a cost, you only pay the tip that you think is convenient for the guide at the end of the activity.
✔ Rosary quay, one of the best places to visit in Belgium
The Rosary Quay has to be on your list of things to do in Bruges, Belgium. This is where the boat trips through the Bruges canals leave from. In addition, the Rosario is one of the most photographed spots in Belgium in which one of its canals is framed (there are usually swans), the Belfort tower, a beautiful tree (which is decorated at Christmas) and some traditional Belgian houses.
✔ Belfry of Bruges
Another of the things to see in Bruges the Belfort tower where you can have the best views of the historic center of the city. However, you have to climb 366 steps to reach the top (it is 80 meters high). This tower is one of the symbols of Bruges and you can find it in the Grote Markt or main square.
✔ Begijnhof
The Begijnhof is a beguinage that was built in medieval times (1245) so that orphaned or widowed women would have a place to live. This place was declared a World Heritage Site in 1998. Today some Benedictine nuns still reside there and you can access the common areas for free. If you want to enter the museum, you have to pay.
✔ Burg square, Belgium tourist places
The Burg square is another of the places to visit in Bruges due to the number of historical buildings it houses. These are the Town Hall, the Basilica of the Holy Blood, the Palace of Justice, among others.
And these are the main things to do in Bruges in 1 day. If you have more time, take note of the following must sees:
Minnewater Park or Lake of Love
St Salvator's Cathedral
Church of Our Lady of Bruges
Jan Van Eyck Square
Beer Museum, Groeninge Museum and Memling Museum
Video: best places to visit in Belgium
Next, we leave you with the video of our trip through Belgium and the places that we visited. Remember that on our YouTube channel you have more videos about other destinations to visit. English subtitles coming soon.
How to get from Charleroi airport to Brussels
First of all, we understand that you will arrive in Belgium through Charleroi airport or through Brussels airport. We arrived through Charleroi and the option we chose to go from Charleroi to Brussels center was the private transfer. We booked it with Civitatis on the way out. For the return they did not have availability and we resorted to Taxi2Charleroi. Another option is the bus from Charleroi airport to Brussels with Flibco, they also have a shared transfer. The bad thing about the bus is that it only leaves you at one point in the center and then you would have to find how to get to your hotel from there.
Civitatis also has transfers from Brussels airport, not only from Brussels Charleroi south. You can check the prices here.
How to get around Belgium by train
To move around the different cities to visit in Belgium, the best option is the train. Journeys between the best cities in Belgium last between 30 minutes and an hour. So if you spend one night in each city, you will save time and money. Trains cost approximately €7-9 each way, depending on how far in advance you buy them. There is a ticket called Rail Pass that includes 10 trips for about €90 and can be used by several people (over 26). For people under 26 it's the same, but it's cheaper and it's called Go Pass.
Even so, we always recommend asking at the station the first day what is best for you and getting all the tickets at once (in case there are people over 65 or under 26 in your group). What we liked the most about moving by train around Belgium is that you can take the train at the time you want within the day you book and there were always seats available. You can see all the routes and schedules of trains in Belgium here.
Most beautiful towns in Belgium
Finally, you should know that if you are going to be in the country and you want to know the places to see in Belgium in 5 days or things to do in Belgium in 7 days, you should take into account other cities. The most prominent are Leuven, Dinant, Mechelen, Mons, Namur and Liège. Anyway, there are other Belgium tourist spots like the seaside town of Ostend that we think you should consider.
5% discount in your travel insurance (including city breaks)
If you want to travel with peace of mind, take advantage of this 5% discount for your travel insurance to any destination with IATI. With IATI we reserve all travel insurance every time we travel abroad. Luckily, so far we have never had any problems and we hope that it will continue to be so.
5% discount in your eSim with unlimited data
If you are visiting Belgium and your local phone company does not have a data plan in this destination, we would like to offer you a 5% discount for being our reader with Holafly. This way, you can enjoy unlimited data in Belgium as well as other destinations. You can see all plans for mobile data and internet in Belgium here. The discount will be applied at checkout.
Finally, we hope that this guide with the best places to visit in Belgium has been helpful to you. If one day you travel to Gran Canaria, remember that we have a super complete blog to discover the most authentic side of the island. We are waiting for you!
We are Ruth & Jorge, Gran Canarians with a travelling soul. Experts in tourism and digital marketing. We share the most authentic side of Gran Canaria (where we live) and… our adventures around the world!