If you are looking for information about restaurants in Triana, in this article we are going to give you a list with different options and types of food for you to choose from. As you may know, the Triana neighbourhood is one of the places to visit in Las Palmas de Gran Canaria. Therefore, it is very likely that a lunch or dinner during your visit to the capital will be in this area. In this post we are going to share our 10 favourite places to eat in Triana, practically for all tastes. Let's get started!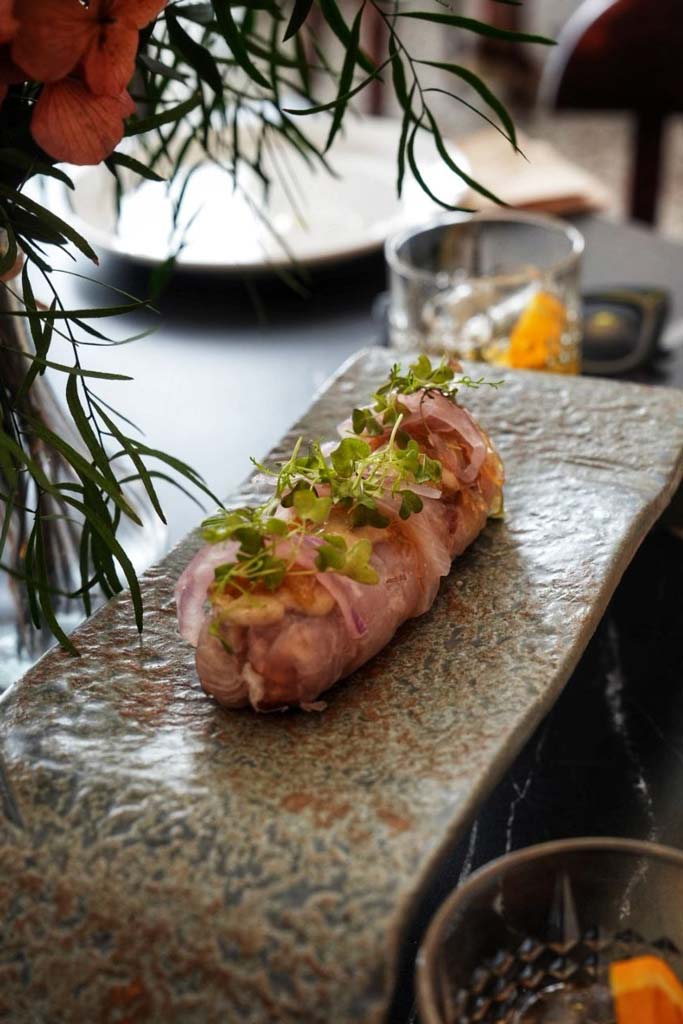 The 10 best Restaurants in Triana, Las Palmas de Gran Canaria
1. Dorotea Triana
The Dorotea tavern has been a great innovation within the offer of restaurants in Las Palmas de Gran Canaria. We love their proposal with unique and original dishes. Its star dishes are the Canarian black pig sandwich with coriander and parmesan mojo, tribute leeks and horse mackerel stuffed with baba ganoush. On the other hand, they have an extensive vermouth menu. We know that they also have delicious breakfasts, but we haven't been able to go yet. We will come back soon for sure!
2. Deliciosa Marta, top restaurants in Triana
As we see it, the restaurant Deliciosa Marta is one of the best restaurants in Gran Canaria, if not the best. It has a delicious gastronomic offer, not very extensive, but of the highest quality. In addition, they also have a 10-star service and their tables are dressed with white tablecloths. Please note that reservations must be made at least one month in advance. Star dishes: truffled gnoquis, potato salad and steak tartar.
3. Las Lagunetas, Canarian food restaurants in Triana
If you do not know nice restaurants in Triana with local food, Las Lagunetas restaurant is your place. This restaurant offers good Canarian food and friendly service in the heart of Triana. It has a double terrace and the interior is quite spacious, so it is not necessary to book, nor do they accept reservations… If you do not know what to order here, ask for a recommendation to the waiter, we recommend the roasted pork leg and potatoes with mojo sauce.
4. La travesía de Triana, tapas restaurants in Triana
If you feel like having some Spanish tapas in a local environment, your place is La Travesía de Triana. Good Serrano ham, "huevos rotos", meat and beer. The site is small and usually crowded, so try to go early or book your table before.
5. Mr. Kale Triana, healthy food
We have already told you about Mr. Kale on other occasions, as one of our favourite places for breakfast in Las Palmas de Gran Canaria. It also offers healthy cuisine for lunch and dinner. We definitely recommend the Pad Thai, which you can combine as you like, and the tuna tataki salad with seaweed, avocado, feta, etc. It's all delicious!
6. Restaurant Qué Leche Triana
Qué Leche restaurant offers creative Mediterranean cuisine with high quality food. Good service but with a family touch. The restaurant is tiny and increasingly famous, so we recommend you book in advance. Each of its dishes is an explosion of flavors. This restaurant is undoubtedly one of the best in Gran Canaria. Normally, you must book in advance, especially on weekends. Popular dish: boneless suckling pig with sweet potato puree.
7. Gallo Negro, Mexican food & pet friendly
Gallo Negro Triana is a Mexican restaurant that we love. We highlight their nachos with guacamole and cheese and they also have more than 15 types of tacos, such as octopus and pineapple or prawns in tempura. What surprises us most about this Mexican restaurant are the desserts, especially the lemon pie and the Nutella cheesecake. The best thing is that if you have a puppy, you can take it with you because they accept pets.
8. Majuga, paella restaurants in Triana
Here you will find good genre in each of its dishes. They are specialized in rice and fideuás. The service is one of the best in Las Palmas de Gran Canaria. In case you are not a rice lover, their appetizers and starters are awesome as well!
9. La Dehesa de Triana, where to eat a good cachopo in Las Palmas de Gran Canaria
If you feel like eating a good cachopo and tasty snacks, we recommend you to go to La Dehesa de Triana. Here we've only tried the cachopo and the ventresca salad, both of which are spectacular. They have a large indoor dining room and terrace on a street perpendicular to the famous Triana street.
10. Bachaco Poké Bowl
It is a site specialized in Hawaiian pokés. In Bachaco Poke Bowls you will only be able to find healthy food and, best of all, at a super competitive price. So if you are looking for value for money, this is your site. We recommend your poké spicy salmon and the burrata salad. By the way, it is also a breakfast place in Las Palmas de Gran Canaria that you should take into account.
Restaurants in Triana and in Gran Canaria
We hope this post has been helpful. Also, if you want to know more places to eat in Las Palmas de Gran Canaria and on the island, we have at your disposal our guide to restaurants in Gran Canaria. As well as taking valuable information with you, you'll be helping us to continue creating epic content. We also have other island guides so you can discover what to do in Gran Canaria on your own with suggested itineraries per day. This way, you'll save a lot of time planning your trip and you won't miss out on any must-sees – you can check them all out below!
Video: places to eat in Triana Las Palmas
Below we show you some of the places that we have mentioned to eat in Triana. If you want to see more videos of our channel, subscribe here.
We are Ruth & Jorge, Gran Canarians with a travelling soul. Experts in tourism and digital marketing. We share the most authentic side of Gran Canaria (where we live) and… our adventures around the world!