If you want to know the best restaurants in Triana, you are on the right website. As we always insist, the neighborhood of Triana is one of the places to visit in Las Palmas de Gran Canaria. Therefore, it is very likely that you wonder where you can eat in the area. In this post we will share our 10 favorite restaurants in Triana neighborhood, practically for all tastes and types of food. Let's start!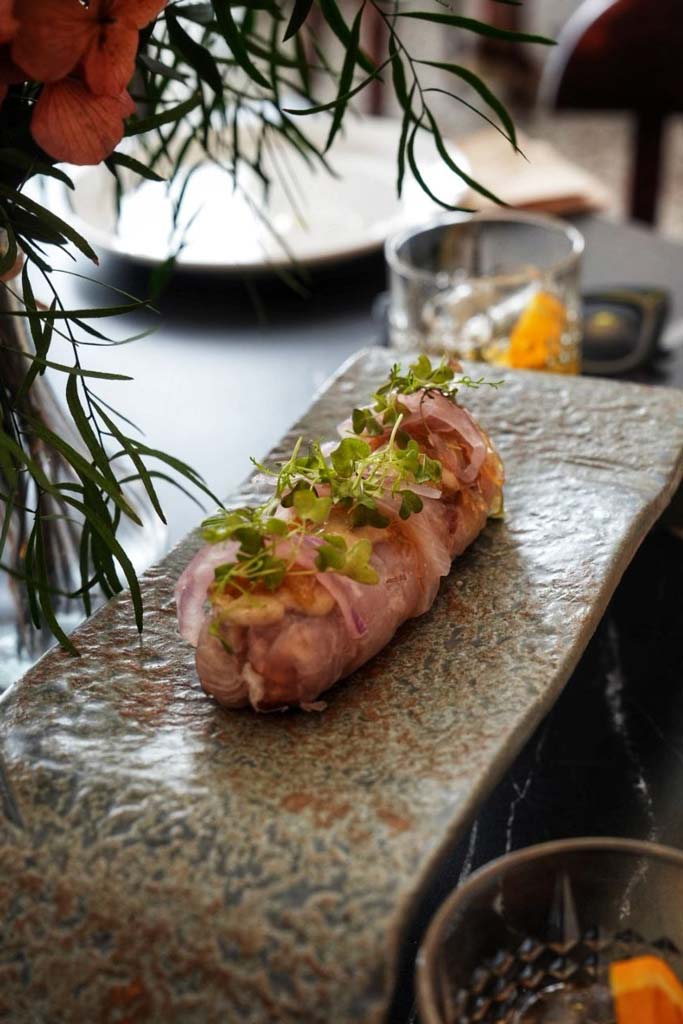 Restaurants in Triana: our top 10!
1. Bululú Travieso
We have already mentioned this creative Venezuelan cuisine restaurant in our recommendations for restaurants in Las Canteras. Its Triana location is on Calle Travieso and has a terrace and interior dining room. In this restaurant in Triana, its "rululú" rolls stuffed with bluefin tuna and vegetables and coated in panko stand out, as well as the chevere cambur pintón (foie dipped in dark chocolate with banana coulis). You can also order the mythical Venezuelan arepas and cachapas. All delicious.
2. Dorotea
The Dorotea tavern has been a great innovation within the offer of restaurants in Las Palmas de Gran Canaria. We love their proposal with unique and original dishes. Its star dishes are the Canarian black pig sandwich with coriander and parmesan mojo, tribute leeks and horse mackerel stuffed with baba ganoush. On the other hand, they have an extensive vermouth menu. We know that they also have delicious breakfasts, but we haven't been able to go yet. You can check the menu here. We will come back soon for sure!
3. Qué Leche
Qué Leche restaurant offers creative Mediterranean cuisine with high quality food. Good service but with a family touch. The restaurant is tiny and increasingly famous, so we recommend you book in advance. Each of its dishes is an explosion of flavors. This restaurant is undoubtedly one of the best in Gran Canaria. Normally, you must book in advance, especially on weekends. Popular dish: boneless suckling pig with sweet potato puree.
4. Deliciosa Marta, top restaurants in Triana
It is very close to Que Leche restaurant, Deliciosa Marta is one of the best restaurants in Gran Canaria, if not the best. It has a delicious cuisine, not very varied menu, but of the highest quality. In addition, they also have a service of 10 and their tables are dressed in white tablecloths. You must bear in mind that you have to book at least 2 months in advance. Popular dish: Truffled gnocchi.
5. Majuga
Here you will find good genre in each of its dishes. They are specialized in rice and fideuás. The service is one of the best in Las Palmas de Gran Canaria. In case you are not a rice lover, their appetizers and starters are awesome as well!
6. Las Lagunetas, Canarian restaurants in Triana
If you do not know nice restaurants in Triana with local food, Las Lagunetas restaurant is your place. This restaurant offers good Canarian food and friendly service in the heart of Triana. It has a double terrace and the interior is quite spacious, so it is not necessary to book, nor do they accept reservations… If you do not know what to order here, ask for a recommendation to the waiter, we recommend the roasted pork leg and potatoes with mojo sauce.
7. La travesía de Triana, tapas restaurants in Triana
If you feel like having some Spanish tapas in a local environment, your place is La Travesía de Triana. Good Serrano ham, "huevos rotos", meat and beer. The site is small and usually crowded, so try to go early or book your table before.
8. Bachaco Poké Bowl
It is a site specialized in Hawaiian pokés. In Bachaco Poke Bowls you will only be able to find healthy food and, best of all, at a super competitive price. So if you are looking for value for money, this is your site. We recommend your poké spicy salmon and the burrata salad.
9. Mr. Kale
We have already talked about Mr Kale on other occasions, as one of our favorite places to have breakfast in Las Palmas de Gran Canaria. In the same way, if you do not know where to eat in Triana healthy food, this is of course one option. They provide healthy cuisine from breakfast to dinner without stop. We recommend you without a doubt the Pad Thai that you can combine as you want. How yummy it is!
10. La Mafia se sienta a la mesa
Looking for places to eat in Triana nice Italian food? Since "La Mafia se sienta en la mesa" opened this Italian restaurant in Las Palmas de Gran Canaria, we are frequent diners. We really love its pizzas with fine dough and quality raw material. No thick ham or canned mushrooms. We recommend any of their pizzas with truffle or truffle mayonnaise. We love the Porchetta pizza. Although the place is huge, it is becoming famous and it would be advisable to book in advance.
We hope this post has been helpful for you. Also, if you want to know more places to eat in Las Palmas de Gran Canaria and on the island, we have our guide of restaurants of Gran Canaria at your disposal. In addition to taking with you valuable information, you will be supporting us to continue creating epic content. Thank you!
Video: places to eat in Triana Las Palmas
Below we show you some of the places that we have mentioned to eat in Triana. If you want to see more videos of our channel, subscribe here.