In this post we want to invite you to visit the Protected Natural Area of Veneguera beach, one of the most hidden places of Gran Canaria. This enclave is located within the municipality of Mogán and is characterized by the tranquility provided by its landscapes and rural life. In the next lines we are going to give you more details about this little piece of the island in the form of a ravine that we love so much.
Veneguera, Gran Canaria
In Veneguera you can visit one of the most authentic and traditional villages of Gran Canaria. Around 300 people live here and most of them work in the agricultural sector. In fact, in the ravine the plantations of mangoes, bananas and avocados stand out. With regard to the town, we recommend a walk through its small 18th century houses known as Los Almácigos. Here you can see the traditional houses of Veneguera built with stones, mud and wood. Likewise, just a few meters away is the centenary cardonal of Veneguera. The cardón is an endemic species of the Canary Islands and here are one of the largest specimens on the island.
On the other hand, another of the reasons why we believe you should visit Veneguera is to disconnect from the wild capitalism in which we have immersed ourselves. As soon as you arrive you will be able to feel the peace and calm with which they live here. You should know that this would not have been possible if the Canarian citizens had not mobilized in the face of the constant interest in urbanizing Veneguera for tourism purposes. The phrase "Save Veneguera" was present everywhere and in all media. However, we were lucky to have won this battle, since the area was protected in 2003 taking part of the Nublo Rural Park.
Restaurant Los Almácicos by Industria Qulinaria
Without a doubt, another of the reasons why you should visit Veneguera is to enjoy the local food at the Los Almácicos restaurant by Industria Qulinaria. It is a family business with a gastronomic proposal focused on local products. In addition, they also make their own soft drinks called Mixtures IQ with flavors such as strawberry, coconut, watermelon, mojito, grapefruit, etc. We tried the coconut and watermelon ones and they were very tasty. We show you some photos of two of the dishes we tried, without a doubt our favorites: the courgette carpaccio with passion fruit dressing (both from Veneguera) and the fried moray eel. Anyway, at the end we leave you with a video with more details about our visit.
Industria Qulinaria is open from Wednesday to Sunday from 11:30 a.m. to 5:00 p.m., except on Fridays and Saturdays, which are also open for dinner. We recommend you book in advance, especially if you go on the weekend, as it is becoming more and more known.
Veneguera beach
Veneguera beach has calm and clean waters. It has pebbles, but it also has a part with dark sand. When the tide is very low, a spectacular beach remains. Here you will be able to do nudism and enjoy the disconnection, since it hardly has phone signal.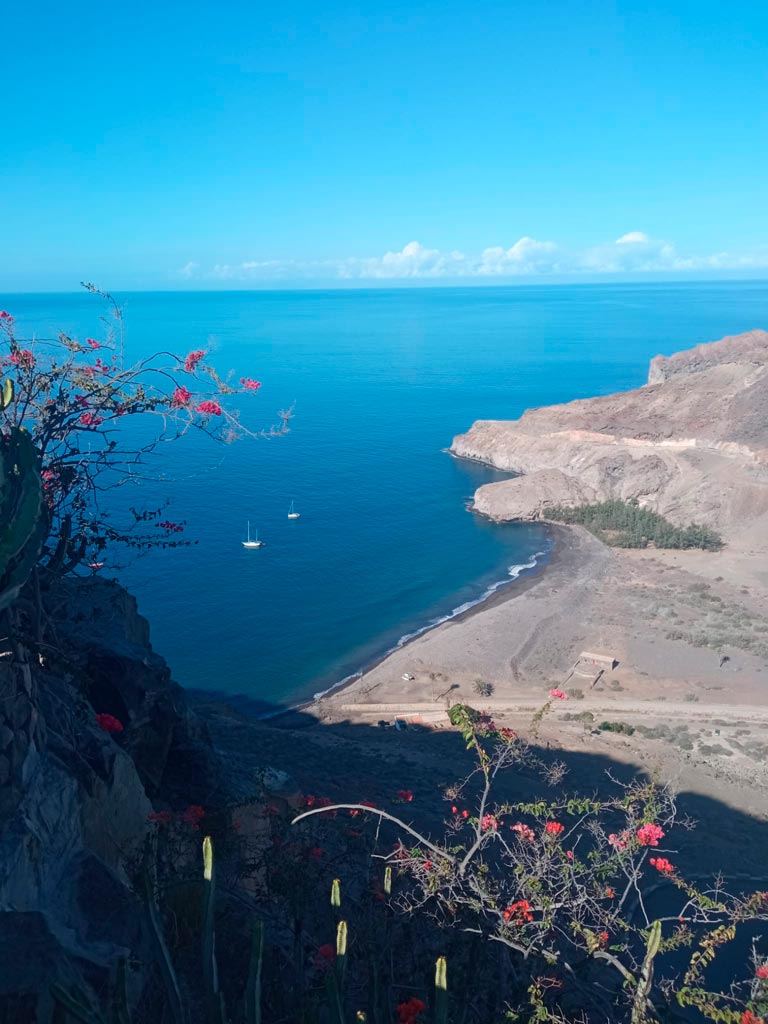 Also, keep in mind that as it is a virgin area and difficult to access, here you will not have any type of service or surveillance. That is to say, the closest civilized place is the town of Veneguera and you see that only 300 people live there. On the other hand, being located to the west of Gran Canaria, from here you will be able to enjoy a beautiful sunset.
✔ How to get to Veneguera beach
As we told you at the beginning, getting to Veneguera from other parts of Gran Canaria is quite tedious, since it takes more than an hour of driving on winding roads. Also, if you want to visit its beach, keep in mind that the road is not paved and it is approximately 9 kilometers from the town. With which you add 40 more minutes of road by land until you reach paradise. In any case, the path itself is very beautiful and, if you are not in a hurry, you will be surprised to see yourself surrounded by cacti, fruit plantations and palm trees.
This dirt road makes its coast a very quiet place that few dare to reach. Even so, on weekends and during the summer months, groups of friends gather in vans who come to spend the weekend at the beach. So if you are looking for peace and you can choose, avoid those days.
Los Azulejos of Veneguera
Finally, another of the attractions of the area and that you cannot miss if you have already come this far is to visit Los Azulejos. In fact, many call them Los Azulejos of Veneguera. This natural resource is only about 5 minutes by car from the town. Look how beautiful!
Video about the road trip
Below you can see the video of this route that runs through Veneguera. You can subscribe to our YouTube channel so you don't miss future videos around Gran Canaria.
Well localguider, this has been all the list of recommendations to do in this remote place of Gran Canaria. Remember that if you come from Las Palmas de Gran Canaria, you can go along the southern motorway and return along the Agaete-La Aldea coastal road or vice versa. We who live in the north, the day we made the video we went through the interior and returned through La Aldea. If you are coming from Maspalomas or Puerto de Mogán is not that far and the best option is to use the same road in both cases. In any case, be aware that this day is a road trip, so go looking for the Spotify list that you like the most 🙂