In this article we want to talk to you about the offer of vegan restaurants in Las Palmas de Gran Canaria. The reality is that there are very few 100% vegan restaurants in Gran Canaria. However, there are places that have wanted to include some 100% vegan and / or vegetarian dishes in their menu. Next we are going to mention the ones that we know. If we have missed one, leave us a comment at the end, sharing is living 🙂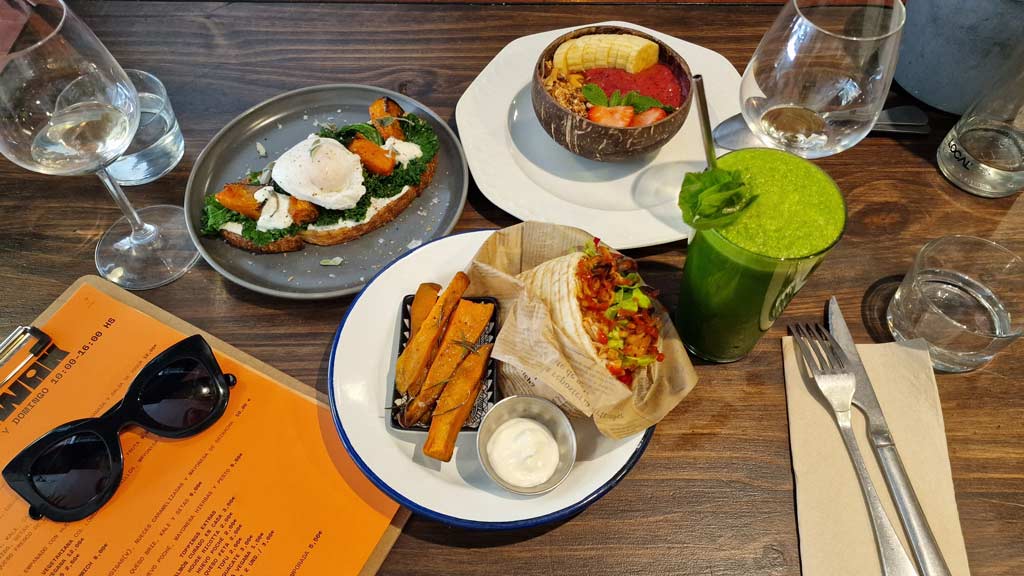 Vegan restaurants Las Palmas
As we said, there are few vegan restaurants in Las Palmas de Gran Canaria. As far as we know, only the Bioloco restaurant is 100% vegan. The rest of the sites that we will mention are vegetarian or vegan-friendly, that is, they have vegan alternatives within their menu. Here we go!
✔ Luwak, Puerto-Canteras area
Café Luwak is a small place located in the Guanarteme neighborhood specializing in vegan, vegetarian and flexitarian food. In addition, they have a delicious specialty coffee. Their opening hours are only for breakfast and lunch, on weekends they also have brunch. We like it because many of its vegetarian/vegan recipes are made in its kitchen, such as the homemade ricotta, the macerated jackfruit that imitates pulled pork, its cakes, etc.
✔ Bioloco restaurant, Puerto-Canteras area
As we said, this site only has vegan food in its offer. Of course, it is a fast food place. For example, they have mushroom burgers, vegan chicken and meat, soy, seitan, chickpea and the famous Beyond burger. The latter with a taste very similar to veal. The burgers all come with cheese and vegan mayonnaise. In addition, you can accompany them with French fries, battered vegetables and / or fried sweet potato. They also have yummy salads and desserts.
✔ Bululú, Las Canteras
Bululú Canarias is wonderful, we love to eat arepas here. In fact, it's one of our favorite restaurants in Las Canteras. In their menu they have several 100% vegan dishes such as this watercress hummus.
✔ Smoothy Galaxy, La Cícer
If you are taking a walk along Las Canteras beach, at Smoothy Galaxy you can stop for a light meal. In their menu they have a wide range of fruit and vegetable juices. Concerning the food, they have little variety, but always with a vegan option. Here we show you some of their vegetable dishes with quinoa and tofu (instead of meat).
✔ Mr. Kale, Triana / Mesa y López
Both in the Triana neighborhood, and in the area of Avenida José Mesa y López, you can visit the Mr. Kale restaurant. Their menu is super wide and practically for everybody and hours of the day, since they also have breakfast. Among its vegan-friendly options, we want to highlight its pad-thai. Delicious!
✔ Dara Feeling Food, Triana / Mesa y López
Like Mr. Kale, we have Dara Food in the two great commercial areas of the city. They also have vegan breakfasts and dishes like this basmasti rice with dried fruits that we show you below.
✔ Llévame al Huerto, Ruiz de Alda
This site also has numerous vegan and vegetarian food options on its menu. Here we show you their vegan burger with yucca chips, homemade bread.
✔ Organic Jungle
The Organic Jungle restaurant is one of our favorites for breakfast in Las Palmas. They have vegan toasts like avocado and beet hummus. In addition, both for lunch and dinner and / or snacks they have vegan-friendly dishes. You can take a look at the Organic Jungle post for more info.
✔ Amélie Green, La Cícer
Although it is not a 100% vegan restaurant, at Amélie Green you can see that they care about healthy cooking. In fact, its name is followed by the sentence "healthy real food". Therefore, a large part of their breakfasts and lunches are vegan and / or vegetarian. Here we show you one of their breakfast bowls.
We also recommend the vegan ramen with tofu at the Don Don Ramen Japanese restaurant. You can add all the previous places to the list of vegan restaurants in Las Palmas.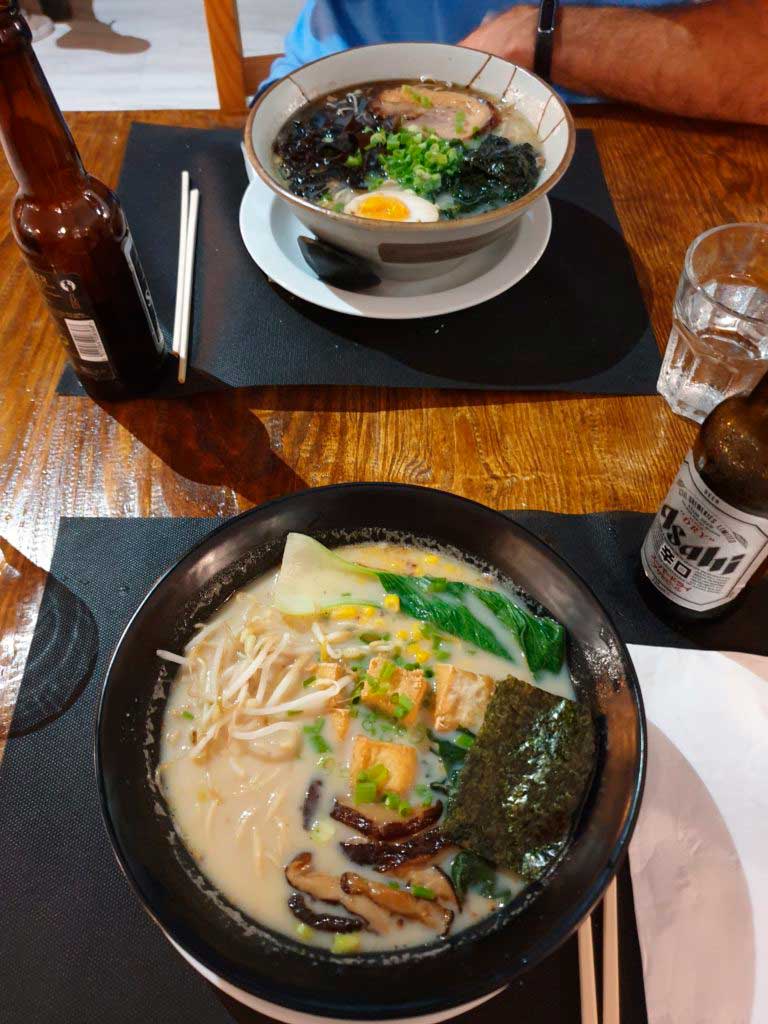 On the other hand, if what you are looking for are vegan pizzas, we recommend the sites: 350 gradi, Monkey pizzas and San Andrea, they have pizzas made with vegan cheese and vegetarian and gluten-free ingredients.
Finally, at Pliza 21, on the Las Canteras sea promenade, you can enjoy vegan ice cream, as well as sugar-free, gluten-free and lactose-free ice cream.
Vegan restaurants in Gran Canaria
At the same time, you can also enjoy good vegan food in Gran Canaria at the Risco Caído Biocrepería. This place is located in the town of Artenara and they specialize in vegan and vegetarian cuisine made with organic products from their garden.
Vegan food in Las Palmas
Finally, if what you are looking for is vegan food to take away in Las Palmas, either because you do not have time to cook during the week, or because you need a 100% vegan catering, we know two options. One is La Cuchara Sana and another one is Mona Las Palmas.
Video of vegan restaurant in Las Palmas
In the following video you can see one of our favorite vegan restaurants in Las Palmas, it is Luwak and we have mentioned it at the beginning of the post. You can find more videos about places to visit and things to do in Gran Canaria in our YouTube channel. Subscribe here!
We hope this specific vegan content has been helpful to you. If you have reached this paragraph, it sure has. If you know of any other sites, leave us a comment below and we will include it.