One of the things to do in Las Palmas de Gran Canaria is to visit the neighborhood of Triana. This area of the city stands out for its beautiful streets, wide offer of shops and diverse cuisine. The beauty of this neighborhood is because it keeps the small traditional shops of haberdasheries, bakeries, ice cream shops, shoe shops, fashion stores, etc. along with the new trends in design and fashion, as well as the best restaurants in Gran Canaria.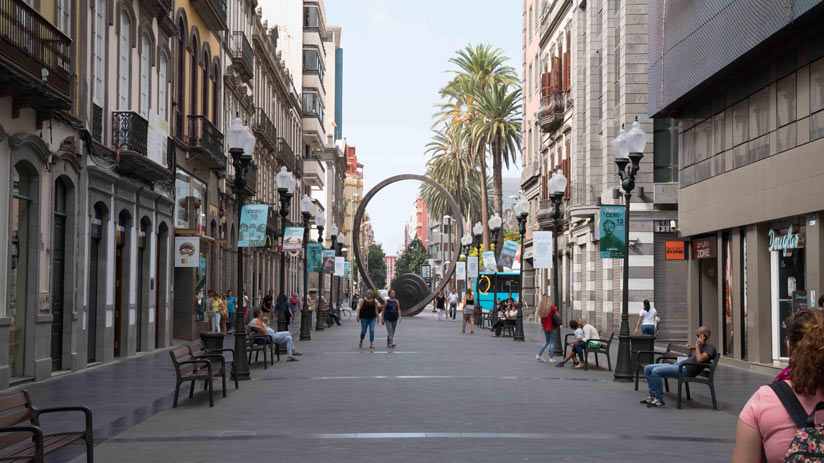 Triana is a few steps from the old town of Vegueta. Therefore, you have to take advantage of the fact that you are near to visit one of the most beautiful neighborhoods of Las Palmas de Gran Canaria.
Things to see and do in Triana neighborhood
You should know that a large part of the neighborhood of Triana is pedestrian, so you can visit the most important on foot. Below we will detail you everything you should not miss.
Mayor de Triana street. It is one of the most beautiful streets of Las Palmas de Gran Canaria city. Here the entire offer of the main shopping franchises is concentrated.
However, we recommend you also to walk down Calle Pérez Galdós and Calle Cano, where you will find a spectacular gastronomic offer and exclusive shops. All these streets and their surroundings are pedestrian. Many of the houses preserve the old facades, Canarian balconies and wooden doors and windows. Therefore, we suggest you to walk around them.
Pérez Galdós theatre. It is in front of the Vegueta Market. It conserves part of old facade and part totally modern. Here you can see musicals and other types of performances.
Gabinete Literario. The Gabinete is one of the most beautiful buildings in the city dedicated mainly to the dissemination of culture.
La Alameda de Colón. It is a large square that has a park for children, next to the Gabinete Literario. Here is a sculpture that commemorates Christopher Columbus passing through Gran Canaria and its capital.
Palacete Rodríguez Quegles. Spectacular house in the street Pérez Galdós. Today the City Council of Las Palmas de Gran Canaria develop here different type of events.
San Telmo park. It is a wide square with a park for children, a church and a nice kiosk with terrace to have a drink. Here is the main bus station on the island.
Shopping in its narrow streets
As we mentioned before, in Triana the most powerful brands coexist with the small businesses. Therefore, it is a good place to go shopping in Las Palmas de Gran Canaria if we want a bit of everything. If you are someone who is looking for something different in each of your trips, you should take a walk on Calle Cano.
Here is Regaliz Funwear, our favorite for being pioneers in bringing to Gran Canaria trends and exclusive international, national and Canarian fashion brands. In terms of fashion and original items for babies and children, we recommend the CoolKid store in Travieso street. Here you can find the perfect gift.
Places to eat in Triana neighborhood
Next, we will show you a small list of places to eat yummy in Triana. In addition, here you can try practically all kind of food. In case that you want more details, you can visit our top 10 of places to eat in Triana with dish recommendations.
Local food: restaurant Las Lagunetas
Mediterranean and creative cuisine: Qué Leche, Deliciosa Marta and Majuga
Spanish tapas and typical Spanish cuisine: La Travesía de Triana
Brunch, breakfast, healthy and vegetarian food: Bachaco Poke Bowl and Mr. Kale