The first Trampoline Park in Las Palmas arrives to Gran Canaria with a leading active leisure and entertainment offer. The park is in the Siete Palmas neighborhood of the city of Las Palmas de Gran Canaria, inside the 7Palmas Shopping Center. Urban Planet has 14 trampoline parks (primarily trampolines) across Spain. In this article we will talk about Urban Planet Las Palmas, one of the best things to do for families in Gran Canaria, join us!
Trampoline Park Las Palmas de Gran Canaria
In this trampoline park in Las Palmas you will find different attractions, all related to jumping. Its activities are mainly focused on families, in fact, Urban Planet has become a national benchmark for celebrating children's birthdays. The good thing about this concept is that fun is combined with physical activity in the same space. Next, we mention each of the jump zones of Urban Planet 7 Palmas, since in each city the facilities may vary.
✔ Free Jump. Trampoline park Las Palmas de Canaria
The Free Jump area is the center of attention of all Urban Planet parks. It is the main jumping area and is made up of a large number of interconnected trampolines on the floor and walls. It is designed to practice freestyle jumps and stunts, bouncing from wall to wall safely. Or simply to release adrenaline to the fullest.
Free jumping in this trampoline park in Gran Canaria is a new way to have fun and get fit. The mat area is equipped for all ages and has maximum security to practice free jumping without fear. We recommend that you wear comfortable clothes, both for you, who will surely end up motivating you, and for your little one. Think that you must have the best possible mobility. We ended up sweating, you can see how our visit went in the video at the end.
✔ Cardio wall
This cardio wall will have you jumping and working cardio like never before. It consists of some luminous panels that light up and you have to play in a coordinated way while you jump on a trampoline. You can use it individually or in pairs. You can even do a team competition. A great plan to play with friends or family!
✔ Football shot
You may have never seen this activity before. Play soccer and jump into the goal on a trampoline to stop a goal. It is without a doubt the best way to cushion the ball stops that are thrown at you by those on the other side. Penalty round!
✔ Slam basket, Trampoline Park Las Palmas
It sounds easy, but shooting while jumping makes it quite difficult for you to get a shot. At Urban Planet there are taller baskets for tall adults or teenagers, as well as a lower and easier one. You will surely love this activity, whether you are a basketball lover or not.
✔ Dodgeball Attack
During this game, two teams face each other and try to eliminate the other by throwing a foam ball while jumping on trampolines. Here you will have to make an effort to dodge the ball that the opposing team throws at you. It is an ideal activity to play as a family, with your friends or co-workers. Anyway, if you don't come to Urban Planet Las Palmas in a group, don't worry, the simple challenge of trying to hit the target while jumping is FUN-tastic.
✔ Airbag jump, Trampoline Park Gran Canaria
In the Urban Planet airbag jump area you will be able to jump as much as you want without fearing falling. Your landing on the ground will be safely cushioned by a giant airbag or cushion. It is the perfect place to experience new stunts without fear of how to fall. Do you dare with a somersault in the air?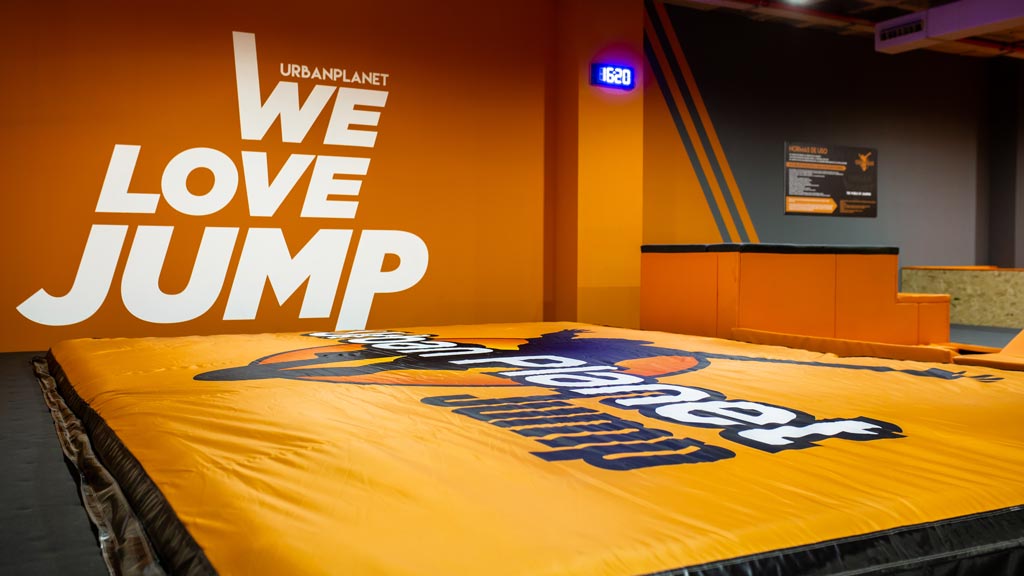 ✔ Playground and Foam Pit
For the youngest members of the family, you have the Playground attraction where your little one can assemble sculptures with blocks of different sizes. There is also a climbing area where the possible fall is always on padded ground. Next to this play area is also the Foam Pit, a kind of pool filled with foam rubber cubes to cushion falls from any type of jump. A playing paradise.
Children's birthday Las Palmas, Trampoline Park Gran Canaria
As you may have seen, Urban Planet 7 Palmas is an excellent option to celebrate children's birthdays in Las Palmas de Gran Canaria. For these special days the park offers two types of packages, the Party Jump and the Party Jump Plus. We explain them to you:
Party Jump: 1 hour of jump + 45 minutes of birthday room
From Monday to Thursday: €17 / kid
Friday to Sunday, bank holidays and non-school days: €20 / kid
Party Jump Plus: 1 hour and 30 minutes of jump + 45 minutes of birthday room
From Monday to Thursday: €20 / kid
Friday to Sunday, bank holidays and non-school days: €23 / kid
Both children's birthday packs include the following:
Group games on trampolines
Urban Planet Socks (non-slip socks)
Accompaniment of monitors throughout the birthday
Drinks, snacks and birthday cake
Keep in mind that the minimum number of people for a birthday celebration is 10 children and an informed consent form has to be filled in for all of them. This is a document that you have to fill in the first time you go to Urban. For any questions or to make a reservation, you can contact: info.laspalmas@urbanplanetjump.es and by phone from Monday to Friday from 9:00 a.m. until the park closes on +34 928 426 880.
Trampoline Park Las Palmas prices
On the other hand, you should know that to access the park the first time you must buy a pair of approved non-slip socks. We show them both in each of the previous photos, and in the video at the end. They are reusable and you can use them in any Urban Planet park in Spain. Regarding the access prices, they are the following:
✔ From Monday to Thursday:
60 min: €10 per person
90 min: €13 per person
120 min: €16 per person
+30 mins. extra: €6 per person
✔ Friday to Sunday, bank holidays and non-school days:
60 min: €12,50
+30 min. extra: €7
Urban planet socks: + €2,50. You will only buy them the first time you come. They are homologated, they are compulsory and you can't use socks of other brands. You can get more information and buy your tickets on the Urban Planet website. Here you can discover other Urban Planet parks and facilities in case you visit mainland Spain.
Video of the best Trampoline Park in Gran Canaria
As you well know, a picture is worth a thousand words, here we leave you with the video of our visit to Urban Planet Las Palmas. Subscribe here to their YouTube channel to learn more about the Urban Planet experiences and, if you want to continue discovering more things to do in Gran Canaria, we are waiting for you on ours.
What do you think of Urban Planet Gran Canaria's leisure offer for families? As we see it, everything that promotes physical exercise at all ages is positive. So if you can start small, all the better. Luckily, thanks to Urban Planet 7 Palmas we already have a way to have fun in a healthy way through sports on the island. Are you visiting it? It is clear that you and your children are going to come out sweating the fat from here hehe. Tell us what you think if you dare to jump. Until next time localguiders!
We are Ruth & Jorge, Gran Canarians with a travelling soul. Experts in tourism and digital marketing. We share the most authentic side of Gran Canaria (where we live) and… our adventures around the world!