In this post we are going to let you know all the things to do in Santa Lucia de Tirajana. It is located in the southeast of Gran Canaria and it is one of the most populated on the island, being Vecindario its main population center. The capital of the municipality is Santa Lucía de Tirajana village. It is an inland Canarian town located in the Tirajana ravine and surrounded by Canarian palm trees. It also stands out because its villa is perfectly preserved: white houses and a lot of canarity.
Things to do in Santa Lucía de Tirajana
Below we are going to let you know all the things to do in Santa Lucia de Tirajana and the main tourist attractions of the municipality. Join us!
✔ Santa Lucía de Tirajana village
The town or village of Santa Lucía de Tirajana can be explored on foot. We have always been struck by how well preserved the town is. One of the main sites of interest is the Church of Santa Lucía, built in 1905 and located in the town square. The days before the celebration of the Patron Saint of Santa Lucía (December 13), the balconies and facades of the houses show Canarian details like the ones shown below.
The square itself also has its charms: metal sculptures, patterned walls made with tiles and, furthermore, surrounded by some of the most beautiful Canarian houses on the island.
Next to the Santa Lucía Town Hall there is also a square with fountains and some benches to breathe local life.
✔ Ansite Fortress
The Ansite Fortress and its interpretation center are a mandatory stop if you want to get closer to the history of the Canary Islands. Here it is said that the Canarian aborigines hid until the conquest of the island by the Spanish troops finally took place. In addition to find more information in the interpretation center, you can go through one of the cavities of La Fortaleza and enjoy the natural environment and its views.
✔ La Sorrueda dam
A few steps from La Fortaleza, we find the La Sorrueda Dam, one of the most beautiful in Gran Canaria. At least for us. And it is that this stands out for being surrounded by Canarian palm groves and different types of cactus. Likewise, there is a huge rock formation in the middle of it. You must bear in mind that the landscape during the summer and autumn months is quite arid. Still, it is one of the most beautiful natural areas in the south of Gran Canaria.
✔ El Guriete Viewpoint
A technical stop on the way to La Sorrueda and La Fortaleza to stretch your legs and have the best views of La Fortaleza and the Las Tirajanas ravine with its palm grove.
✔ Pozo Izquierdo beach
One of the most important tourist attractions in Santa Lucía de Tirajana, especially for windsurfers in the world, is the Pozo Izquierdo beach. The windy conditions of this beach make it a paradise for sports such as windsurfing. You dare? Different international championships of this water sport are held practically every year here. In our post about Pozo Izquierdo we recommend you a yummy place to have breakfast. Have a look!
✔ Tenefé salt flats
In this municipality are the most important salt flats of the island. Yes, as you can read, in Gran Canaria salt is also produced. You can visit the Salinas de Tenefé or Pozo Izquierdo, as they have a small center for guided tours.
Places to eat in Santa Lucía de Tirajana
To eat in this municipality, we recommend the restaurant El Alpendre, next to the La Sorrueda dam and the La Fortaleza Interpretation Center. They have local products in their menu. In addition, the restaurant has an indoor dining room and terrace, all peculiarly decorated.
In Villa de Santa Lucia we have heard that the locals eat at Casa Antonio, but we have not been there yet. We recommend you book before. In any case, if you pass through the town and you want to take an edible souvenir, an excellent option is some olives from Santa Lucía dressed with Canarian mojo and a small bottle of olive oil. Two star local products in this area of the island.
We also love El Viento restaurant in Pozo Izquierdo for breakfast. The bread and cakes are homemade, super yummy. In addition, the entire restaurant has sea views and you can come for breakfast, lunch or dinner.
Rural houses in Santa Lucia de Tirajana
This municipality boasts of having a wide range of rural houses and holiday homes. An area of Gran Canaria ideal for disconnecting from day to day and practice rural tourism.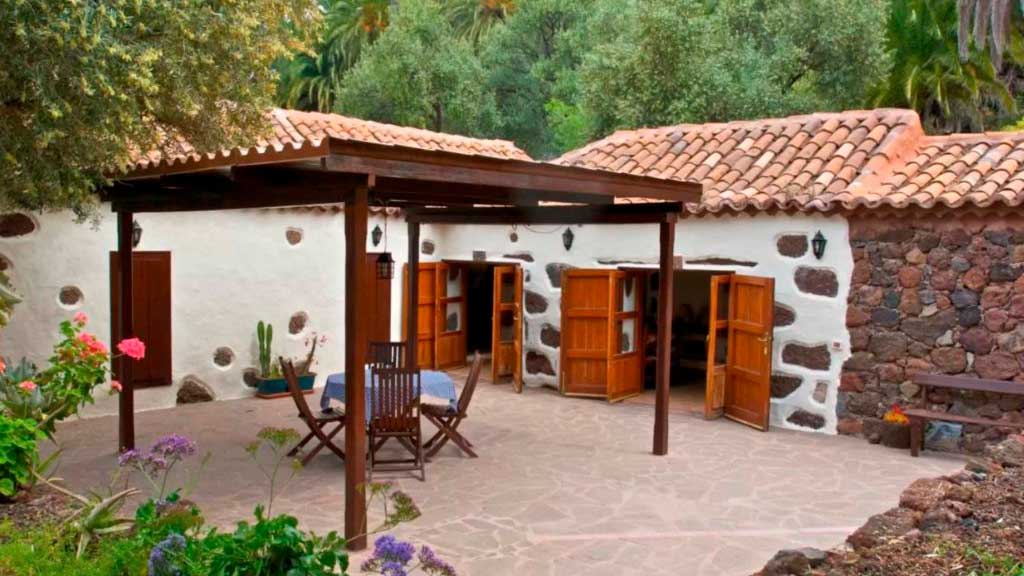 Video of Santa Lucía de Tirajana, Temisas and Tunte
In the following video we propose a route that runs through several towns in the southeast of Gran Canaria: Santa Lucía, San Bartolomé and Temisas. Take the opportunity to subscribe to our YouTube channel so you don't miss the next video of the island. We have English subtitles in all our videos.
Well Localguider, we hope you liked this tour about all the things to do in Santa Lucía de Tirajana. As you may have seen, the island has a lot to offer and deciding what to visit is going to be difficult. We recommend that you take a look at our section of digital guides of the island, we are sure that they will help you not have to keep looking for information. We have already done it for you!