In this post we will tell you the things to do in Gáldar and its historic center. Gáldar is located north of the island and, as you may know, it was the first capital of Gran Canaria. This is because the first guanartemes or kings of the island decided to live in Gáldar or Agáldar there by 1483. The town maintains much of its ancient architecture, being one of the few Canarian cities that conserve part of the pre-Hispanic heritage. Next we are going to tell you the best things to do in Gáldar town and surrounding areas.
Things to do in Gáldar town
As we see it, Gáldar could be considered one of the most beautiful and authentic sites on the island. So that, it cannot be missing from your list of places to visit in Gran Canaria.
1. Santiago square and Parish
How beautiful is the square of Gáldar! Next to it is the Parish of Santiago, the first Jacobean outside the Spanish Peninsula. It was erected on the lands of the Guanartemes or kings of Gran Canaria back in 1486. In the center of the square there is a beautiful fountain and benches to sit on. In the surroundings there are several restaurants and terraces where to spend a pleasant moment in a 100% local environment.
2. Archaeological Park of the painted cave (La Cueva Pintada). A must see in Gáldar
In the Painted Cave of Gáldar you will be able to appreciate the greatest vestiges of rock art in the Canaries, as well as Canarian aboriginal constructions and archaeological remains of vessels, Canarian paintings, European coins, etc. Access is free on Sundays. During the week the entrance costs € 6. Also, keep in mind that the visits are guided and have a duration of about 50 minutes.
3. A walk through its pedestrian streets: visit the Consistorial Theater and Casino
As we said at the beginning, Gáldar retains much of the old buildings of what was the first capital of Gran Canaria. One of the things to do in Gáldar is have a walk around its pedestrian streets and visit the Casino and the City Hall (next to La Cueva Pintada).
4. La Recova of Gáldar market
At the Long Street (as they name it in the town), we find La Recova de Gáldar. A local product market where you will have meat, fish, cheese, eggs, as well as fruit and vegetables from all over the island. It opens every day from 7:30 a.m. to 1:30 p.m., except on Fridays which opens from 4:00 to 7:30 pm and on Sundays which is closed.
The Gáldar market is one of the few places where you will be able to buy the famous Cortijo de Caideros flower cheese. A delicacy that you should try during your visit to Gran Canaria.
5. House-Museum Antonio Padrón
Antonio Padrón was a painter, writer and sculptor from Gáldar. His style is classified as indigenist. The painter died in Gáldar at age 48 and you can visit his House-Museum from Tuesday to Sunday from 10:00 a.m. to 6:00 p.m. The months of July, August and September until 7:00 p.m. Here you will find part of his works of art and the house itself is very beautiful with a very careful courtyard.
6. The "Long Street" or Capitán Quesada st.
It is the main street of the town and it is full of shops, restaurants and where is the Recova and House-Museum of Antonio Padrón. At the same time, the street takes you to the Santiago and Parish of Santiago.
7. Beaches and natural pools of El Agujero and Bocabarranco. One of the things to do in Gáldar
Just 5-10 minutes by car we have the Natural Pools of El Agujero and Bocabarranco. A recommended visit if you like the sea and local life. Although the area has a strong swell, the natural pools have a breakwater that allows a safe bath. Moreover, the environment of the pools is 100% local and highly recommended.
There are other natural pools in Gáldar such as Dos Roques and Punta de Gáldar that you could visit just a few minutes by car. Likewise, we love the small coastal town of Caleta de Arriba. If you have time, don't forget to visit it.
8. Sardina del Norte beach
Although it may not seem like it, Sardina del Norte beach is one of the most beautiful on the island. It is located in a non-touristy environment and, in addition, it has the distinguished Blue Flag. From here you can see magical sunsets and enjoy good Canarian food.
A few minutes by car from Sardina beach is the Sardina lighthouse, a mandatory stop in the area to take a walk and enjoy the sunset. Look how cool.
9. Camino de Santiago de Gran Canaria (Way of St. James)
The Way of St. James of Gran Canaria starts from the Maspalomas Lighthouse and ends at the Church of Santiago, in the town of Gáldar. A pilgrimage route of about 66 kilometers recommended to be done in three stages.
Restaurants in Gáldar
Finally, you should know that Gáldar has a wide gastronomic offer of quality and enjoys a very good atmosphere in its pedestrian streets full of terraces. In addition, around the Santiago square there are several restaurants, among which La Trastienda de Chago stands out for its commitment to local products, both in gender (80% of its dishes), as in wines and beers. When we went we had the pleasure of trying some tomatoes seasoned with onion (both from Gáldar). We had not tried a tomato with such flavor for a long time. We also tried Guía and Tejeda cheeses, a good Bandama wine and Lanzarote beer.
We also know that at Tasca Juan Pedro you can also have a nice meal in case that you want more options.
Hotels and holiday homes in Gáldar
In Gáldar it is not that there is a super extensive offer of hotels, however, the Emblematic Hotel Agáldar recently opened its doors in the historic center. It is located right next to the Parroquia de Santiago, so the environment is unbeatable. In addition, you can have a drink and even eat on its terrace with views of the Parroquia and Montaña de Gáldar. Anyway, in the municipality of Gáldar you can also find spectacular holiday homes on its coast and rural houses in its inland villages.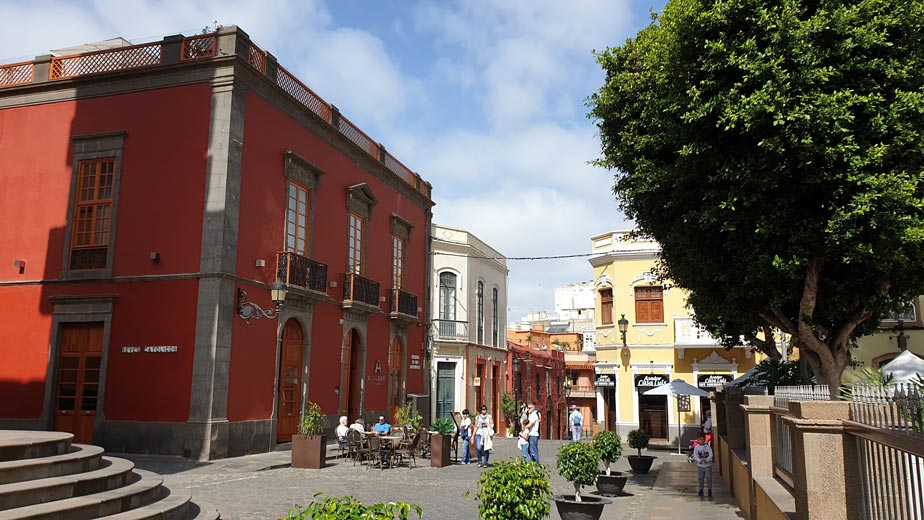 Video of the things to do in Gáldar
Below we leave you with a video of the route that we are proposing you! Activate the English subtitles and subscribe to our YouTube channel if you do not want to miss the next!
Well, this has been our post about the things to do in Gáldar. If you want to continue knowing authentic Gran Canaria sites from our hand and support us to continue creating content, we encourage you to take a look at our Guides section of Gran Canaria. We are sure that it will help you to make the most of your visit to the island. In addition, you will not have to plan your trip, we have already done it for you in our guides per day!