Next to the neighborhood of Triana The small workshop of inspiration. It is a new unique creative space in Gran Canaria. Here projects of different artistic and technical nature are carried out, such as interior design, window dressing, mural painting, calligraphy, typography, bookbinding, author's jewelry, among others. In this unique space a local artist has located her workshop and shop. Here you can acquire different original details and with a unique style.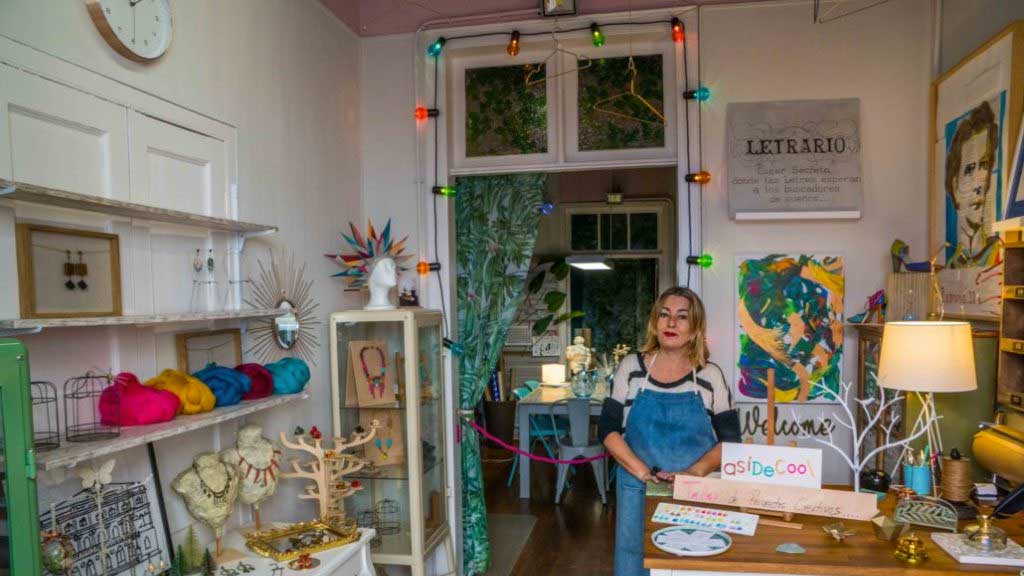 The artist is Inmaculada López Moncasi and all her creations are handmade. Her works are signed under the name of asíDeCool and that's how her own website and online store is called. Keep reading and we will let you know about it!
Crafts in Gran Canaria: author costume jewelry
As we mentioned before, one of the main creations that asíDeCool develops in The Little Workshop of Inspiration is the design of author costume jewelry. Both rings, chokers, necklaces, brooches and earrings. In addition, they make designs to your liking and on request. For example, if you like a necklace, you can make similar earrings and rings.
Online Shop
Likewise, all costume jewelry can be purchased online. As we said at the beginning, they have their own website. It's asidecool.es. Therefore, you can browse her creations and get them from anywhere in the world.
The small workshop of inspiration: different workshops and courses
In addition to tailor-made projects, sale of handmade jewelry and other items created and designed by herself, workshops are held here linked to all creative possibilities:
Inspiration workshop
Initiation to calligraphy
Initiation to bookbinding
Introduction to typography
Introduction to interior design
Initiation to window dressing.
Interior design projects in Gran Canaria
In the same way, for those people interested in making their homes or businesses a unique and different place, in The small workshop of inspiration they develop interior decoration projects, window dressing and muralism. Inma did the project of our home and we loved it. In the same way, she can help you to create personalized signage or set up a stand at an exhibition. A unique service on the island!
Contact details
They are located on 23 Cebrián street. In any case, you can also contact by email through tusproyectosasi@gmail.com and by phone at (0034) 629150300. The small workshop of inspiration opens Monday to Friday from 10:30 a.m. to 1:30 p.m. and from 5:00 p.m. to 8:00 p.m. Saturdays from 10:30 a.m. to 1:30 p.m.