Teror village is one of the most beautiful of Gran Canaria. It is located in the inner part of the island at the municipality with the same name. What you can mainly do here is visiting its old town. As it is in the countryside, it also has some incredible hiking, cycling and running trails. It usually takes place here some different regional and nacional mountain bike championships.
Places to visit in Teror

village

Below we will enumerate what you can not miss from Teror from our point of view.
1. Nuestra Señora del Pino Basilica
The Nuestra Señora del Pino Basilica is the most emblematic monument from Teror. It is from the year 1760. Here is where the virgin Nuestra Señora del Pino is, the patron saint from Gran Canaria. It is located in the main square from the village, the Nuestra Señora del Pino square. The Basilica is surrounded by this square so as from some pedestrian streets and gorgeous Canarian houses.
2. Teror market
Every Sunday you can enjoy the well known Teror market. It takes place at the Teresa de Bolívar square and surroundings from the church. At this market you can buy some local food, flowers, clothes and religious products. However, the main product to buy and taste here is the chorizo from Teror and Canarian cheeses. It is very typical, even by the locals, to eat here a sandwich from chorizo and cheese with a strawberry local soft drink called Clipper. This one is very sweet for us, but maybe you like it!
You can also find other food as olives, bread and artisan pastries from Teror. Please consider that on Sundays there is a lot of local people which goes to mass at Teror. Therefore we recommend you to be there early in case you want to park without any problem.
3. A walk through Teror village
The old town Teror has a lot of pedestrian streets. So that is very nice to walk through it. One of its main streets is very beautiful because of the houses with the Canarian balconies. Some of them are more beautiful than others.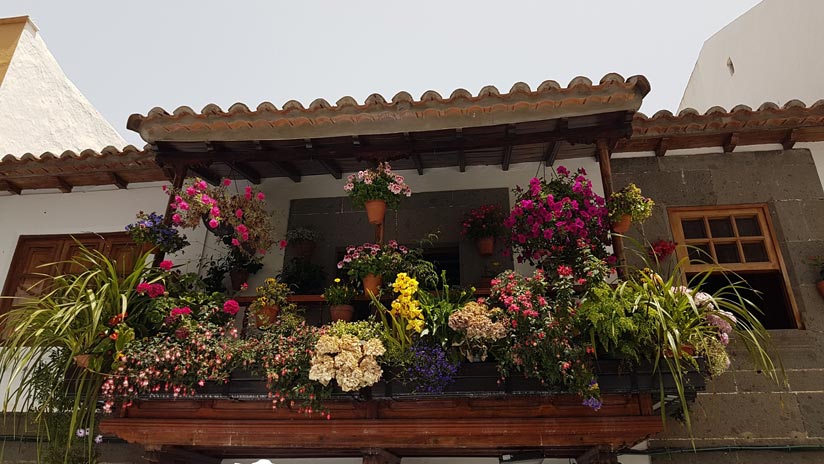 Teror is a village which is very linked to the catholic religion. In the old town you can visit the Cruz de Los Caídos, the Palacio Episcopal, the museum house Patronos de La Virgen, the Monastery del Císter, the Dominicas Convent and the Teresa de Bolívar square that we show you below.
At Teror you will find some souvenir shops as El Perenquén and La Casa el Perfume (the house of the perfume). Maybe the perfect moment to buy a nice souvenir is here. Much better than at the touristic areas.
4. Hiking, trail running and mountain bike
At Teror there are a lot of trail paths. We recommend the famous path of the wooden stairs named El Álamo hike that passes through the area of El Muñigal and La Molineta and leaves from the Basilica of Teror. This route was recently conditioned by the Teror City Council. Also a circular route that ascends to Pico de Ossorio and passes through municipalities such as Firgas that we mention in our hiking section. At the same time, Teror is very close to municipalities such as Valleseco. Remember that, as in the entire interior of the island, it can be quite cold in winter.
Then we give you the option to download the track of El Álamo hike in .gpx format so that you can follow it on your own without getting lost. If you don't know how to download it and follow it from your GPS or smartphone, we'll explain it to you here. If you want to support us so that we continue to create content for you about Gran Canaria, we will appreciate if you purchase one of our tracks, either to enjoy incredible routes or as a donation. Ah, and don't miss the video we have prepared for you below!
5. Finca de Osorio (country house and recreation area)
The country house Finca de Osorio is a bit away from the old town. However, in about 5-10 minutes by car you can reach it. It is a place in the middle of the nature and also a recreation area very recommended for families. It has a huge diversity of flora and fauna, so as some picnic areas where you can spend the day. You should request a permission to access to the recreation area if you are planing to spend the day there.
6. Del Pino town fair
Every 8th September we celebrate the del Pino town fair and it is a bank holiday in Gran Canaria. Pilgrims from the whole island come here by foot the previous day, the 7th September. It is very common to start the walk from the village Tamaraceite to Teror. There are about 4 hours on foot and the walk is along the road. There is also people which depart from Firgas, Arucas, Valleseco…
However, we do not recommend you to go that late, if not you will be surrounded by a lot of drunk young people. As we said, the fest starts the 7th September, there is a religious pilgrimage in the morning, music bands, stalls to ask for some local food and drinks, etc. The prize when you reach the town on foot will always be the chorizo and cheese sandwich. After that let's dance!
Please consider that most of the road accesses to the village are closed the 7th September. So that, if you planned to come here by car you should better go at midday to avoid traffic jam and parking problems. The best is to walk from Tamaraceite (there will be a lot of people and you won't get lost) and then back by bus. There is a special bus service the whole night to Las Palmas de Gran Canaria and also to go to Tamaraceite from the bus station San Telmo.
Hotels in Teror
If you like to be in touch with nature and local life wherever you travel, a good option is to look for rural houses and hotels in Teror.
Video of Teror village, the hiking route and the market
In the following video we show you the town, the market and the new hiking trail of the famous wooden stairs. If you like hiking, we recommend that you square this route to coincide with a Sunday market. In this way, you will be able to entertain yourself with a walk through its different stalls and finish the route with a Chorizo de Teror sandwich as a prize. If you don't want to miss any more videos of Gran Canaria, you can subscribe here to our YouTube channel.
Finally, we want you to discover the real Gran Canaria, so we have already prepared for you some guides in order that you forget about organizing anything! Let us do it for you! Have a look below!