Visiting Tasarte Beach is quite an adventure, since it is one of the furthest points from Las Palmas de Gran Canaria, just on the opposite side. That is, to the west of the island. Tasarte beach is located about 15 minutes from the town that bears the same name, in the municipality of La Aldea de San Nicolás, Gran Canaria island. In the town of Tasarte there are several bars, supermarkets, etc. and after several kilometers of roads surrounded by mangoes, papayas and avocados, we find a wide beach of black sand and stones.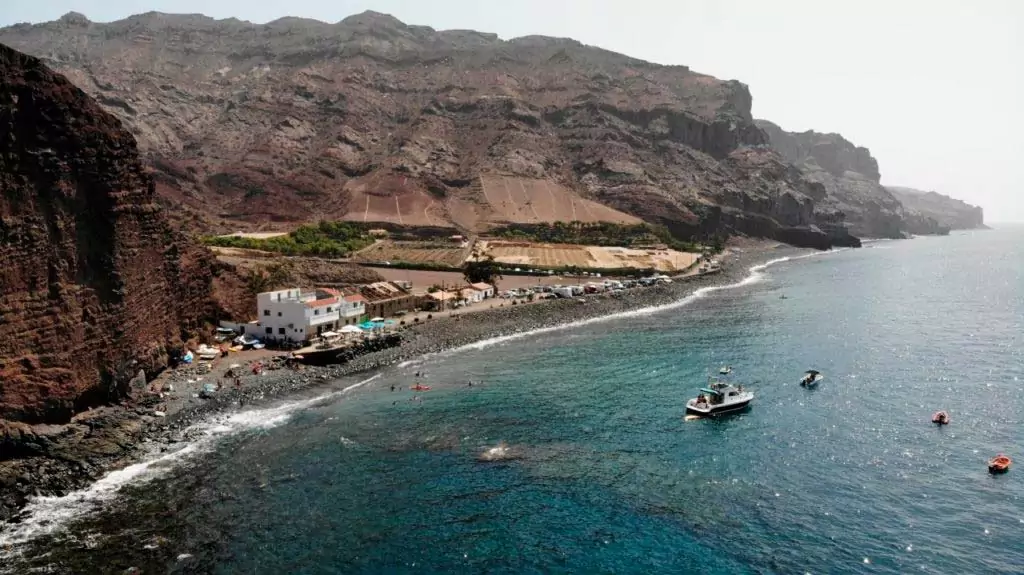 The main reason to visit this area of the island is to get to know and disconnect on its unspoilt beach in a fairly isolated area of Gran Canaria. Therefore, here you will only find peace and quiet, and we'll tell you all about it below!
Tasarte beach
Despite being a beach of rounded stones, at low tide you can enjoy its black sand. The beach itself is quite large. The water here is so clear and the sea is usually good because it is a mini bay. You can kayak, ride a jet ski, dive, fish … Although there is any company managing it here.
Also, if there is no weather in Africa (sand in suspension), you can see the Teide from the beach and a magnificent sunset. There used to be a bar where you could have lunch on the beachfront, but it closed in April 2023. It was the Oliva bar, known for its octopus ropa vieja. Now if you come here, remember to bring a sandwich or else you will have to eat something in the village of Tasarte.
Camping in Tasarte – Los Dragos parking
If you like the camper life, just a few metres from the beach there is a car park for 74 campervans and camper vans which costs €10 a night. They have a collection point for clean water, as well as a point for emptying grey and black water. WIFI connection. It is not possible to camp with a tent, as the municipality does not have an ordinance for this. We recommend you to book in advance so as not to miss your trip. WhatsApp contact numbers +34650340742 and +34639422843. You should know that the campsite is not on the beachfront, but you can walk there, as it is only a few metres.
From 12 July 2023 the food truck Costa Tasarte will start operating in the Los Dragos car park in Tasarte. For the moment they will only be open from 10:00 am to 6:00 pm. If you visit it, we would love you to leave a comment telling us how was your experience.
Bar Oliva, Tasarte beach (already closed)
Although it is now closed, we would like to leave this photo of Tasarte's famous octopus ropa vieja as a souvenir. For those who don't know, ropa vieja is a Canarian dish. It usually contains chicken, pork and/or beef, chickpeas, peppers, potatoes, onion and tomato. In this case, they were one of the pioneer bars on the island to prepare it with octopus, instead of any other meat.
Rural houses in Tasarte
There are some rural houses both in the town and on the beach of Tasarte. Take a look at the options below and stay in a very quiet place with sea views and guaranteed sun.
How to get to Tasarte beach
To get here from the city, the ideal is to go to the north. It is almost two hours by car along a very curvy coastal road, but it is worth it. In addition, you can make stops in Agaete, La Aldea and El Risco. If you are going from the south of the island, it is better to go through the Mogán Valley which will take you just over an hour. During this journey we recommend a juice stop at Fuente de Los Azulejos.
You should know that once you get to the town of Tasarte, to go to the beach is another 11 kilometers, do not despair. The path starts from this point, whether you come from the north or from the south. Almost reaching the beach, the road turns into dirt for about 1 kilometer. It is normally in good condition. We show it to you below.
As you can see below, the journey is very beautiful. All of this area takes part of the Biosphere Reserve of Gran Canaria, quite virgin. You will be able to see plantations of mangoes and other fruits in a totally rural environment with very typical Canarian landscapes. They remind us of those of La Gomera island.
We hope you are encouraged to discover the most authentic and profound Gran Canaria. Few places like this you have seen before, we assure you. We loved it and we are from here!
Video of Tasarte
We bring you a piece of Tasarte in this video, you can activate the English subtitles. Subscribe to our YouTube channel and don't miss more videos about Gran Canaria!
Guides to Gran Canaria
If you want to know more places to visit and where to eat like this, don't miss our local guides of Gran Canaria by clicking on the following image.