Sardina del Norte beach (North Sardine) is a beautiful coastal town located in the municipality of Gáldar, in the north of Gran Canaria. Here you can enjoy its spectacular coves and beaches, dive, fish, practice water sports and enjoy delicious Canarian food overlooking the sea. Do not miss all the details below!
Places to visit in Sardina del Norte beach
1. Sardina del Norte beach
Sardina has a small beach with practically all services. In fact, in 2017 they were awarded with the blue flag for the quality of its waters and beach facilities. That is, it is accessible for people with reduced mobility, it has surveillance, toilets and showers. Its sand is gold and the water is super clear. That is why it is one of the best places for scuba diving in Gran Canaria.
2. The pier of Sardina del Norte beach
In addition to the Sardina del Norte beach, at the end of the promenade is its pier. Here you can dive, fish and take your kayak to explore the Galdar coast. Many people also tend to lie here to sunbathe and bathe. In addition, Christopher Columbus apparently ordered that La Pinta be repaired at this pier on August 14, 1492 before discovering America.
3. El Roquete beach
If we follow the promenade, once past the pier, we reach the cove that we see below. It's El Roquete Beach. It is made of stones and right in the middle there is a small cave house. A nice postcard of Sardine.
4. Paso del Salgo
If you like to go kayaking or canoeing, a few meters away from El Roquete is the Paso del Salgo beach, although it is so small that it is rather a cove. Here you can only arrive by sea or bordering the coast when the tide is very low. Be very careful if the sea is bad!
5. Martorell beach
To get to Martorell beach you must arrive by car, since it is not in the same town of Sardina. To get there you must follow the coast road towards Agaete. There are just 5 minutes by car, direction Botija. There is an access from the top that we show below (the trail could be seen), and another access just next to the coast road. In both places you will have to park on the ground. This beach has no services, nor surveillance.
6. El Farallón, Roque de Tábata or Roque Partido
El Farallón is a beautiful volcanic rock formation above the sea. It is located just a few kilometers from Sardina and can be seen perfectly from the Sardina Pier on the horizon. But to appreciate its immensity, we suggest you approach it by car.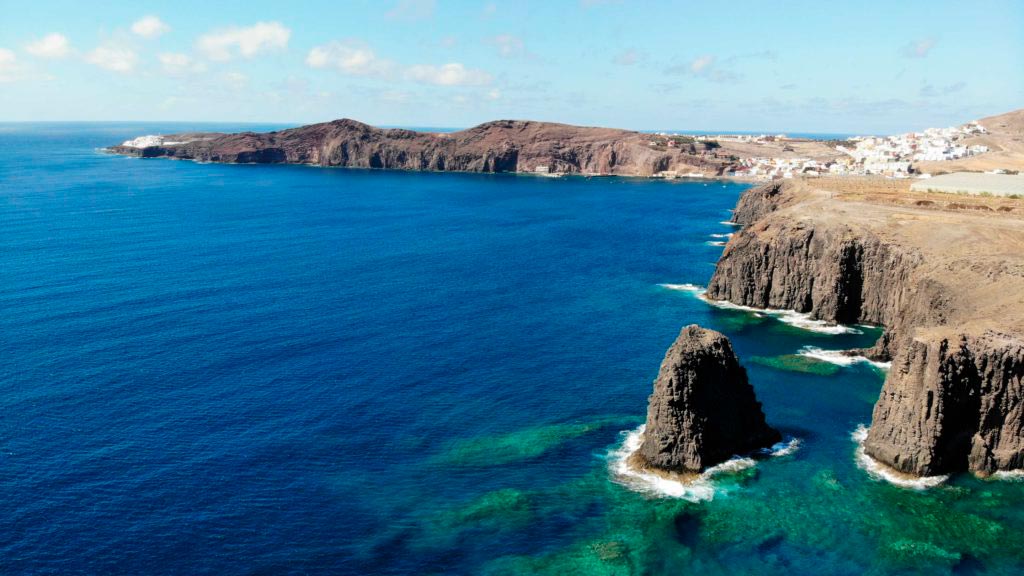 To get to El Farallón you must take the road from the coast of Gáldar towards Agaete (Botija road). After leaving behind the Martorell beach, you will reach plantations of banana trees. Right where you see a red sign to a dairy on the right, you get on that dirt road and you'll arrive. The road is not paved, so you either go with a good 4×4 or leave the car next to the diary and walk about 500 meters. These are the views you will have of the Agaete coast. You can also see of course the Sardina pier that we showed in the previous photo and many times Tenerife. Awesome place.
7. Sardina lighthouse
Another attraction of Sardina del Norte is its beautiful white and red lighthouse that we show you below.
Places to eat in Sardina del Norte
To eat in Sardina del Norte we recommend the restaurant La Cueva. A very familiar place where you will be treated like a neighbor. They have spectacular salads and fresh products from the sea. For example, limpets, sardines, calamari, etc. Next we show you a portion of limpets with the Canarian mojo sauce.
In addition to good cuisine and service, they have spectacular sea views from their terrace, although they also have an indoor dining room if it was very hot or fresh air. There is also a new restaurant named La Pizarra (before La Fragata de Jean Paul). We have tried it recently and is much better than before. We loved the views, food and the service.
Holiday homes and apartments in Sardina del Norte beach
Staying overnight in Sardina has to be a blast. The truth is that we have never done it, but we would like it. There are several holiday homes and apartments in Sardina, many of them with sea views. Take advantage now that you have found this post to find your next stay in Sardina.
Sardina beach in video
Below you can watch one of our videos of Gran Canaria, this one is about Sardina del Norte. We recommend you to subscribe to our YouTube channel for watching more videos of Gran Canaria and stay tuned.
Finally, if you want to know more places of Gran Canaria like this, you can not miss our travel guides, as well as our restaurant guide where we mention more than 80 places to eat in Gran Canaria. The sites that the locals frequent. As for the travel guides, we suggest you an itinerary for each day depending on how many days you come on vacation to the island. So, you will not have to plan your trip, we have already done it for you 🙂