We are pleased to share with you our experience in the United States after doing the Route 66 road trip. A dream for many and of course, a unique experience. We had a total of 14 nights and decided to include San Francisco and some other detour to visit the national parks. Below we explain you the whole road trip from end to end: things to do around, places to eat, tips, places to stay, etc. Let's go!
Route 66 road trip
We flew from Gran Canaria to Madrid, from Madrid to Philadelphia and from Philadelphia to Chicago, because when we traveled there was no Madrid-Chicago direct flight. On the way back we did get a direct flight from Los Angeles to Madrid with Iberia.
Once in Chicago, we designed a road trip through the main cities where the historic Route 66 was, including other stops. Approximately we drove about 4-5 hours a day. Our tour was the following:
Chicago, Illinois – 2 nights
St. Louis, Missouri – 1 night
Joplin, Missouri – 1 night
Clinton, Oklahoma – 1 night > visit to Oklahoma City & Amarillo
Roswell, New Mexico – 1 night > known because of the 1947 UFO incident
Gallup, Nuevo México – 1 night > Santa Fe, Albuquerque & Petrified Forest National Park
Williams, Arizona – 1 night > Sedona & Grand Canyon National Park
Las Vegas, Nevada – 1 night > Death Valley National Park
Visalia, California – 1 night > Sequoia National Park
San Francisco, California – 2 nights
Shell Beach, California – 1 night > Santa Bárbara & Malibú
Los Ángeles, California – 2 nights
Route 66 road trip map
In the following image you will see the road trip that we did. As you can see, there are added stops which are not part of the historic Route 66. Below we will explain you the extra stops that we did as we where so close from important cities or places.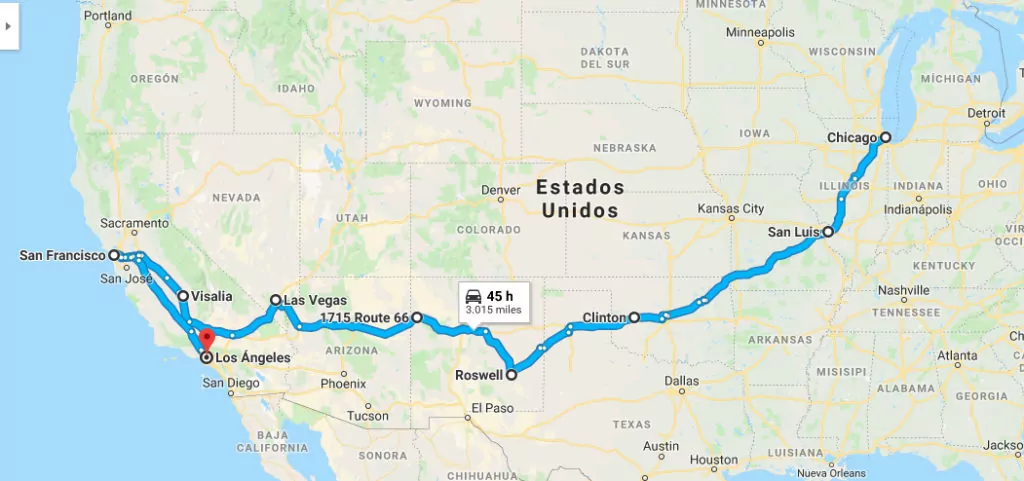 Next we are going to tell you about our route 66 trip. Although we will tell you in the post about tips for making the route 66 by motorcycle, you should know that we followed the main attractions with an app called Route 66: Ultimate Guide Pro. It was a great help and, above all, you will learn something about each stop. We recommend you to have a look at those tips if you are doing the route 66 by car, since some of the advices are common.
Driving route 66
✔ Chicago, Illinois. Beginning of the Route 66 road trip
Chicago is one of the most populated cities in the United States. It is quite similar to New York. Modern and traditional, pleasant to walk, visit museums and go shopping. It is located next to Lake Michigan and in the north of the country, which is quite fresh. We went in May and had temperatures below 10 degrees. Note that here begins the historic route 66. In Chicago also resided Al Capone. Here we loved the also historic Lou Mitchell's Bar and we also tried their famous Eggs Benedict. Chicago is also well known for its thick pizzas, one of the most famous places is the Giordano's
We took the motorbike after spending two nights in Chicago, heading to St. Louis in the Eagle Rider company. We took a Lift to its rental office. We recommend to book in advance your hotel in Chicago, since it is very expensive.
✔ St. Louis, Misuri.
The first major stop on the route is in the city of St. Louis, Missouri. Here it is the Chain of Rocks Bridge, the Mississippi River and its great Gateaway arch. We stayed at a motel arriving to the city. We recommend you the St. Louis motel, it was called Super 8 by Wyndham Staunton. In general, we liked all the Super 8 motels.
✔ St. Louis, Missouri
This part of the trip was quite hard, as there was a strong storm of rain and wind. In fact, we had to take several detours because there were closed roads because of the floods. Blessed GPS. And the rains were increasing, with what we barely made stops until the next state with the aim of leaving the storm behind. In Joplin we stayed again in a Super 8 by Wyndham Joplin. Also quite recommendable.
We made the typical stops recommended by the historic route 66 app, such as the largest rocker in the world.
✔ Clinton, Oklahoma
From Joplin we headed to Oklahoma. On the way, we stopped at the well-known blue whale. It is one of the most photographed icons on Route 66. A little later we reached the industrial town of Tulsa, quite ugly. However, it was worth knowing Hank's Hamburgers. The best burgers of the route 66 road trip!
Later we went through Oklahoma City, although it was nothing special. We spent the night in a small town called Clinton. At The Glancy Motel frequented on the historic Route 66 road trip.
✔ Roswell, New Mexico
Although it was not within the itinerary we planned for "our route 66 by motorcycle", we wanted to visit Roswell. Here supposedly in 1947 an UFO crashed. On the way, we passed through Amarillo, Texas. Where we visited The Big Texan, known for its steaks or giant sirloin steaks. We also visited the Cadillac Ranch.
We also went through the Midpoint. That is, the point of the route where you have the same kilometers to Los Angeles and to Chicago. It is the photo that we showed at the beginning of the post. We were already arriving in New Mexico. This day we had dinner soon at another known point of the route. The Del's Restaurant. This was where we tasted the authentic and delicious Santa Fe salad. It was awesome, we were already getting a little tired of meat.
After this technical stop, we went straight to Roswell, it was a road beating. The detour is super desert, we could see foxes and enough deer. In Roswell we stayed at the Budget Inn West. The next morning we visited the International UFO Museum and Research Center. If you're not an UFO freak, skip this part.
✔ Gallup, New Mexico
The next stop was Santa Fe, one of the prettiest cities on Route 66. We would have liked to stay one night here, but with the Roswell detour we didn't have more time. Santa Fe is full of artists, sculptures, cafes, stores, restaurants and life in general. Their houses are like the one we show you next, as if they were made of clay. It was very hot.
We also passed through Albuquerque, here it was very hot too. The only thing we did here was visit the house where the Breaking Bad series was recorded. Later we continued advancing until we arrived at the town of Gallup almost reaching Arizona. Along the way, we found these giant arrows called Twin Arrows. In Gallup we stayed in a Super 8 again. The Super 8 by Wyndham Gallup.
✔ Williams, Arizona
At last we arrived in Arizona, the state that we most fell in love with during the Route 66. We made the first stop at the Petrified Forest National Park. We walked through its paths and saw landscapes from another planet. Super recommendable
When we were in Roswell, we had breakfast with a lady who recommended us to visit Sedona. That's what we did. It was the next stop and the most beautiful part of the trip without a doubt.
A pretty posh place known for its wide range of adventure sports. It is characterized by its reddish mountains and streams. We took a ride with the motorbike and also did one of its trails. Here we would also have liked to spend a night, but we had to go to Williams, where we would sleep before visiting the Grand Canyon. We stayed at the American Regency Inn, it was pretty good the truth.
✔ Las Vegas, Nevada
The next morning we got up early to visit the Grand Canyon. Everything is super prepared so you can see it from above. However, if you have time to spare, we recommend investigating its trails, but you should plan it beforehand. After the visit to the Grand Canyon, we went direction Las Vegas. Another of the detours that we made of our route 66 by motorcycle. On the way, we stopped to regain strength in the well-known Delgadillos Snow Cup. Very well known also on the route.
The place is very cool and the burgers are also super yummy. The bad thing about the place is that it was quite cool and they only had tables outside, so we ordered at least two warm coffees. A few hours later we arrived in Las Vegas. We took a walk through the main hotels, casinos and saw the Bellagio fountain show with music. Las Vegas we recommend it a lot, it is full of crazy hotels, casinos, bars and rivers of people to party. You have to visit Vegas once in a lifetime.
The hotels here are quite cheap, contrary to what we thought, it must be because of the excess of options. We stayed at the Stratosphere Hotel, Casino & Tower. The rooms were huge and comfortable, although what we liked most was the super breakfast buffet. Especially after having experienced the motels where they only have sugary cereals and waffles for breakfast. The next morning we took another trip around Las Vegas and headed to California. We passed the Death Valley National Park, but we did not stop because it was very hot.
✔ Visalia, California
We left Nevada to get to know California. We chose to sleep in a city near the Sequoia National Park, since we did not want to miss it. The city we chose was Visalia. Arriving we stopped to eat at In & Out burger. There are several throughout California and they are delicious.
In Visalia we stayed at Motel 6 Visalia that had washing machines and we took advantage of it to do a laundry, since we did not bring clothes for the 14 nights. Something you should keep in mind if you are going to do route 66 on a motorcycle to save space and weight. The next day we went to see the majestic sequoias, mountains and rivers, we could see deer and beavers. We made several trails along its paths in search of California bears, but we had no luck. Even though we were in May, there was still snow. A very beautiful site.
The Sequoias are amazing. Here you must visit the General Sherman Tree, the largest living thing on the planet. Also lose yourself in their paths. This park is wonderful!
✔ San Francisco, California
After knowing the Sequoias we headed to San Francisco, another stop off the route 66. A city of contrasts in which you will see where the rich coexist with the vagabonds. We loved the city, its fishing pier with seals, its streets and tram, its China Town, its gay neighborhood, its red bridge or Golden Gate, its zero waste supermarkets… Very cool.
In San Francisco we stayed two nights at the Civic Center Motor Inn. It was quite central, so we visited the entire city on foot. With the exception of the Golden Gate, we visited it by motorcycle and, therefore, we left it for when we were heading to Los Angeles.
✔ Shell beach, California
It was a pity that Highway 1 of the California coast was closed. Apparently the heavy rains had caused landslides, so we missed one of the most beautiful parts of California.
Moreover, on our way to Los Angeles we stopped at Solvang, a city founded by the Dutch and also in Santa Cruz.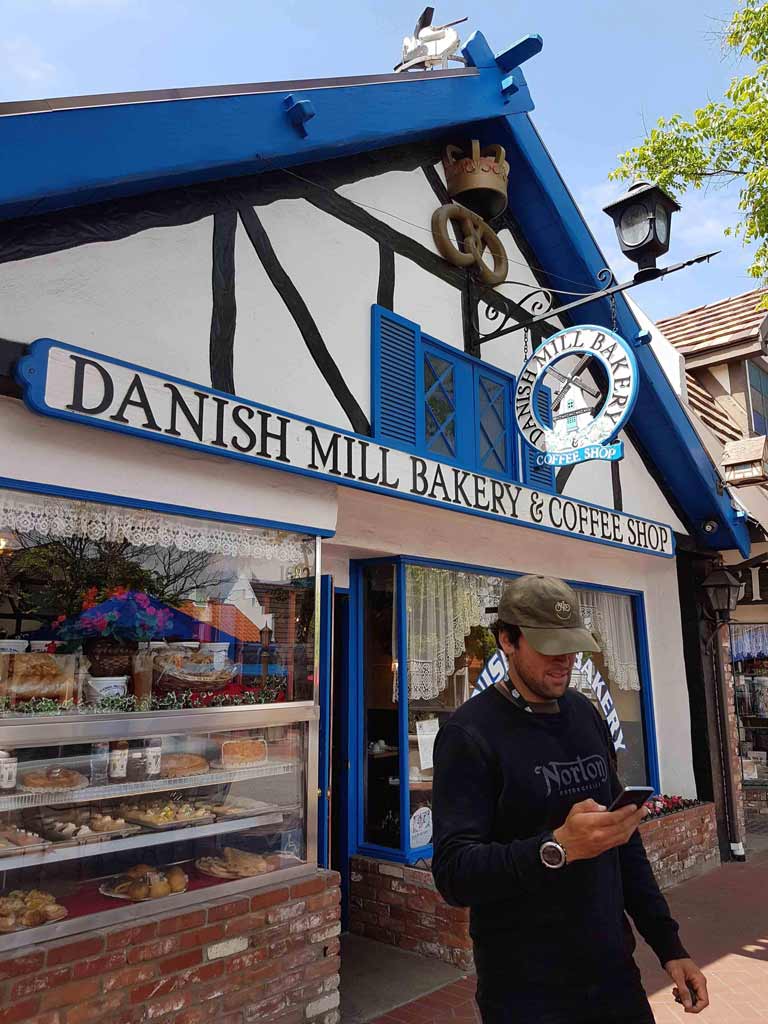 To eat, we want to stand out the Whole foods supermarket, where you can prepare your salad or combined dish if you want to escape from the burgers one day. Finally we arrived at Shell beach, where we decided to stay overnight. Highlight the Mexican restaurant "Zorros", where we returned to try the delicious Santa Fe salad. The motel that we chose was quite good, it was called The Palomar Inn.
✔ Los Ángeles, California. End of the route 66 road trip
From Shell Beach to Los Angeles, we went through Santa Barbara. Here we took a motorcycle tour through the city and on foot along its beaches.
We also passed the beaches of Malibu until we reached the end of Route 66 road trip, just in Santa Monica pier. A very iconic place that we have seen in many Hollywood movies.
In Los Angeles you have to visit the Observatory, preferably at night. Here you will have spectacular views of the entire city and the well-known Hollywood sign. You should know that in Los Angeles there is a lot of traffic. With what if you want to see the sunset at the Observatory, you will have to leave your hotel at least 1 hour before.
You should also know Venice beach and its channels, the walk of the stars, Rodeo Drive and a few else. Los Angeles disappointed us a little, maybe because we live in Gran Canaria its beaches did not surprise us. Of course, it is a place to visit. Moreover, here is the end of the historic Route 66 road trip. In Los Angeles we stayed in a motel that we do not recommend, but you can find here hotels in Los Angeles.
Well this has been our Route 66 road trip adapted to the tourist attractions. We hope that it inspires you. Do not miss our post with all our tips to make the route on two wheels. The most important thing is that you arrange a travel insurance as driving a motorcycle it is always a risk. Take advantage of that by being our reader you have a 5% discount.
In any case, if you have any questions about the route 66 road trip, leave us a comment or contact us by email at info@localguidegrancanaria.com. Finally, remember that you can visit other destinations in the world with us, as well as all the things to do in Gran Canaria island with our blog. See you soon!