In this article we want to share with you one of the most beautiful places of the north coast of Gran Canaria: the Roque Prieto pools. It is one of the few swimming areas in the municipality of Santa María de Guía, since it has just a few kilometers of coastline. Next we are going to give you all the details about this little paradise. As we see it, this are one of the best natural pools in Gran Canaria. Do you want to join us?
Roque Prieto pools
In Roque Prieto you will find two different natural pools with their corresponding breakwater so that swimming is safe. You have to know that this area of the Gran Canaria coast is quite dangerous. In fact, the other beach in Santa María de Guía, San Felipe (Vagabundo), is also very dangerous and only the local surfers dare to swim here.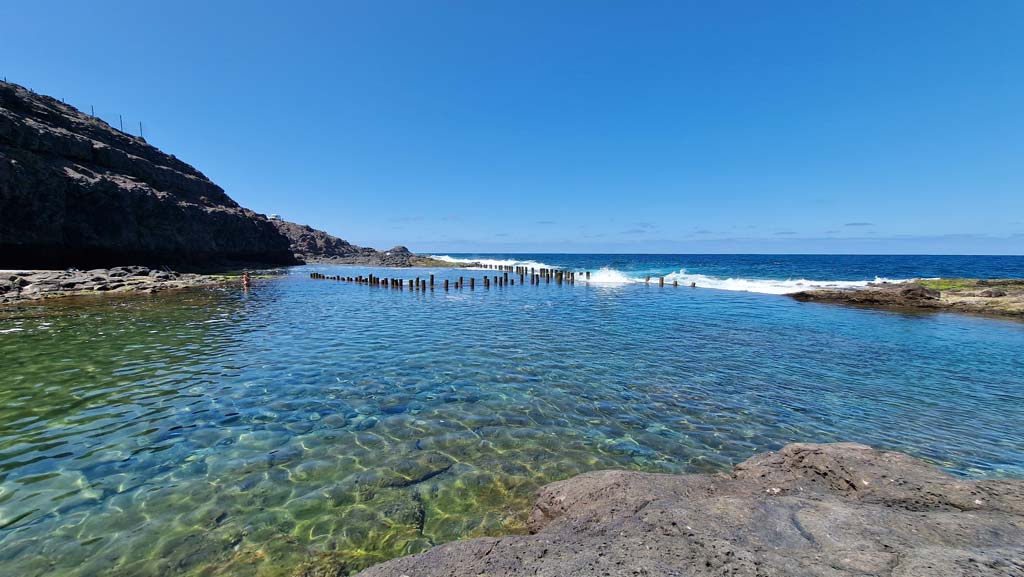 In any case, thanks to the breakwaters, swimming here is usually safe, but keep in mind that there is no surveillance, nor any type of service: toilets, showers, shops, restaurants, etc. However, to access one of the pools there is a ramp and also some stairs, both with railings. We show it below.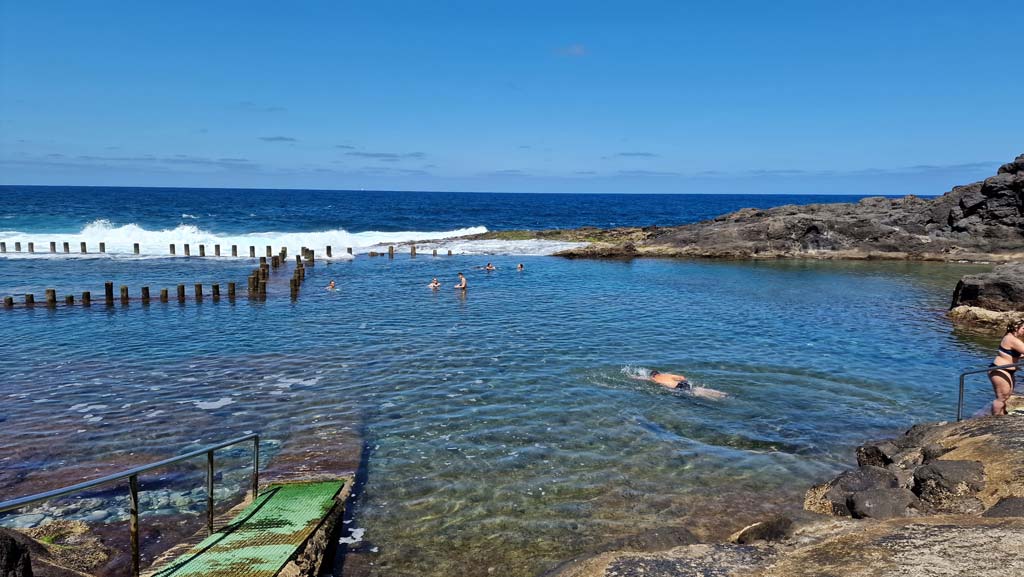 La Madrina festivity, Virgin del Carmen of Roque Prieto
Every year for the festivities of La Madrina, the Virgen del Carmen is moved to the small cave of the Roque Prieto pools that we show you below. Right at the access to the pools we will find a space dedicated to the virgin. This is where she rests on the eve of the festivities so that the residents of Atalaya and other areas of Guía come to worship her.
How to get to Roque Prieto pools
The natural pools of Roque Prieto are just a few minutes' drive from the urban centers of Guía and Gáldar. To get there from Las Palmas de Gran Canaria you will have to cross the neighborhood of La Atalaya de Guía. We recommend combining your visit with other natural pools in the north of Gran Canaria, such as those at El Agujero. There is a coastal road linking both pools which we love. A landscape full of banana trees with the Atlantic Ocean in the background. Look how wonderful.
Guide to beaches and natural pools of Gran Canaria
If you want to know more places like this, we invite you to take a look at our Guide to beaches and natural pools in Gran Canaria with more than 80 places to take a dip. Here we share with you many sites that do not appear on the internet and that we hope will continue so for a long time. Out of respect for these small enclaves and the local population, we will not publish these sites to avoid overcrowding. Thank you very much for your understanding and support 🙂
Video of the pools in YouTube
Then we leave you with a video of the natural pools of Roque Prieto from our YouTube channel. Subscribe here to have more ideas of places to visit in Gran Canaria, it's free!
Well localguider, here we leave you another piece of Gran Canaria for you to discover on your own. We hope you liked it. Please remember to leave everything as it was after your visit. Until next time!