If you are looking for romantic restaurants in Gran Canaria, we believe that this article can be of great help to you. To choose these special places, we have taken into account several factors such as their atmosphere, the attention and quality of their cuisine. This way, your evening will not be spoiled by anything. Here is a list of 10 romantic restaurants in Las Palmas de Gran Canaria (four of them) and other parts of the island. Here we go!
Romantic restaurants in Gran Canaria
1. El Embarcadero, Las Palmas de Gran Canaria
One romantic place to take into account is El Embarcadero. As the name suggests, they are right in front of the pier of the marina of Las Palmas de Gran Canaria. So, it is a very quiet and relaxing place with views of all the boats and the sea. The cuisine is creative Mediterranean.
2. La Vicaría, Ingenio
In the centre of Ingenio you can also enjoy one of the most romantic restaurants in Gran Canaria. Its speciality is Italian cuisine, especially its Roman pinsas (focaccia made of rice and soya beans). Super cosy decoration and, of course, table linen.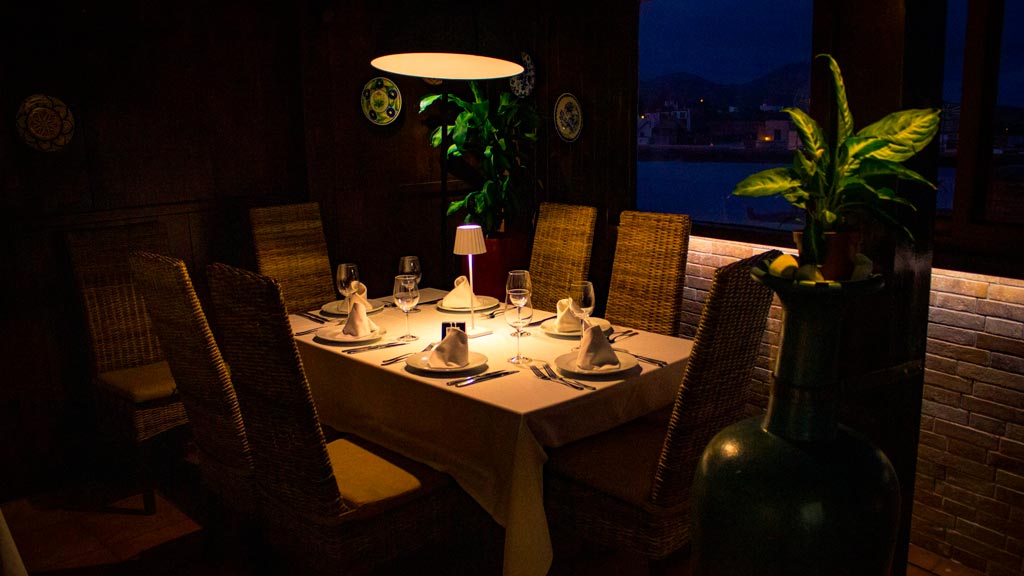 3. La Aquarela, Aquamarina
One of the best restaurants in Gran Canaria, if not the best, is La Aquarela. This restaurant has been renewing its Michelin Star for several years. We love their service and gastronomic proposal with local produce and menus from 110€. They also have a 100% vegetable menu, by the way. If you can, try to book when the sunset is scheduled. It's very pretty as we showed at the beginning of this article. It is only open for dinner.
4. Samsara, Maspalomas
Samsara Restaurant is one of the most special restaurants in Gran Canaria because of its Balinese or Thai style decoration (not shabby at all, on the contrary). On the other hand, the service and the food with oriental touches are top notch. Keep in mind that they only serve dinner.
5. Parador Cruz de Tejeda, Cruz de Tejeda
This à la carte restaurant has a huge window overlooking the Sacred Mountains of Gran Canaria (World Heritage Site). The ceilings are high and the setting is pleasant. However, if you want a view, it is better to go in summer, as it gets dark during dinner and you will be able to enjoy it more. The food isn't bad, but it's not super WOW either. This option is recommended to combine with a romantic getaway to the Parador de Cruz de Tejeda. You can see the prices per night here.
6. Casa Romántica, romantic restaurants Gran Canaria north
Another romantic place to eat in Gran Canaria is in the Agaete Valley. If you want your romantic date to be in the middle of the day, rather than at night, we think this option is more than suitable. Why? Because it is located in one of the most beautiful corners of the island and it is worth enjoying the drive as part of the plan. Their cuisine is creative and they include local produce in their menu, such as the famous Agaete Valley wines and their coffee. They have a la carte menu or two different tasting menus. We love this place!
7. Poemas by Hermanos Padrón, Las Palmas de Gran Canaria
Poemas is another Michelin Star restaurant in Gran Canaria. You'll find it inside the emblematic Santa Catalina hotel, in the heart of the Ciudad Jardín area of the capital. And that's why eating on its porch overlooking the gardens is such a romantic experience. The indoor dining room is not bad, but I'd definitely go for the porch. You can eat à la carte or with a tasting menu.
8. Il Vespino Vecchio, San Agustin
If you fancy Italian food on your special day, Il Vespino Vecchio should be among your choices. It is located in the gardens of a resort, so it has a terrace. By the way, the lighting is quite romantic too. The good thing about this place is that you can have a romantic walk along the beach of San Agustin after dinner to digest.
9. Los Guayres, romantic restaurants in Gran Canaria south
Los Guayres restaurant is also one of the romantic restaurants in Gran Canaria that could not be missing in this list. Both its indoor dining room and its tables on the porch overlooking the garden are the ideal setting for a special evening. They have a tasting menu from 110€. By the way, it is located inside the Cordial Mogán Playa hotel in Puerto de Mogán, if you want to combine a romantic getaway with a stay.
10. Tabaiba, romantic things to do in Gran Canaria
Tabaiba was one of the last restaurants in Las Palmas to receive the Michelin Star last December 2022. They work with a tasting menu starting at €100. It is essential to book in advance, since as you can see below, it is a tiny restaurant.
What do you think of our selection of romantic restaurants in Gran Canaria? Would you like to add any more? Let us know in the comments! Keep in mind that in all cases these are restaurants where the price per diner is high. In other words, don't expect a romantic restaurant that is cheap at the same time. If there is one, tell us which one it is hehe.
Video: romantic restaurants in Gran Canaria
Below, we leave you with a short video in which we mention five of these restaurants for special occasions in Gran Canaria. If you want to see more videos about restaurants in Gran Canaria, subscribe here to our YouTube channel.
Guides to Gran Canaria
Finally, if this is your first time in Gran Canaria, we leave you with some articles that may help you to plan your holidays:
On the other hand, if you don't want to waste your time surfing blogs looking for things to do and where to eat, we invite you to take a look at our digital island guides. Here you will find itineraries already set up with places to visit and restaurants en route. Besides, this way you will be helping us to maintain this project 🙂
We are Ruth & Jorge, Gran Canarians with a travelling soul. Experts in tourism and digital marketing. We share the most authentic side of Gran Canaria (where we live) and… our adventures around the world!