The Occidental Roca Negra Hotel & Spa is a very good choice if you want to get away from the tourist areas during your stay in Gran Canaria. Basically because it is in an idyllic place in the town of Agaete. That is, in the north of the island. It is one of the most beautiful and beloved coastal villages of the locals. And, without a doubt, a mandatory stop on your visit to the island. Next we will tell you a little more about one of our favorite 4-star hotels in Gran Canaria. 
Roca Negra Hotel & Spa
As we mentioned, this hotel is located in Agaete a few steps from the town and the Puerto de Las Nieves. It is exactly situated on the hill that overlooks Las Salinas natural pools and, therefore, has spectacular views of the Atlantic Ocean. The hotel belonged to the Canarian hotel chain Be Cordial Hotels & Resorts. Now it is managed by Barceló and it is named Occidental Roca Negra.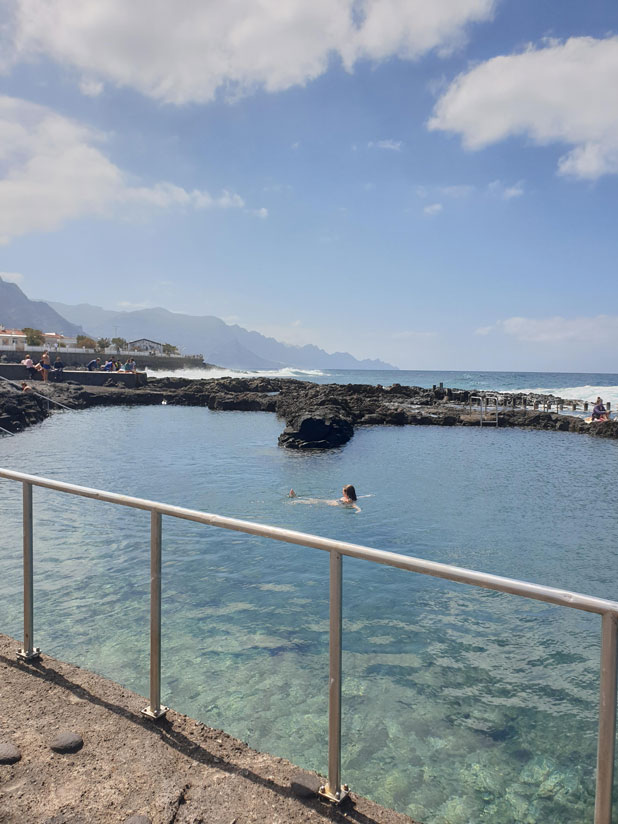 Services and facilities
At Occidental Roca Negra hotel you can stay with breakfast or half board (with dinner). Both meals are buffet style and with a wide variety.
The rooms are totally new, spacious and mostly with sea views, since practically the entire hotel is facing the ocean. Something we like very much about this hotel is its silence and soundproofing. Unlike others where everything is heard in the corridors, balconies and adjoining rooms. Therefore, perfect destination if you have come to Gran Canaria to rest or are looking for a weekend getaway to relax.
We also liked the distinction that the hotel has for riders as "cycling friendly". It is good to keep it in mind if you are looking for accommodation in Gran Canaria to practice this sport. You already know that in our cycling section we have several routes to do by bike, some of them in the area.
RockTop Skybar restaurant
Without a doubt, the à la carte restaurant RockTop Skybar is a mandatory stop during your stay or visit Agaete. It has unique views of the sea, Agaete and the spectacular mountains that surround it. For us it has been a pleasant surprise. In addition, its menu includes products from the islands, from Gran Canaria and, in particular, from Agaete. A delight of place. We leave you with one of the dishes that you can taste on its spectacular terrace. Take in mind that the restaurant might have changed the menu and name as they recently changed the hotel management.
Spa Roca Negra Hotel
Within its facilities, we highlight the Spa. Here you can enjoy a circuit or any of their treatments. The price of the stay does not include any of these services and we recommend you always book in advance. It is open from 10:00 a.m. to 8:00 p.m. every day.
We have certainly wanted to include this hotel among the recommended places to stay in Gran Canaria. An ideal place to know the essence of Gran Canaria, rest, eat yummy food and disconnect from the routine. We will come back as soon as we can!
If you want to know what to do during your visit in Gran Canaria, you cannot miss our guides of the island, with the sites we recommend you to visit and the restaurants that the residents frequent. You can not miss it!