In this post we want to share with you some restaurants with a terrace in Las Palmas and in Gran Canaria. It is always nice to enjoy a good meal in the open air and more so in these times. Therefore, below we give you to choose from a wide range of restaurants with terraces on the island. Thus, in addition to being able to continue eating out, you can continue discovering the island.
Restaurants with terrace in Las Palmas de Gran Canaria
✔ Bodegón Las Lagunetas, Triana
The Bodegón Las Lagunetas is a typical place to taste good Canarian food in the heart of the Triana neighborhood. This site has a double terrace, one on Constantino Street, and one on Lagunetas Street. The one that we show you next is in Lagunetas alley.
✔ Restaurante Triciclo, Vegueta
Triciclo is one of our favorite restaurants in Las Palmas de Gran Canaria. They have a modern and creative menu with Canarian and Mediterranean touches. In addition, the service is attentive. It is located in one of the pedestrian streets of Vegueta old town.
✔ La Bikina, Las Canteras
As you may have seen from our other posts, La Bikina is also one of our favorite places to eat in Las Canteras. Look what views! They have international cuisine and it is very well priced.
✔ La Marinera, Las Canteras
Who has never eaten on the terrace of La Marinera restaurant? Surely many of those who are reading these lines already know it, but sometimes we forget how well it is to eat fresh fish here overlooking the beach of Las Canteras.
✔ El Dorado, Las Canteras
Another restaurant with a terrace in Las Palmas is El Dorado. A very good value for money home cooking place located in the La Cícer area, in Las Canteras. area, in Las Canteras.
✔ Allende. Triana, Puerto, Muelle deportivo & Playa del Inglés
This restaurant franchise has a terrace in each of its establishments, with which we have expanded the list of restaurants to eat outdoors in Gran Canaria, adding four more at once. Those who do not know it yet, it is a restaurant specialized in Spanish, Andalusian and Canarian tapas with good value for money.
✔ Mr. Kale. Triana & Mesa y López
Mr Kale is always an option for healthy breakfast, lunch or dinner in Las Palmas de Gran Canaria. In addition, it has a terrace in its two restaurants. Without a doubt, one of our favorites for breakfast in Las Palmas de GC.
✔ 1890, La Bodeguita, Ciudad Jardín
Under one of the porches of this hotel in Las Palmas we find the 1890 hotel, La Bodeguita. It has an indoor dining room, but the greatest charm is in the hotel's landscaped surroundings and, therefore, on its terrace. We loved their ribeye, the oxtail ravioli, and the calamari.
✔ Segundo Muelle, Ciudad Jardín
The Segundo Muelle is a Peruvian restaurant located in the Ciudad Jardín neighborhood. In addition, we can say that it is one of the best restaurants in Las Palmas.
✔ El Embarcadero, Muelle deportivo
As you can see below the terrace of this restaurant we can also say that it enjoys one of the best locations in Las Palmas. Here you can taste high-level cuisine, both meat and fish and good starters.
Restaurants with terrace in Gran Canaria
Below we would like to expand the list of restaurants with a terrace in Las Palmas so that you can also enjoy a good meal in the open air in other restaurants on the island and do some tourism.
✔ La Locanda, El Roque, Moya
It is a restaurant specializing in Italian and Mediterranean cuisine in general located in a privileged location on the Moya coast. Look what a great terrace! Of course, the price is not low and its owner is a bit special with customer service (you have been warned).
✔ Cofradía de Pescadores de Taliarte, Telde
Without a doubt, the Cofradía de Pescadores of Taliarte, in Telde, is our favorite place to eat fish in Gran Canaria. The pity is that it does not have direct views of the sea, but both the food and the service are excellent.
✔ Rincón Canario, Playa del Águila
El Rincón Canario is one of our favorite Canarian food restaurant on the island. This is where we absolutely take our friends when they visit us. We love their avocado and watercress salad, potatoes with mojo sauce, squid, calamari… but the best, the views of Aguila Beach.
✔ Restaurant El Capitán, San Agustín
If you are in the south of the island, another restaurant with a terrace and overlooking the sea is El Capitán, on the beach of San Agustín. In this place you will also be able to eat good Canarian tapas, fish and rice.
✔ Mao Mao beach, Las Burras
The Mao Mao beach is more of a beach bar, although it has a gastronomic offer that has nothing to envy to other restaurants. The Galician octopus and the veal rounds are finger licking. It is located on the first line of Las Burras Beach.
✔ La Palmera Sur, Playa del Inglés
If you want to treat yourself, at the Gold By Marina hotel in Playa del Inglés, you will find this a la carte restaurant that we could classify as premium. It has tapas and creative dishes that you can only try here and, therefore, prices are quite high.
✔ La Bahía del Pajar, Santa Águeda
The Bahía del Pajar conquered us from the first moment. They have a unique terrace overlooking Santa Águeda beach, nearby Arguineguín. We really liked their grilled cheese, seasoned tomatoes, and grilled tuna. We will come back soon for sure!
✔ El Alpendre de Félix, Santa Lucía de Tirajana
In Santa Lucía de Tirajana a few steps from the La Sorrueda Dam, we have the El Alpendre de Félix restaurant. A place of home cooking with a lot of charm and familiar treatment. The house salad and the calamari are delicious.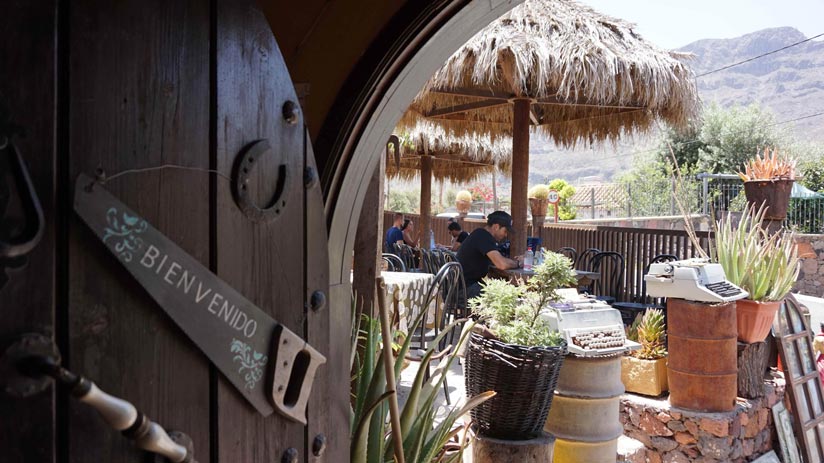 ✔ Asador Hijos de Ortega, Valsequillo
In the town of Valsequillo you will also be able to eat on the terrace at the Asador Hijos de Ortega restaurant. Here we recommend the spinach croquettes, snails, fried calamari and knuckle.
What do you think of these options? Did you know them all? As we always tell you, we hope this information has been helpful to you and, if you would like more information about other restaurants on the island, you just have to browse here a bit or take a look at our restaurant guide. Finally, leave us a comment if we have missed a restaurant with a terrace that we cannot miss on the island so that everyone who passes by can also take note. Thank you!
We are Ruth & Jorge, Gran Canarians with a travelling soul. Experts in tourism and digital marketing. We share the most authentic side of Gran Canaria (where we live) and… our adventures around the world!