In this post we are going to talk about the 10 places you cannot miss to eat in the south: restaurants in Maspalomas, San Agustín, Castillo del Romeral, Playa del Inglés and Playa del Águila (San Bartolomé de Tirajana); Anfi del Mar and El Pajar (Mogán). The south of Gran Canaria is very touristy and finding a place with good value for money is very difficult. That is why we have decided to make this post that we are sure will help you.
10 best restaurants in Maspalomas & south of Gran Canaria
✔ Best restaurants in Maspalomas
1. El Senador, restaurants in Maspalomas beach
This place is a must among the best places to eat in Maspalomas since it has a privileged location. It is located on the beachfront of Maspalomas beach and offers Canarian, Mediterranean and international food. They have good rice dishes, the typical potatoes with mojo, salads, fish, etc. Given its location, it is a bit touristy and therefore a bit expensive, but worth it.
2. Allende 22º restaurant, Playa del Inglés
Allende 22º is probably one of the best restaurants in Playa del Inglés if you want to eat nice Spanish tapas and do not want to spend more than € 30 per person. It is a chain of restaurants with already three or more places to eat in Las Palmas de Gran Canaria. The cuisine is practically 100% Spanish with typical dishes such as huevos rotos (broken eggs), croquettes, salmorejo, cachopo, etc. They also have some Canarian delicacies such as potatoes with mojo sauce or grilled cheese from El Hierro.
3. La Palmera Sur, one of the best restaurants in Maspalomas
Within the Gold by Marina hotel we also have another of the best restaurants in Playa del Inglés: La Palmera Sur. It has a varied gastronomic offer of the Allende restaurant type, although perhaps somewhat more sophisticated and, therefore, expensive. At least that's what it seemed to us when we went. In any case, the food is delicious and the service is good.
4. La Taberna Burger Art, burger restaurant in Maspalomas
If you are looking for delicious burgers in the south of Gran Canaria, you have to try La Taberna Burger Art. They have more than 19 types of burgers and local and international beers. They stand out for how different and special their burgers are. For example, the Gran Canaria hamburger with La Palma cheese, fried banana and almond mojo sauce. A touch of the Canary Islands in fast food! Undoubtedly an option to take into account to have a good time with friends, since they are located in the heart of Playa del Inglés.
✔ Restaurants in San Agustín, Las Burras, Playa del Águila and Castillo del Romeral
5. Mao mao beach, restaurants in Maspalomas with sea view (Las Burras beach)
It is a beach club that is located on the beach of Las Burras. Despite the small size of its kitchen, you can't imagine how delicious everything is. We loved the Galician octopus, the calamari, the croquettes, the potatoes with mojo… all very tasty! But without a doubt, the best thing is its location if you want to eat next to the beach.
6. Restaurant El Capitán, restaurants in Maspalomas (San Agustín)
If El Senador is the best restaurant in Maspalomas, El Capitán is one of the best restaurants in San Agustín. It is also located on San Agustin beach. The site is highly frequented by locals, although it is located in a tourist area. Here you can try some delicious Canarian potatoes with mojo sauce and cheese, salads, octopus, fish, rices, etc. The price is moderate, it will depend on whether you order fresh fish or seafood.
7. Restaurante El Rincón Canario, best restaurant in Maspalomas of Canarian food
This place is one of our favorites for Canarian food on the island. The potatoes with mojo are delicious, the watercress salad with avocado too, they have good fresh fish, calamari, octopus, etc … The terrace of this restaurant is practically inside of Playa del Águila beach. We show you below the views. You have to know that this place has changed the owner and we haven't been yet. So we don't know if it is still good.
8. Liágora Canarias, Castillo del Romeral
If you are looking for an authentic restaurant where you can eat fish, seafood and rice in the south of Gran Canaria, you must have Liágora Canarias within your options. They are experts in rice, although we order the local fish: fried vieja (kind of parrot fish) every time we go. It comes with the best gofio we've had so far and potatoes with mojo sauce. It is located in the small local town of Castillo del Romeral, a non-touristy setting.
✔ Restaurants in Mogán (Anfi del Mar, El Pajar & Castillo del Romeral)
9. La Aquarela, Anfi del Mar
In 2019, La Aquarela restaurant received its first Michelin Star, one of the few establishments on the island with this award, together with Los Guayres. We recommend this place for a special occasion, since it only works for dinner and with a tasting menu starting at € 90, without drinks. We emphasize the use of local raw materials, an explosion of flavors and the room service. It is located a few steps from Anfi del Mar and the sunsets from here are dreamlike.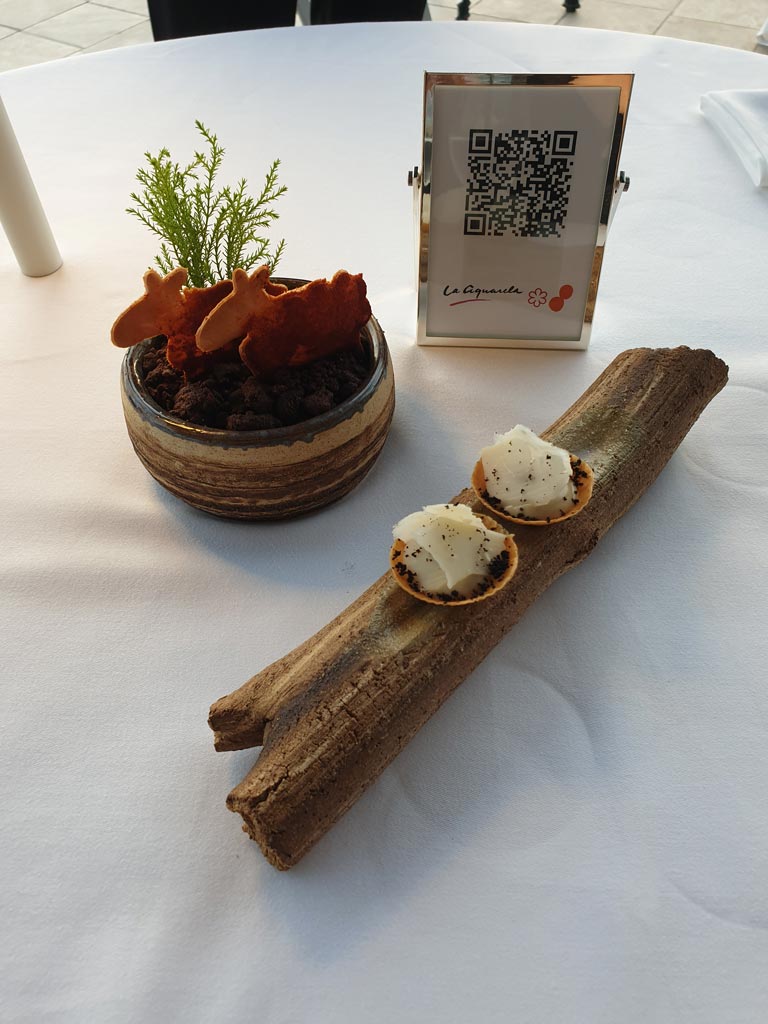 10. Restaurante La Bahía del Pajar, El Pajar
Here you can eat good fish with sea views in a 100% local environment. It is located nearby Arguineguín, at the beach of Santa Águeda, in an area known as El Pajar. Perhaps many prefer the El Boya restaurant next door, especially for its good price, but the food has no quality and the queues are huge. Here you have good raw material, attention and price.
Well, this has been our tour of the best restaurants in Maspalomas, Playa del Inglés, San Agustín, etc. 10 options to eat in the south of Gran Canaria. Have you tried them all? Leave us a comment and even recommend one that you think is better 🙂
Restaurants in Maspalomas & Gran Canaria
If you would like to discover more restaurants on the island and you want to be the REAL localguider, we have a guide with more than 80 places to eat all over the island. We include local, Spanish, international food places for breakfast and even for a good sandwich. Are you going to miss it?
Video: restaurants in Maspalomas and in the south
Below we leave you with a short video of a selection of places to eat in the south of Gran Canaria: Canarian food, Michelin Star, pizza, hamburgers and a 100% vegan place. If you want to see more videos like this, we are waiting for you on our YouTube channel.