We have wanted to write an article about restaurants in the countryside in Gran Canaria for a long time. In this case, we will tell you about 10 places you can go to to spend the day in a different environment and, in addition, eat homemade and delicious. Let's begin!
Restaurants in the countryside in Gran Canaria
When autumn begins in Gran Canaria, the locals usually go to the countryside or the interior of the island to enjoy its landscapes, fresh climate and, why not, good homemade food. If you are tired of going to the same place or need some ideas, in this post we are going to recommend a few restaurants that you can combine with plans to do in the area.
1. El Alpendre, Santa Lucía de Tirajana
Next to the La Sorrueda Dam and the Fortress of Ansite, in Santa Lucía de Tirajana, is located this family restaurant. El Alpendre is characterized by having in its menu products from its own garden, as well as good meats, calamari and desserts.
2. El Albaricoque, Fataga
El Albaricoque restaurant (the apricot) is one of our favorites on the island. They have very good homemade Canarian food in a unique setting in Fataga village. Here we recommend you try their watercress stew, avocado salad and, of course, leave a gap for their homemade desserts.
3. La Caldera, Firgas
If you want to eat ribs boiled with corn, La Caldera is one of the best places to delight yourself. It is located in La Caldera, a few minutes drive from Firgas village. In addition to the ribs, we recommend the ropa vieja and the mushroom and / or spinach croquettes. Have a look at our post about best things to do in Firgas to complete your route.
4. Grill Casa Miranda, Los Hoyos, Las Palmas de GC
This restaurant specializes in grilled meats and local wines. In addition, you cook the meat yourself at your table on a hot stone. Of course, remember to leave a space to try their homemade desserts. Look at the following French toast! You can combine this meal with a hiking route through the Caldera of Bandama.
5. Asador Hijos de Ortega, Valsequillo
In the center of the town of Valsequillo you have the option of giving yourself a good Canarian food tribute at the Asador Hijos de Ortega (formerly Hermanos Monzón or Ca' Eusebito). We recommend: fried Saharan squid, snails and knuckle. In addition to visiting the town center, you can combine it with a hiking route through the area such as the Los Cernícalos ravine.
6. La Era, Guayadeque
La Era restaurant in Guayadeque is one of our favorites in this ravine because it has unbeatable views and the treatment is closer to being a small place. However, in practically all cave restaurants in Guayadeque you eat well. Its specialty is grilled meat, do not miss the sweet wine named "abocado" to accompany it!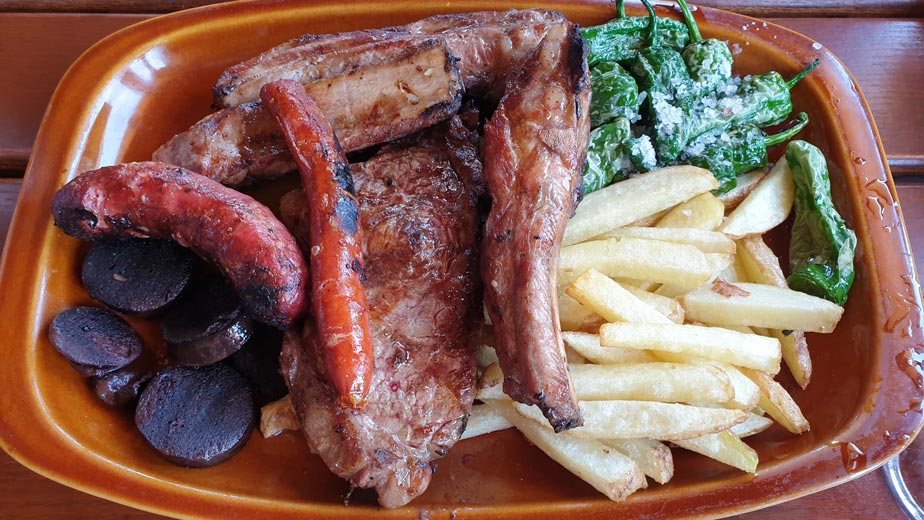 7. Casa Josefina, El Zardo, Las Palmas de GC
The Casa Josefina restaurant specializes in baked lamb. What's more, we don't know of any place that does this on the island. Do not worry if you are going to eat as a couple, they could prepare the rest to take away. They also have some good chickpeas and homemade desserts.
8. Casa Brito restaurant, Arucas
Nearby Arucas village in the north of Gran Canaria you can enjoy one of the best steakhouses on the island. Here you can order quality meat and delicious food in general. We recommend you not to order a lot of starters since the meat dishes are quite huge. The price per person is around € 40-50 (depending on the meat and wine), but you will have great service. If you want to visit the area, have a look at our post with the best things to do in Arucas.
9. Restaurant Guachinche Viña Cantera, Valsequillo
At the Guachinche Viña Cantera you will be able to eat among organic strawberry plantations with views of the Valsequillo mountains. The food is Canarian with even products from their farm. We recommend you try their chickpeas, seasoned tomatoes, avocado omelette, the Valsequillo cheeses… In addition, they have a spectacular homemade prickly pear bread.
10. Arcos de La Laguna, Valleseco
Finally, another of the best restaurants to eat in the countryside in Gran Canaria is the Hermanos Rogelio Arcos de La Laguna. The place is super cosy, the service is attentive and the menu is full of gastronomic delights. For example, Suckling pig, beans, steak and the French toast. It is very close to La Laguna de Valleseco, so you can combine it with your visit to this recreational area.
We have been very hungry to write about these restaurants in the countryside in Gran Canaria, we hope you will too 🙂 We also mention the places that you have recommended to us on our Instagram account @welovegrancanaria. They are: Bochinche Ca' Tita (Marzagán), Mesón Los Chorros in Firgas, Cuevas de Bascamao in Santa María de Guía, El Escondite and La Culata II in Valsequillo, Biocrepería Risco Caído and La Cilla in Artenara, Ca' Manolo in Santa Brígida, El Txistu in San Mateo, El Secreto de Teror in Teror, Los Tilos restaurant in Los Tilos de Moya and La Pasadilla in Ingenio. If you know any more, leave us a comment below.
Guide to restaurants
Finally, if you would like to know more places that locals go to, in our restaurant guide we mention more than 80 restaurants. In addition, we include places for breakfast, even where you can buy a good sandwich! If you would like more information, here are more details about what you will find in this guide.