Do you want to know all the places to visit in Tokyo? You are in the correct blog. Luckily, we spend 5 nights of our itinerary in Japan to get to know the biggest city in the world. We did more than 20 kilometers on foot per day. Get ready to walk. At the end the last day was dedicated to simply enjoy and go shopping, because, thanks to the pace we had the previous days, we were able to visit all the essentials of Tokyo. We tell you everything below.
Places to visit in Tokyo in 4 days
DAY 1, places to visit in Tokyo. Shibuya + Harajuku + Takeshita Dori + Yoyogi Park + Ginza + Royal Palace + Akihabara
As we were staying at a hotel 5 minutes walk from Shibuya, we decided to discover the area we had around towards the Harajuku neighborhood. We passed by the well-known street of gothic shops and crepes, Takeshita dori. Likewise, we continued to Yoyogi Park, where Takeshita Dori ends and we found the great wooden Tori. We hardly visited the park, since to access many areas you had to pay.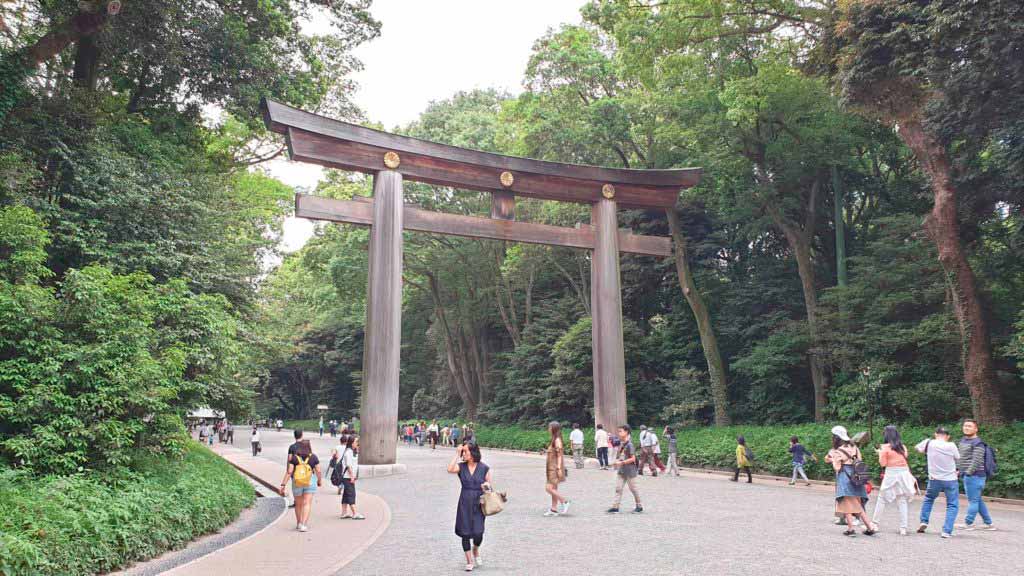 Then we went to the fancy neighborhood of Ginza, where all the luxury firms are. The architecture of its buildings fascinated us, we can not tell you which one was more impressive. In addition, we approached the Royal Palace and visited its gardens, as it is the only thing that can be visited. Finally, we ended the day in the electronics and Maid Café neighborhood: Akihabara.
DAY 2, things to do in Tokyo: Ueno Park + Asakusa + Sumida river cruise + Odaiba Island + TeamLab Borderless museum
We traveled by subway to Ueno Park for a walk (nothing special) and from there we headed to Asakusa. Here is the best place to buy your souvenirs from Japan. In addition, you can visit the Senso-ji temple and eat a good Tonkatsu (fried pork fillet).
Then we planned to cross the Sumida River on the futuristic Himiko ship. It lasts about 50 minutes and when we went it cost 1,720 yen per person. That is, about € 15. Ii is important that you book your schedule as soon as you arrive in Asakusa, places are limited and payment can only be made in cash.
The ship leaves you on Odaiba Island. Here we basically visited its river promenade, Statue of Liberty and the museums of Toyota and the digital art TeamLab Borderless. This last one is highly recommended if you have time. It is important that you buy your ticket in advance, since the accesses are limited per day to avoid overcrowding.
On the way back, from Odaiba we went to Shimbashi station on the famous driverless train. The price of the trip was 320 yen per person. It is not included in the JR Pass. Already in Shimbashi you can move with your JR Pass through the loop line. Finally, just don't leave Odaiba without watching the sunset. 
DAY 3, best attractions in Tokyo: Nakameguro + Harajuku + Government tower + Shinjuku + Golden Gai + Shin-Okubo
We continued our tour of the places to visit in Tokyo in 4 days walking through the Nakameguro neighborhood, since we had it near the hotel. We had read that it was a beautiful bohemian neighborhood, but we didn't like it very much. Of course, apparently during the time of cherry blossom is spectacular. Then we walked around the Harajuku neighborhood, we loved it.
Then we went to the top of the Government Tower to have a panoramic view of Tokyo with the minimum hope of seeing Mount Fuji. Impossible…
From here we continued walking through the Shinjuku neighborhood where we visited some technology stores. We also got lost in the streets of Golden Gai. Here you will find mini bars for up to 5 people. Very curious.
Finally, we just visited the Korean side of Tokyo, Shin-Okubo and we ate in a delicious Vietnamese restaurant, highly recommended.
DAY 4, places to visit in Tokyo in 4 days: Harajuku + Shibuya
The last day we decided to go shopping and walk quietly through the Harajuku neighborhood, our favorite one, as well as Shibuya. It was raining, so we couldn't do much. This day we had breakfast at the Starbucks in Shibuya to enjoy the famous multi-way crosswalk. It was time to prepare our bags after our 14-day itinerary through Japan.
Eating in Tokyo (one of the best places to visit in Tokyo)
1. Umegoaka Sushino Midori Ginza, Ginza.
If you are looking for the best restaurants in Tokyo to try the authentic sushi, this is probably a great option. Just be prepared to stand in line. These Tokyo Japanese restaurant was full of locals and tourists who followed the comments on TripAdvisor. It was the best sushi of our life. Card payment is accepted.
2. Tare-Katsu, Shibuya.
A site we found by chance and, blessed chance. Finally a restaurant in Tokyo to eat yummy and without queuing. They are specialized in breaded food. You can order vegetables, shrimp and chicken Tonkatsu type and it comes with mini salad and soup. Well priced, they only accept cash payment. We didn't queue.
3. Tendon tempura, Shibuya.
3. Tendon tempura, Shibuya.
Here you have to order your tempura with rice, with soba or with udon and it can be tempura of fish, shrimp, chicken or vegetables. The order has to be done on a machine and can only be paid in cash. Very cheap and delicious. We didn't queue. It's a franchise, so you'll see it in more parts of Tokyo.
4. Vietnamchan, Shin Okubo.
We were looking for restaurants in Tokyo nearby in Shin-Okubo (Korean neighborhood) we saw that this Vietnamese was very well valued on TripAdvisor and we wanted to try it. It was a delicious success. The best Vietnamese rolls and breaded tofu we have ever tasted. You can only pay with cash. We didn't queue here.
5. Gyukatsu Motomura, Shibuya.
The Gyukatsu is the same as the Tonkatsu, but with beef. At this Tokyo japanese steakhouse you will have a mini grill for you to cook it yourself. It comes with some rice and salad. Delicious. Also, you eat facing the kitchen bar. Here we also had to queue, like 45 minutes. The price was acceptable, only cash payment.
6. Gyoza Lou, Harajuku.
Well, basically, here you can only eat fried and steamed gyozas one of the Japan and Tokyo food that you have to try. Not bad, but much better those of Gyoza Hall in Kyoto. The price was OK. We had to wait about 15 minutes.
7. Tonkatsu, Asakusa.
Here you can buy delicious tonkatsus to take away. We don't remember the name of the site, but it's a small restaurant where you can't even sit down. It is in one of the streets perpendicular to the souvenir market. Don't worry, you'll see people eating it in the street for sure.
8. Yaro Ramen, Akihabara.
In search of a delicious ramen and avoiding the famous queues for eating in Tokyo, we found a place named Yaro Ramen. Here it was full of locals, each with its individual ramen. It was nice and well priced. The ramen had to be ordered in a vending machine that was only in Japanese, the waiter guided us because it is everything in Japanese. We saw that in some of the diners' ramen came a large seaweed with manga drawings. Only cash payment, no queues.
And this was basically our tour of restaurants in Tokyo. As you can see, we tried pretty much everything about Tokyo Japanese restaurants. One of the best things about traveling to Japan is without a doubt is its food.
Hotels in Tokyo
As we said at the beginning, we were staying just 5 minutes walk from the famous Shibuya crossing. The hotel is called Shibuya Granbell Hotel. Very clean, perfect bed and bathroom and central. We wanted a hotel in the center of Tokyo to avoid the subway. The room was Japan style (very small), but for the time we spent in the hotel, enough. We tried their breakfast one day, but it was not worth the value. As we had a Family Mart next to us, we bought coffee and a sandwich there. In any case, you can check here all the hotels in Tokyo.
We hope that our post about the places to visit in Tokyo in 4 days has been helpful. If you have any questions, do not hesitate to leave us a comment.
Travel insurance
Finally, remember that whenever traveling outside Europe it is advisable to have a private travel insurance, especially for health coverage. With IATI you have a 5% discount and you just have to book by clicking on the following image.
We are Ruth & Jorge, Gran Canarians with a travelling soul. Experts in tourism and digital marketing. We share the most authentic side of Gran Canaria (where we live) and… our adventures around the world!