Planning a trip and want to know the best places to visit in South Korea? This country has fascinated us and has so much to offer, from its vibrant metropolises to its rich cuisine, history and natural beauty. It also has many UNESCO World Heritage Sites, including Jeju Island, which is also one of the seven natural wonders of the world. Here are the must-see places in Korea after our trip, so let's get to it!
Below is the table of contents to travel to South Korea: things to do and helpful information to discover the country on your own:
Must-see places in Korea: 10-15 days itinerary
Undoubtedly, it's worth it to visit South Korea. We spent a total of 11 nights, which we divided as we'll detail below. The itinerary and cities to visit in South Korea may vary depending on the number of days and pace you prefer. Here are our recommendations:
If you have the time, we recommend adding one more night to your itinerary and staying overnight in Udo. This is probably the best place to stay in South Korea for tourist. On the other hand, the reality is that Seoul is a huge city. One could spend a week exploring neighborhoods, markets, and places of interest. However, with this list of unique places to visit in South Korea, you'll be able to visit the main attractions and configure your travel plan whether you have more or less days available. So, if you're thinking about visiting Korea, this post could be a great start to organise your Korea tourist journey.
✔ Things to do in Seoul, South Korea
Seoul is a vibrant city that must be on your list of best cities to visit in South Korea, where the charm of history and the excitement of the future coexist seamlessly. Here, you can discover its traditional palaces while at the same time delight in a coffee served by a robot. Moreover, if you're a gastronomy enthusiast, you will be captivated by exploring its markets and street food, savoring the local cuisine, and discovering the extensive range of Asian food on offer. Here are what we consider to be the best things to do in Seoul, South Korea.
1. Gyeongbokgung Palace, South Korea landmarks
Gyeongbokgung Palace is the largest and oldest royal palace in the country. So that, also one of the most famous landmarks in South Korea. If you love history and architecture it is a must.
2. Myeongdong, best places to go in South Korea for shopping
Myeongdong is a Seoul neighbourhood famous for its cosmetics shops and lively street food. It is best visited in the evening. Dining at street stalls is one of the most fun things to do in Korea.
3. Dongdaemun Design Plaza, futuristic places to visit in Korea
If you like architecture, stop by the Dongdaemun Design Plaza, an impressive futuristic design building that houses art and design exhibitions.
4. Buckchon Hanok Village
Buckchon Hanok Village is a must-see for anyone interested in the beauty of traditional Korean houses, known as Hanok, making it an essential part of any tourist's South Korea itinerary.
5. Cheonggyecheon Stream
The Cheonggyecheon Stream is a restored stream running through the heart of Seoul, a tranquil space to stroll and cool your feet on hot days.
6. Neighbourhoods of Seoul: Insadong, Itaewon, Hongdae, Seongsu dong, Yeonnam dong
Insadong is known for its local handicrafts and restaurants. As for Itaewon, it is home to a great nightlife, shopping, cafes and restaurants. On the other hand, if you want to get to know three of the capital's trendier neighbourhoods, each with its own charm, take a stroll through Hongdae, Seongsu and Yeonnam dong. All are full of bars, shops and cafes.
7. N-tower or Lotte Tower park, things to see in South Korea
If you want to have a good panoramic view of the capital we recommend the N-tower inside Namsan Park, quite close to the centre. Another option is to climb the 6th tallest building in the world, the Lotte Tower.
8. Namdaemun, Dongdaemon and/or Gwangjang markets
In Seoul's markets you can buy clothes, accessories, souvenirs, street food, toys and even items featuring the country's famous K-pop singers. All the South Korean markets we visited were quite similar, with the exception of Busan's fish market, which we will elaborate on later.
9. Starfield Library and Gagnam Style statue
If you are a lover of reading, we are sure that this library with more than 50,000 books and impressive 13-metre high shelves will amaze you. It's inside Asia's largest underground shopping mall, so you can cool off on hot days or take shelter on rainy days. A few steps away, you can also take a photo at the statue that imitates the "gagnam style" dance.
10. Palaces and temples of Seoul, things to do in South Korea
As you can imagine, if you travel to Seoul (South Korea), there will be many temples and palaces to visit, such as Changdeokgung Palace and its Secret Garden, a UNESCO World Heritage Site. We only went to the first one we mentioned, as well as the Buddhist temple Jogyesa, which is spectacular at night. In the article on things to do in Seoul (South Korea) you have our list of all the places to visit with restaurants to eat in each neighbourhood. We have recommendations from a friend who lived in Seoul for 10 years, so take note!
✔ Jeju attractions, one of the best things to do in Korea
Jeju, with its array of "South Korea beautiful places," was the trip's unexpected delight. This volcanic island, located south of the Korean peninsula, is renowned as one of the seven natural wonders of the world. Furthermore, numerous spots to visit on the island are World Heritage Sites, and we can't wait to share them with you!
1. Seongsan Ilchulbong, best places to go in Korea
This extinct volcano has been declared a World Heritage Site and Global Geopark. Many come to see the sunrise, although the views at any time of day are incredible.
2. Manjanggul caves, World Heritage places to see in Korea
This is one of the longest lava caves in the world, also a World Heritage Site. If you have never walked underground, this is a unique experience. Remember to bring a warm coat as it is quite cool down there.
3. Udo Island and the Haenyeo divers, top places to visit in South Korea
One of the unknown South Korea destinations is the island of Udo and its famous Haenyeo divers, who are actually fisherwomen. In Udo, you can also enjoy the best beaches in Korea with white sand and volcanic landscapes. The boat trip from Seonsang (Jeju) takes just 20 minutes. You can also cycle around the island in an hour (it's only 11 kilometres long). Udo was one of the places to see in South Korea that we enjoyed the most.
4. Seogwipo, Jeju, South Korea things to do
Along Jeju's southern coast you can visit several waterfalls, such as Jeongbang and Cheonjiyeon. Nearby is also the Oedolgae Rock.
5. Osulloc Green tea museum, cool things in Korea
If you've never seen a green tea plantation, one of the things in Korea you must visit is the Jeju's tea museum. Here you can tour the tea fields and taste a variety of tea products. And it's free to enter!
6. Hamdeok and Hyeopjae famous beaches in Korea
If you want to know the best beaches in Jeju, take a look at these two white sandy beaches: Hamdeok and Hyeopjae. If you can only choose one, we'd go for Hyeopjae, which is less crowded and has a perfect sunset overlooking Biyangdo Island.
7. Seongeup, Korean folk village in South Korea
This traditional village has 500 years of history and its houses are built with stone walls and thatched roofs. Access is free and you can have a relaxed coffee. You will also see the Dol hareubang statues, an icon of Jeju Island. They are said to offer protection from demons and are placed at the entrances of villages and houses.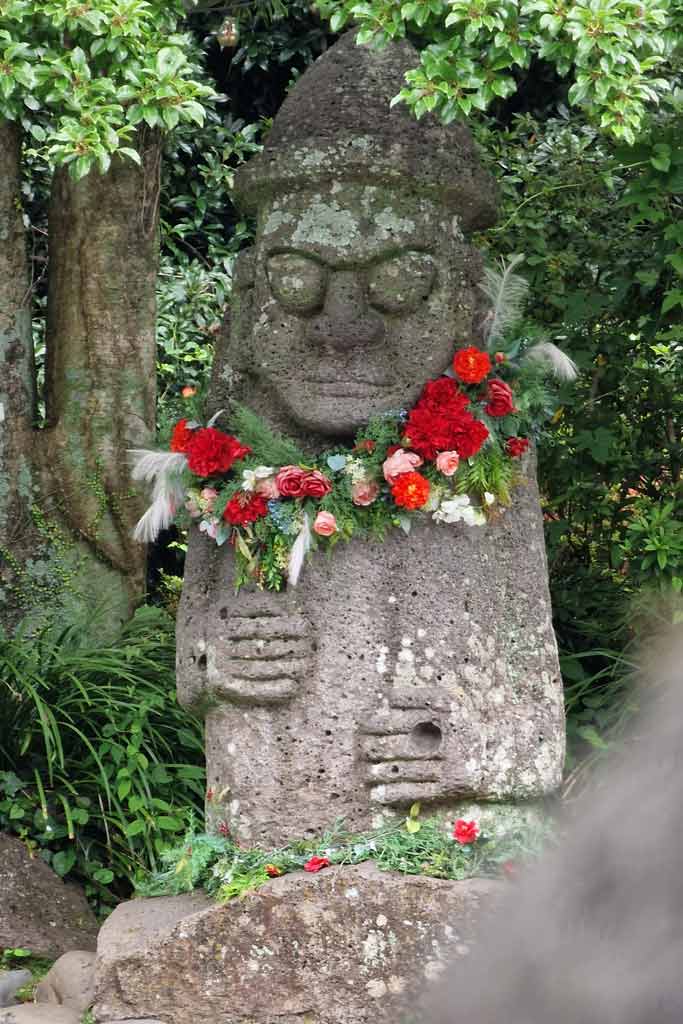 8. Mount Hallasan, South Korea attractions
Mount Hallasan is another of the top things to do in Korea as it is the highest peak in the country with 1947m. We didn't have time to visit it, but we'll leave it for you in case you have more time.
Finally, as we see it, Jeju is one of the South Korea top attractions. We have no doubt that there is much more to explore beyond this list. If you want to know more about the Jeju attractions, take a look at our article where we give many more details, including where to eat, how to get around by car and so on. We also have a full video in our YouTube channel, but it is in Spanish.
✔ Busan, best cities to visit in Korea
Busan, the second largest city in South Korea. Being by the sea, it has its own charm that distinguishes it from Seoul. Here's our list with the best places to visit in Busan, South Korea.
1. Jagalchi Market, the largest market to visit in South Korea
Jagalchi is the largest fish market in South Korea and therefore one of the best places to visit in Korea if you like fish. Here you can familiarise yourself with all the fish and seafood consumed in the country. You can buy your selection on the ground floor and have it cooked or prepared on the upper floor, where they also prepare sashimi.
2. Haedong Yonggungsa temple, Korea tourist attractions
Haedong Yonggungsa is a beautiful Buddhist temple, constructed in 1376 on the coast of Busan. It is among the rare temples built near the sea, as they are typically found in the mountains. This distinctive feature makes it one of the unique Korea attractions for visitors.
3. Gamcheon Culture Village, top things to do in Busan, Korea
Gamcheon Cultural Village is a charming neighborhood filled with brightly colored houses and creative street art. It also has a famous statue of the Little Prince making it one of the places to go in South Korea if you are a fan of this book and character.
4. Shinsegae Centum City, must see in Korea for shopping lovers
Shinsegae Centum City is the largest shopping mall in South Korea and …. in the world! That's why this location is among the top Busan tourist attractions for those who love shopping.
5. Haeundae beach, South Korea tourist spots
Haeundae is one of the most popular beaches in South Korea, making it one of the best places to visit in the country. It has a fantastic vibe and is completely surrounded by bars and restaurants. The skyscrapers encircling the Haeundae beach landscape struck us the most.
6. Gukje market, South Korea places to visit
In this market you can buy clothes, household items, street food, souvenirs, cheap K-pop idol items and much more.
There are many other things to do in Busan that we will explain in the specific article about this South Korean city. Here you can find out more about the restaurants we visited, recommended to us by a Korean woman from Busan we met on the plane. We also explain how to get around the city and where to stay. You won't find these tips in any travel South Korea guide. There are also many South Korea sightseeing tours, but it is very easy and safe travelling alone in Korea. Below we also share a video of our YouTube channel our visit to Busan, although it is in Spanish too.
Finally, there are many things to do in South Korea with family you should know. I will list them all, although we haven't been there because we have no kids.
Everland theme park Korea
Hello Kitty island in Jeju
Lotte World Adventure in Busan
Nami island in Seoul
Lotte World Seoul amusement park
10 days in South Korea budget
Below is a summary table of the travel budget to South Korea taking into account that we spent 10 full days in the country during the month of June 2023.
| | |
| --- | --- |
| South Korea trip budget | Price per person |
| Direct flight with Korean Air from Spain | €870 |
| Seoul-Busan Korail train (one way) | €45 |
| Flight Busan-Jeju Korean Air (one way) | €50 |
| Flight Jeju-Seoul T'way Air (one way) | €35 |
| Hotel in Seoul x 5 nights (Ena Suites) = €500/2 pers. | €250 |
| Hotels in Jeju x 3 nights (Zinc & Coop City Hotel Seongsan) = €110/2 pers. | €55 |
| Hotel in Busan (Almond Hotel) x 3 nights = €140/2 pers. | €70 |
| Meals per day (restaurants, coffees, desserts and water) = €35€ / pers. x 10 days | €350 |
| Car rental Jeju x 3 days = €180 / 2 pers. | €90 |
| Entrance fee to South Korea tourist attractions approx. | €50 |
| Public transport approx.: boat to Udo, bus + underground in Seoul and Busan | €50 |
| IATI travel insurance x 13 days (includes flight days to cover delays, lost luggage, etc.). You can get a 5% de discount here. | €52 |
| TOTAL PER PERSON: South Korea vacation cost x 10 days (from Spain) | €2.000 |
The cost to travel to South Korea can vary depending on the date, your preferences and style of travel. However, in general, compared to Europe it's quite a bit cheaper. You can eat very well in many restaurants for €10 per person, even less if you go to the markets or street food stalls (Pojangmacha). On the other hand, it is also possible to stay in a good hotel in Seoul or Busan for less than €100 a night. You can also consider staying in AirBnBs and hostels to reduce your budget for travelling to South Korea. Keep in mind that these are the costs as long as you split the expenses between two people. If you are traveling to South Korea alone, the total budget for a solo trip to Korea may increase.
Enjoy the local food, a must do in South Korea
As you might know, one of the best things to do in South Korea is to try its local food. There are many typical dishes you should try. We list below the top 10 Korean food dishes:
As you may already know, one of the best things to do in South Korea is to try the local food. Below we list what we consider to be the best traditional Korean dishes (and not so traditional). At the end we share with you a video with some curiosities about the typical food of South Korea, where you will also see what these meals are like.
Bibimbap, Korean dish with rice, vegetables and egg
Pajeon, Korean omelette with vegetables and/or seafood
Mandu, fried or steamed dumplings
Kimchi, spicy sauerkraut
Dakgangjeong or fried chicken Korean style
Bulgogi, marinated veal
Hotteok, a kind of sweet pancake
Kimbap, very similar to the Japanese makis
Donkatsu, breaded pork fillet
Korean barbecue
Galbitang, Korean soup made of beef ribs
Best month to visit South Korea
The best month to visit Korea depends on your personal preferences and your budget. We hope the following comments will help you choose a date for your next holiday to South Korea.
High season: June – September
We chose June because it is still school time and we were spared the rainy season in South Korea, the heat and the crowds. Besides, in June the landscape is greener in general and there are plants in bloom such as hydrangeas. In any case, we believe that September can also be the best month to go to Korea.
Low season: November – April
The low season for travel to South Korea runs from November to April, which is when the price of flights to South Korea drops, as well as the price of hotels. So that, if you are looking for a budget travel to South Korea, have a look during those months. However, take in mind that temperatures drop and there is a chance of snowfall, making it the perfect time to enjoy other things to do in Korea in winter such as skiing or visiting museums and galleries.
Mid season: May and October
May and October might be the best time to visit South Korea if you're looking for cooler weather. In the spring, you'll see cherry and azalea blossoms in full bloom. By October, on the other hand, the humid summer heat has subsided and the weather is quite pleasant.
Finally, if you like outdoor activities, South Korea's coastline and islands are perfect to visit practically all year round – choose your best month to travel to South Korea and get ready for an unforgettable experience!
South Korea travel tips
We would like to share with you some important things to know before traveling to South Korea. It is always useful to familiarise yourself with some customs and cultural norms. Politeness and respect are highly valued in Korean society, so make sure you behave respectfully and keep quiet on public transport. We also think it is useful to learn some basic Korean phrases: thank you (gamsahabnida), hello (annyeonghaseyo) and goodbye (annyeong). Here is a list of tips for travelling to South Korea in 2023:
K-ETA (Korean Travel Authorisation). This kind of visa to enter Korea may be required if your home country is not on the list of exceptions. You can check here.
Download Naver Map and Maps Me: Google Maps DOES NOT WORK in South Korea. Therefore, these are the best map apps you can use in South Korea. We recommend you to download them in your country, before arriving in South Korea.
T-money for public transport. We recommend you to buy a T-money card which is used to pay for public transport in South Korea, especially subways and buses in cities such as Seoul and Busan. You can buy it at convenience stores such as 7-Eleven, GS25 and CU. It can also be found at major underground stations, where the card is VERY easy to recharge. IMPORTANT: it can only be recharged in cash. At the end of your trip, you can ask for a refund of any surplus on your card at the airport convenience stores.
Take out travel insurance: in case of illness, accident, flight delays, lost luggage, etc. We have a 5% discount for you on all IATI policies, with whom we take out all our travel insurance.
Translator. Use Google lens to translate signs and menus in restaurants. We also recommend downloading the English-Korean dictionary from DeepL. There are many areas where English is not spoken, so you will have to communicate with the translator you use.
Buy a SIM card. If you want to be able to move around with Naver maps, look for restaurants, timetables of tourist sites, etc. it is best to have a connection for the whole trip. We bought a SIM card with Chingu mobile. You can pick it up at Seoul airport and it only cost us 12 dollars.
South Korea – safe to travel. It's one of the safest countries in the world, so if you're thinking of a solo travel to Korea, it's an idyllic destination.
Revolut card (special for payments abroad). It worked for us at all ATMs, restaurants and shops in the country. It also has lower commissions abroad than any bank card. You can order it online here.
We hope this article has been helpful in planning the South Korea tourist places to visit. If you have any further questions or need more information, feel free to leave us a comment here. We're sure it will be helpful to other travellers – have a good trip localguider!
We are Ruth & Jorge, Gran Canarians with a travelling soul. Experts in tourism and digital marketing. We share the most authentic side of Gran Canaria (where we live) and… our adventures around the world!