In this post we will list 10 nudist beaches of Gran Canaria island. As you can imagine there is a wide variety of beaches and places to swim around the island. We have counted approximately 80 natural pools and beaches in Gran Canaria. We have them all at your disposal in our Guide to beaches and natural pools. Among those 80 options to enjoy the coast of the island, we wanted to highlight 10 in which you can also practice nudism. Here we go!
Nudist beaches of Gran Canaria
1. Playa del Inglés, San Bartolomé de Tirajana
We could say that Playa del Inglés is one of the few nudist beaches that has more services within a few steps: rental of sunbeds and umbrellas, toilets, Blue Flag, surveillance, beach bars and quite tranquility. You can not camp here, so you will find it clean all year round. You must bear in mind that not all the beach is nudist, only a part of it. To get to this point, you must walk towards Maspalomas. Therefore, if you have reduced mobility or a baby stroller, access is a bit difficult.
2. Maspalomas beach, San Bartolomé de Tirajana
As in Playa del Inglés, in Maspalomas you can enjoy a natural and clean environment to practice nudism. In addition, it also has a rental service for sunbeds, umbrellas and kiosks where you can buy food and drinks. You will also have to take into account that to get to the nudist area of Maspalomas you will have to walk a couple of kilometers until you reach kiosk number 4 on the beach. Towards kiosk number 7, you will arrive at the gay area of the beach. At this point of Maspalomas you will only have dunes and sea in sight, so the environment is 100% natural. Withoubt any doubt, Maspalomas is also one of the best beaches of Gran Canaria.
3. Montaña Arena beach, San Bartolomé de Tirajana
Montaña Arena beach is known by the local nudists of Gran Canaria, so you will practically meet residents on this beach. The bad thing is that during the summer months it is full of campers, so the feeling of tranquility and disconnection is lost. More trash also accumulates. It is a beach where the pets of their owners also come. There is no phone signal and services around. Access is by a trail of about 15 minutes with some difficulty.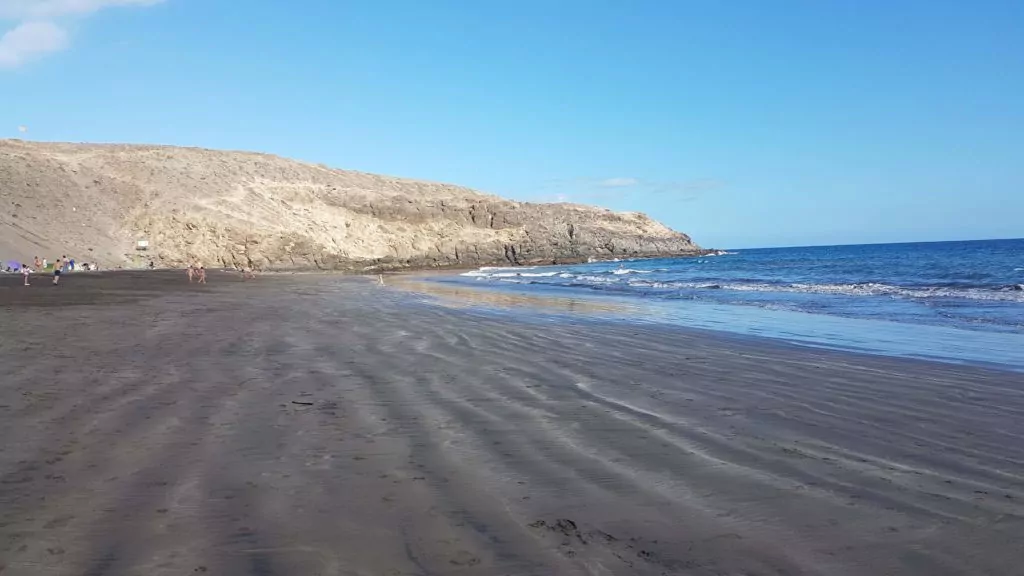 4. Las Mujeres beach, San Bartolomé de Tirajana
A few minutes by car from Montaña Arena we have this cove. Unfortunately, it is one of the dirtiest we list here, since the campers who frequent it do not ensure its conservation. Pets also usually come. Even so, the beach is beautiful and if you can visit it outside the summer months, as well as weekends or holidays, you will enjoy it. It is not an accessible beach, you will have to leave your car in a field and walk about 10 minutes on a path.
5. Tiritaña beach, Mogán
To get to Tiritaña you will have to walk a small path of about 20 minutes that is not accessible. Of course, when you get to the coast you will be in a completely quiet environment without phone signal. There are campers who frequent this beach (despite being prohibited), but it is not as saturated as the two mentioned above. It is much smaller and you only see the sand when the tide goes out. The rest are boulders. Remember to wear good shoes to get there.
6. Veneguera beach, Mogán
It is a beach that you can only get to by walking or driving almost 10 kilometers of a dirt road with stones. The environment is totally virgin, although it has some mango and fruit plantations at its access. The beach is of boulders or callaos (as we name it in the Canary Islands), although when the tide goes down there is some dark sand left. Many campers choose this beach, especially those who come in their van. So that, try to avoid weekends and summer months such as August.
7. Guigui beach, La Aldea de San Nicolás
It is one of the most paradisiacal beaches in Gran Canaria and we could say that it is the least accessible on the island. Therefore, we consider it a paradise. To get to Güigüi you will have to go by boat or pass the trail test of at least 1.5 hours per way. The path is steep, so you must be very prepared. We recommend you take a look at our article about how to get to Guigui beach with tips. Of course, the effort is definitely worth it.
8. Faneroque beach, Agaete
Faneroque beach is also characterized by its difficult access, since in order to reach the beach there must be low tide and, in addition, you must walk a path of about 20-30 minutes (part of it on slippery rocks). The beach is virgin and black sand. However, it is not very safe if you do not control the tides. In addition, it does not have surveillance and is an area of risk of landslides. We recommend that you take a look at our post about this beach if you decide to visit it.
9. Guayedra beach, Agaete. Nudist beaches Gran Canaria
At the end of the Guayedra ravine we find the beach of the same name. It is made up of boulders, although like most, when the tide goes down you can see the dark sand. Campers usually come here too, but with a little more awareness. Be careful in the access area on foot as there may be landslides. However, it is an easy beach to get to and the setting is spectacular with views of the mountains and Puerto de Las Nieves in Agaete.
10. El Confital beach, Las Palmas de Gran Canaria
If you are looking for a nudist beach in Las Palmas de Gran Canaria, the only option is in El Confital. You should bear in mind that the naturist part starts a few metres after its access area. At the same time, you should know that bathing is not recommended because the water is polluted. If what you want is to sunbathe naked and with views of the capital, this is the beach for you. The surroundings are peaceful and all the locals go swimming. Take the opportunity to visit the capital with the help of our article on things to do in Las Palmas de Gran Canaria.
As you can see, almost all the nudist beaches of Gran Canaria are virgin or difficult to reach by car, so if you like nudism, you are likely to discover areas of the island that not even many residents have visited. If you do not want to complicate yourself, the best nudist beaches of Gran Canaria are Playa del Inglés, Maspalomas and El Confital. Remember to put sunscreen everywhere 🙂
On the other hand, if you plan to camp on any of the nudist beaches that we mentioned, remember it is not allowed. However, since there is no surveillance, users ignore the regulations. Here you can find the camping areas and request your permission.
Guides of Gran Canaria
Finally, we leave you with our Gran Canaria guides where we also have a guide to beaches and natural pools in case you want to know all the options for sunbathing and bathing on the coast of the island. And, if you want to discover Gran Canaria like a local, check all our guides and special packs below.
Video: nudist beaches in Gran Canaria
Below you can see a video of some of the nudist beaches in Gran Canaria that we mentioned before. If you want to see more videos of the island, we are waiting for you on our YouTube channel.