In this article we are going to introduce you to our top 10 natural pools in Gran Canaria. That is, swimming pools with sea water. It is a great tourist attraction on the island, although little known to visitors. Most of the natural pools are concentrated in the northern part of Gran Canaria, since the coast is more volcanic. On the other hand, this type of bathing area is less common in the south of the island, where practically all the beaches are sandy.
Natural pools of Gran Canaria
The natural pools are coastal areas bounded by breakwaters and / or volcanic stone for bathing. Here you can swim in 100% water from the sea and safely.
Many of them even have a railing and stairs for easy access. Here we mention 10 natural pools in the north of Gran Canaria that you cannot miss.
1. El Agujero, Gáldar
For us this is one of the best beaches or natural pools in Gran Canaria. As we have commented on other posts, El Agujero has 100% local life. The pool is fully accessible via a ramp and you can swim safely. It is located just 10 minutes from the historic center of Gáldar.
2. Natural pools Las Salinas, Agaete
A few steps from Puerto de Las Nieves, one of the most beautiful towns in Gran Canaria, we find the natural pools of Las Salinas, in the municipality of Agaete. As you can see in the aerial photo, there are three pools, all with their corresponding stairs to access the salty water.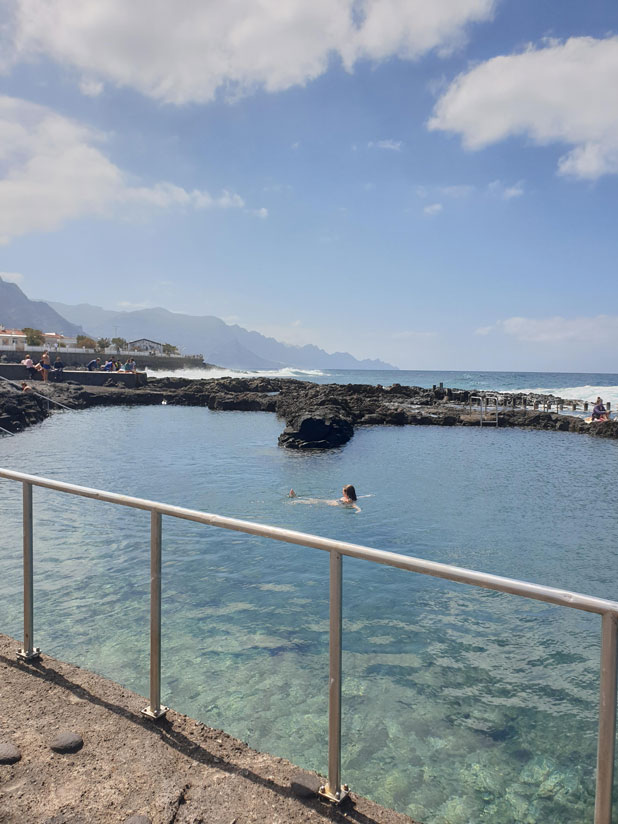 3. Charco de San Lorenzo, Moya
Also in the north of Gran Canaria, on the way to San Felipe town, we find one of the best-known natural pools in Gran Canaria. It is the Charco de San Lorenzo. As you can see in the following photo, its waters are calm. It also has stairs and a railing to access the beach.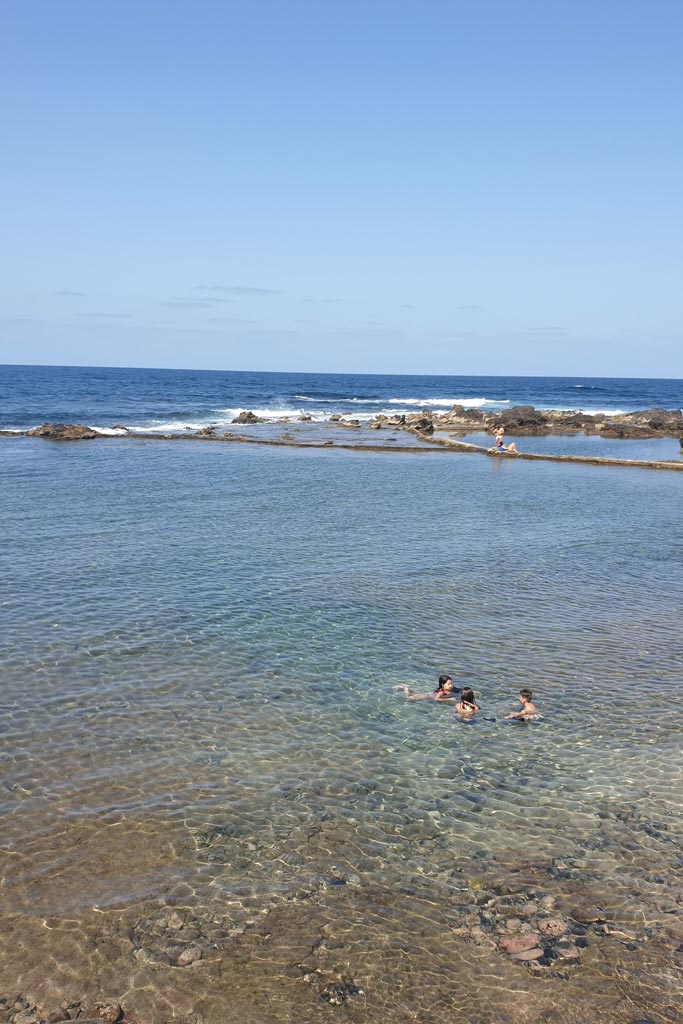 4. Natural pool Roque Prieto, Guía
The municipality of Guía has very few kilometers of coastline for swimming. However, Roque Prieto pool is well known among the northerners for taking a dip and sunbathing. As you can see, it is a haven of peace, since there is nothing around. Well yes, the virgin of Santa María de Guía, the main protagonist of the La Madrina festivities.
5. Los Charcones, Arucas
This natural pool on the coast of Arucas has the distinguished blue flag for its facilities and services: accessibility, showers… Los Charcones are several pools and a few steps away is El Puertillo beach, with what there is room for everyone. It is recommended for families, since it does not have much depth and has a sandy area to access the water.
6. La Furnia or El Clavo, Gáldar
One of the least known pools in Gran Canaria is El Clavo (named by the locals as La Furnia). It is also in Gáldar and we show it below. To get here you have to go down some stairs, so it is not very accessible if you come with a baby cart or if you have reduced mobility. A salty paradise.
7. La Laja pools & beach, Las Palmas de Gran Canaria
In Las Palmas de Gran Canaria we also have a few natural pools, all concentrated in La Laja Beach. This beach is located right at the southern entrance to the island's capital. Like all the sites we mentioned before, it is a very localguider area.
8. Los Dos Roques, Gáldar
If we continue advancing along the Gáldar coast towards Agaete, we have the Los Dos Roques beach and pool. We leave you below with an aerial picture of the area. As you can see, the sand is clear and the town is small. All this area of natural pools in the north of Gran Canaria is surrounded by banana plantations.
9. Pool El Altillo, Moya.
On the coast of the municipality of Moya they also have a good natural pool: El Altillo. It is located right in front of one of the best Canarian food restaurants on the island, La Marisma. From here you will have beautiful views of the Moya coast, including this natural pool.
10. Bocabarranco, Gáldar
Next to the beach and natural pools of El Agujero we find the Bocabarranco pool. Here perhaps the sea may be more turbulent since it is an area of strong waves. If there is a nice day, it can be wonderful.
Guide to beaches and natural pools
We do not want to publicly share all the natural pools that Gran Canaria hides because many are still not overcrowded and, therefore, retain their charm. That is why we have created this guide to beaches and natural pools in Gran Canaria with more than 80 options to take a dip on the island.
The guide is classified by municipality and includes the name of the beach / natural pool (so you can look it up on Google maps), a brief description, a photo and a table with its main characteristics. Even we mention a recommendation to eat around when there is an option nearby :). In this way, in addition to protecting our environment without revealing each site, you can support us for all the valuable and free content that we provide you.
Video of the natural pools of Gran Canaria
Then we leave you with a video in which we show you five of the previous pools, all in the north of Gran Canaria. You can subscribe here to our YouTube channel so you don't miss more videos like this one.
Guide to beaches and natural pools of Gran Canaria
Finally, if in addition to the natural pools you would be interested in knowing all the beaches on the island, by clicking on the following image you can take a look at all our guides, including the guide to beaches with around 70 natural beaches and pools in Gran Canaria. The guide includes the services of each beach, if it allows access to pets, if it is accessible, if it is nudist, etc.