In this article we want to share with you the 4 best routes for mountain bike in Las Palmas de Gran Canaria. You can do all of them in the same day (they are about 64 km long and have about 1300 m of total ascent). Or each one separately. Let's go!
Mountain bike routes in Las Palmas de GC
As you will see in following photos in the post, we did this route with a Gravel Bike. In other words, road bikes with mountain wheels, without suspensions. So you can do these routes with any Mountain Bike: enduro, electric, Xc or Rally bikes, etc.
Where do the routes leave from?
The track that we will leave you at the end of the post (you can download it and follow it with your mobile phone or with a GPS) leaves from the Cathedral of Santa Ana, in Vegueta. From that point you could leave to do the first two parts of the route (Guiniguada – Santa Brígida and Heidelberg – San Juan de Dios).
In case you want to do Los Giles area, you can leave from the La Cicer area (Las Canteras beach) or from the town of Los Giles. And finally, if you want to do the fourth part of the route, you can directly park your car in El Confital, although it will probably be a bit short. Here we will discuss some details of these 4 routes for mountain bike in Las Palmas de Gran Canaria.
1. Bike route through San Juan de Dios
This route offers us spectacular views of Las Palmas de Gran Canaria. It begins by going up the road towards the Heidelberg school, where we soon find a wide dirt track that goes up to El Fondillo. At the end of this climb the road is a bit broken, but it is passable if you have wheel lugs. On a road, we turn left to start flattening along singletrack trails that go up and down with very nice views.
This MTB route through Las Palmas ends near the center of San Juan de Dios. At that point we will begin a descent towards the San Juan area. We recommend that you turn right at the first crossroads (it appears on the track) to have spectacular views of the capital Gran Canaria, passing some very picturesque old military batteries.
2. Bike route through the Guiniguada ravine until Santa Brígida
This may be one of the best known routes for all mountain bikers in the city. It starts near the Triana neighborhood. It is a fairly smooth wide track, with some stones stuck so that you cannot pick up much speed. This track is winding and has a slight inclination that is barely noticeable.
They have made some wooden picnic areas on the sides, and have even fixed the top of the road. Once you reach the road to El Jardín Canario, the path continues under a small bridge like the one shown below.
After the only relevant climb of the Guiniguada ravine, advancing a few meters along a neighboring road, we go back into the ravine along a wide track prepared by the Island Council with stone or gravel. Which continues, becoming narrower and with more stones, until La Angostura. At this point you can continue by road to Santa Brígida or follow the track, direction Siete Puertas, San Lorenzo, Tamaraceite and finally Los Giles.
3. MTB route through Los Giles
We enter the circular route of Los Giles through the highest part, near the highway that passes through Tamaraceite. On the track we do not do the complete circular, so if you want to complete it, you just have to turn right past the second takeoff runway of the paragliders. This mountain bike route runs along varied trails and tracks. It has little stone and low difficulty in 90% of its route. Therefore, it is a good route for starters on the Gravel Bike or MTB.
The first part ends up crossing a highway and the path continues around a takeoff runway for Radio Control planes. Here you will have spectacular views of Las Palmas de Gran Canaria. You will ride skirting the cliff, well above sea level. We passed through 3 perfect spots for a good photograph of the capital as shown at the beggining. Finally we will go down an old road towards La Cicer. Where we will continue along the bike path that crosses Guanarteme until we reach the Santa Catalina Park.
4. Mountain Bike route through El Confital
El Confital is a heavenly place to practice MTB. On the track, the route we left you went along the upper path. This requires a certain technical level (but can even be done with a Gravel Bike) and ends at the end of the dirt track that is cut by entering a military zone. Finally, to return, we take the main track. If you want to lengthen it a little, you will not get lost if you follow the paths that are closest to the sea. Very nice views everywhere.
Characteristics of the MTB route in Las Palmas de Gran Canaria
Our intention sharing the track of these routes was to "mark" the four most mythical Mountain Bike routes through the capital of Gran Canaria. Each of the four routes can be varied and made longer by itself. But the intention was to make a track as "wide" as possible and circular. It took us about 5 hours to do it at a smooth pace and a total of 64 km. It has a low technical level and can be done with any mountain bike or MTB, Gravel Bike, e-Bike, Enduro …
| | |
| --- | --- |
| Distance | 64 km |
| Total ascent | 1.370 m |
| Estimated duration | 5 hours |
| Minimum drink | 1,5 l |
| Minimum food | 600 kcal |
| Provisioning en route | Yes |
| Technical level | Easy |
| Recommended bike | MTB, gravel, enduro |
Track of the 4 mountain bike routes in Las Palmas de GC
Then you can download the track of the route in .gpx format so that you can follow it on your own without getting lost. Below we have a pack of routes that includes this track in case you are interested. If you don't know how to download and follow a track from your GPS or smartphone with Guru Maps, here we explain it to you. And, if you want to support us so that we continue sharing routes for you, we would be grateful if you could buy some of our tracks, either to enjoy incredible routes or as a donation.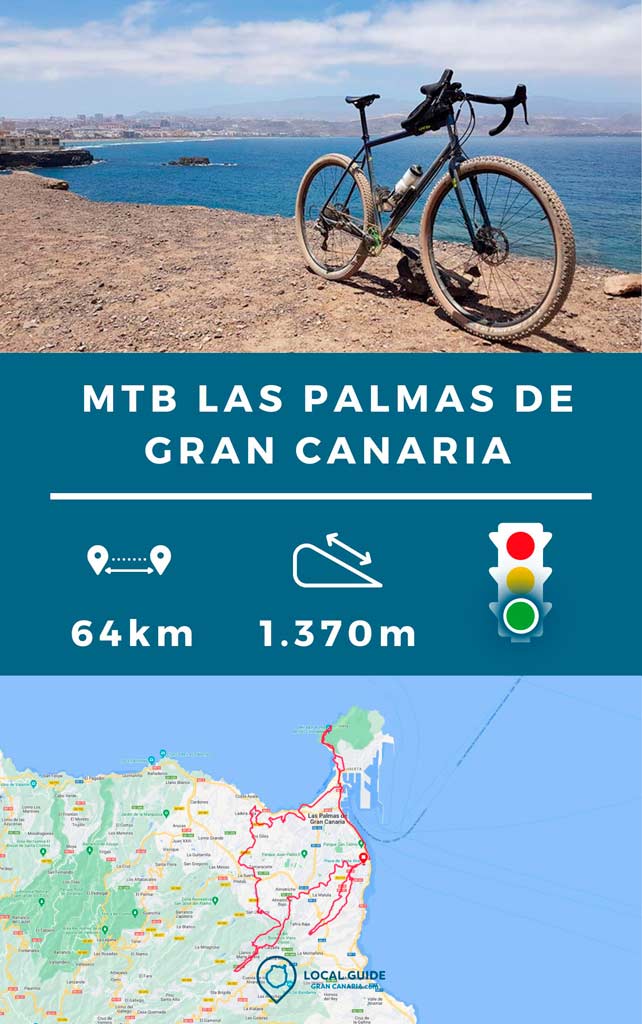 Pack best MTB and gravel routes in Gran Canaria
Below, you can get 5 gravel bike tracks for the price of 4. This pack includes the track of this article that runs through Las Palmas de Gran Canaria. Unlike the full gravel bike track, these are simpler and all circular routes, which requires less planning.
Find more bike routes through Gran Canaria below.