The Montaña Arena beach is one of the few virgin beaches of Gran Canaria. Despite of being located in the south part of the island, it is not that known by tourists. On the other hand, it is usually very popular by the residents from the island. The good thing from this beach is that since it is not very accessible, it is not a crowded beach. Moreover, you will check that it is an awesome beach because of its cristal water, fine sand and perfect to disconnect.
In Montaña Arena you can…
…practice nudism
…take your dogs with you (educated dogs and owners please)
…camp. Well, actually not, but everybody do it since it is not controlled. Take your trash with you!
…play beach tennis and other sports like football (when the tide is low)
In Montaña Arena there is no…
…mobile signal!!!
…public toilet
surveillance
…food and beverage sale point (sometimes there is a man selling ice-creams)
…shadow
…sun beds and umbrellas
Let's say that we won't recommend this beach to go with children, due to its difficult access. If you are going to carry a lot of stuff and also care about your children, it is a bit tough. Also, remember that it is a beach where dogs are permitted, so you won't be calm at all. Especially if your children is very young. However, this doesn't mean that you can not go with them. We have seen kids there, but other beaches could be better as Maspalomas, Las Canteras or Mogán beach. As we see it, it is one of the best beaches of Gran Canaria and one of the few where you can practice nudism on the island.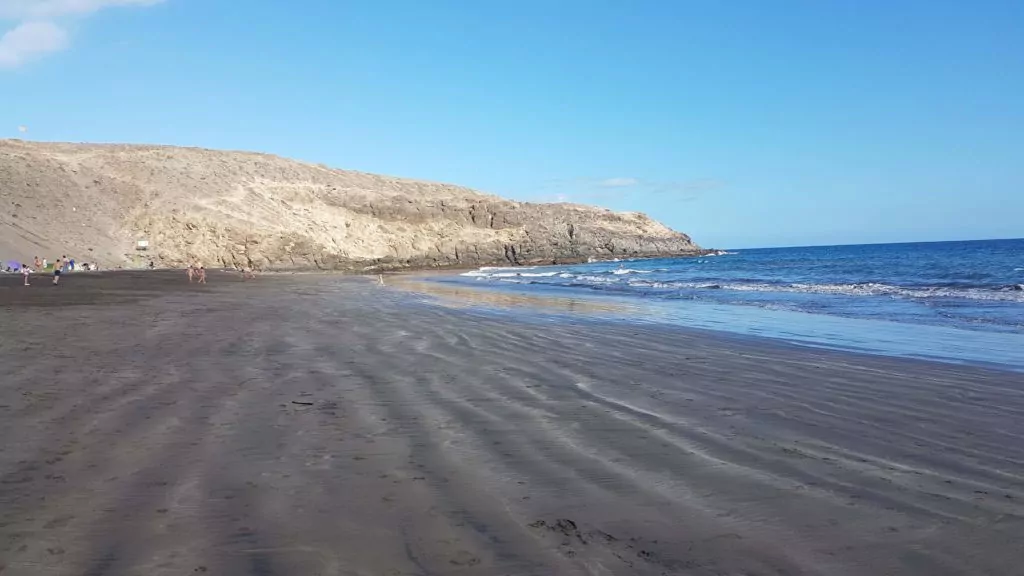 Please consider that in summer time this beach is quite crowded and could be more dirty because of the campers which spend there their holidays. We will always recommend you this beach from October to June and during summer try to avoid the weekends.
How to get to Montaña Arena
To get to Montaña Arena you have to continue through the coastal road from Pasito Blanco direction El Pajar (GC-500). You will pass by Pasito de Bea beach access, also named Las Mujeres beach (Women Beach). The next dirt road on the left side is the Montaña Arena one. The parking area is unpaved and full of bumps, so that we recommend you to park in the main road even if you have to walk a bit more. Unless you have a 4×4 vehicle.
Once you have parked, keep going direction the sea. We will arrive to the stone beach called Las Carpinteras. If you follow a coastal path on the left side (facing the sea), we will reach the Montaña Arena beach.
Although on this side of the path you can not see it, the access is not that easy in some parts. That is why we recommend you not to go too loaded and wear suitable footwear. However, it is about 10/15 minutes walk and you got it! From the trail to Montaña Arena you can have a great view to Las Carpinteras beach and at the background the cement factory.
Likewise, you can also do some kayaking in Gran Canaria and rent a kayak in El Pajar and reach Montaña Arena paddling.
It is one of the activities in Gran Canaria that we like the most, since it passes through many virgin coves on the island.
Low tide and high tide
The beach could have around 300 meters long. When the tide is low it is quite nice to have a walk from side to side several times, play beach tennis, etc. As you may see below, the beach is not that crowded and it is perfect for camping. However, when the tide is high the sea almost reaches the mountain, so that you should place your tent as close as possible to the mountain.
Do not forget to bring some food and beverage with you to spend the day there and remember to use sun screen! Finally, if you want to know more local places like this, we recommend you to have a look at our guides section. Let us be your local guide of Gran Canaria 🙂