In this article we want to share one of our favorite places to have breakfast in Gran Canaria, it is Luwak Café in Las Palmas de Gran Canaria. It is a small place specialized in healthy cuisine, mainly vegetarian and vegan. In addition, Luwak stands out for its specialty coffee, one of the yummiest we have had so far. In short, if you like healthy food, you are vegan or vegetarian and you are looking for where to have brunch or breakfast in Las Palmas, pay attention to the following lines!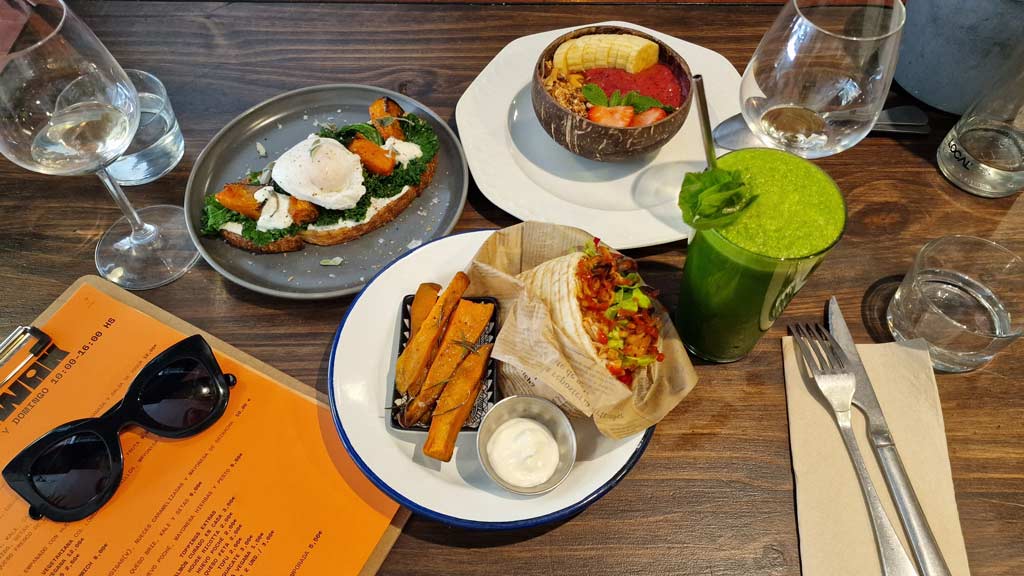 Luwak Café, breakfast & speciality coffee
Being a Café, Luwak's proposal focuses mainly on breakfast, brunch, light lunches and snacks. Also, on Saturdays and Sundays, starting at 10:00, they have brunch. In any case, part of their brunch menu can also be enjoyed during the week. As for their food, as we told you, they are specialized in vegetarian and vegan options. Although, for those who are flexitarian and eat fish, they also have some toast or salad with salmon.
One of the things we like most about Luwak is that many of the ingredients in their dishes are made in their kitchen. For example, homemade ricotta, granola, pastries or marinated jackfruit with barbecue sauce (it imitates pulled pork perfectly). In the previous photo we see their ricotta, pumpkin, kale and poached egg toast, the fruit bowl with granola and their pita bread with jackfruit and salad. Likewise, recently they have some appetizers with cheese (it can be vegan), baba ganoush, nuts and fruit on their menu. Look what it looks like!
Speciality coffee in Las Palmas
Café Luwak has only been in the city for a short time, but has already conquered the hearts of many locals and digital nomads. Their space is so nice and their coffee so delicious that it is already part of the routine of many remote workers. The coffee here is so good because they don't serve you just any coffee, it's specialty. Trust us, the difference is huge. By the way, we forgot to mention that on weekends they have a French toast with ice cream and fruit for those with a sweet tooth.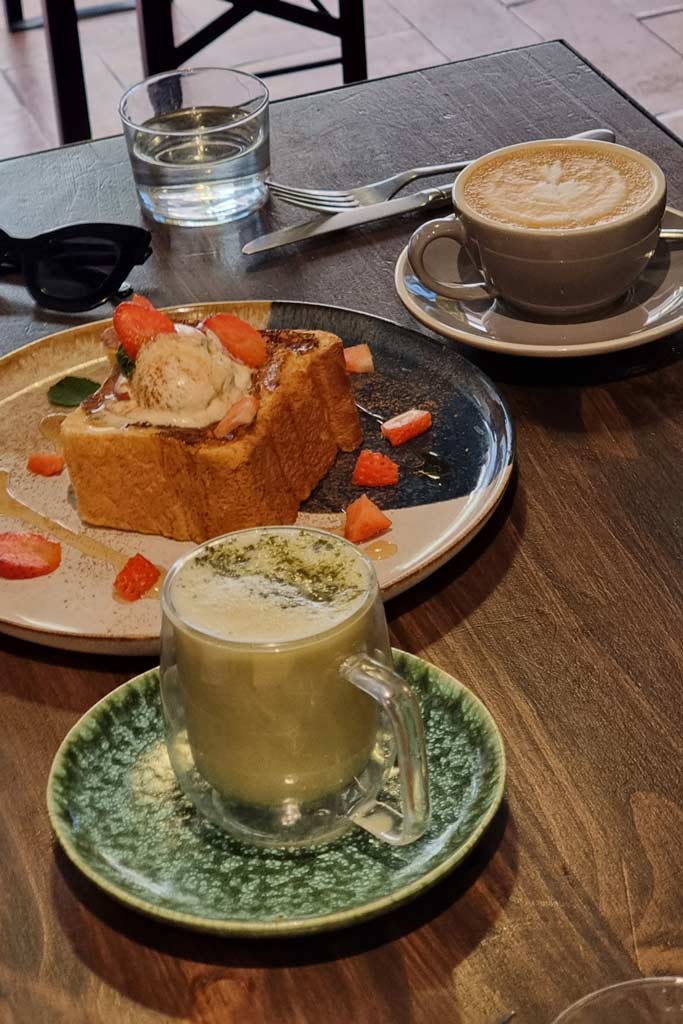 The café has an indoor dining room and a terrace on the Joaquin Costa pedestrian street in the city's coolest neighborhood, Guanarteme. As for the hours, you can come with your computer to work from Tuesday to Friday and/or to enjoy your healthy meal from 9:00. On weekends from 10 and on Mondays they are closed. On the other hand, keep in mind that they are only open until 4:00 p.m., at night Luwak turns into Mazu Cantina, a Mexican restaurant. That is, two different businesses share the same place, what a good idea!
Video of our visit
As you know, we never talk about anything that we haven't tried and seen first hand. Here is a video from our YouTube channel of the visit to Luwak. By the way, subscribe here if you don't want to miss the places that we are discovering on the island.
We hope that if you did not know Luwak Café yet, this information will be of help to you. So now you have one more place to add to your list of places to brunch or have breakfast in Las Palmas. In the same way, if you are vegan or vegetarian, you already have another corner to go to eat in the capital. Share this article with whoever you want to go and, until next time localguiders!