The natural pools of Los Charcones and El Puertillo beach are located on the coast of Arucas, a few steps from the town of Bañaderos. This is, in the north of Gran Canaria. Both sites are a few meters apart. If you like, in the following lines we are going to give you all the details so that you can visit this 100% local area of Gran Canaria. Here we go!
Los Charcones natural pools
These natural pools are one of the two bathing areas in Arucas that has been awarded the Blue Flag. This is due to the quality of its waters and the provision of services. It has showers and foot washers, a lifeguard surveillance post, toilets… In addition, it is accessible for people with reduced mobility, both to access the pools, the sea and the toilets.
Los Charcones is not really a beach as such with sand, it is a natural pool as we say in the Canary Islands. However, what is really natural is the sea water and the sea life that resides in these pools. In other words, it is an artificially constructed pool with stairs, railings, breakwaters and ramps.
El Puertillo beach
It is a small cove of black sand. Here the water is calmer, since it is practically surrounded by volcanic rocks that act as breakwaters. Like Los Charcones, it has the distinguished Blue Flag and the main services it offers are: surveillance, showers and footwash, toilets, it is accessible for people with reduced mobility and it has parking a few steps away.
In the sand of El Puertillo beach we can see different boats. And it is that in the past this beach served as an anchorage and pier for people and goods. The rocks in the area served as a natural barrier so that merchandise could be anchored and unloaded. This led to this neighborhood and beach being called "El Puertillo" or "El Portillo" (small pier in Spanish).
Another attraction of the beaches of Arucas is the observation of different species of birds and cetaceans such as dolphins and pilot whales, since it is a transit area for them. During winter and spring is when pilot whales are closest to El Puertillo. Stay tuned, you may see them rising to the surface to breathe!
Restaurants in Los Charcones and El Puertillo beach
Along the promenade Los Charcones that joins the natural pools of the same name and El Puertillo, there are several places to eat. One of them is called Los Charcones restaurant with a terrace in the middle of the promenade and views of the sea. There is another called Surkos and also has sea views. In the area there is also a bazaar or mini-market where you can buy a drink or snack. We haven't tried any yet, that is why we can't show you any picture.
Bañaderos, Arucas
The area of Los Charcones natural pools was also known as Bañaderos. This place name comes from the name that the Castilians gave to this site, known as "Bañadero" or "Los Vañaderos" (place to have a bath). Here the inhabitants of Gran Canaria bathed, especially women belonging to the noble estate.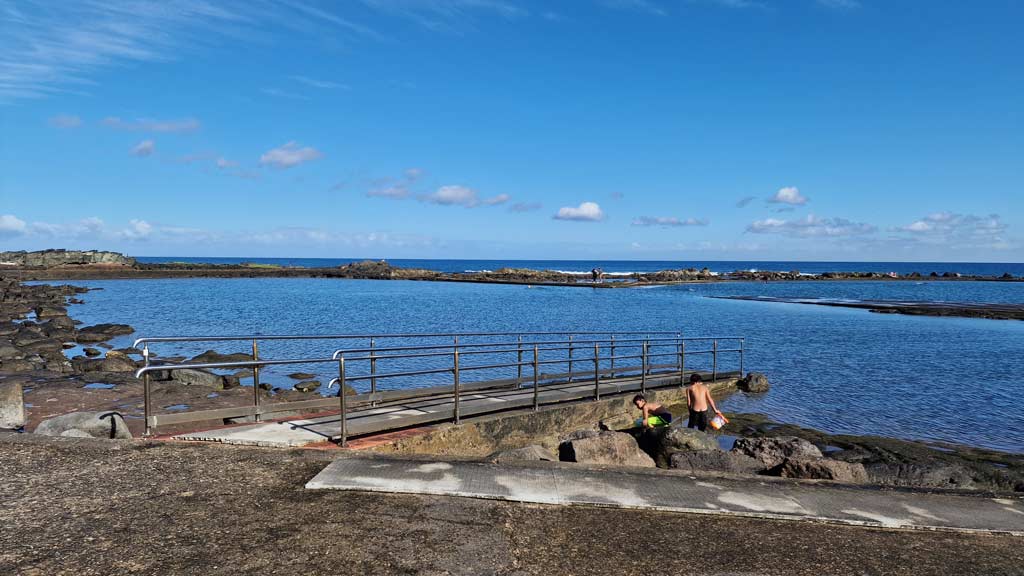 Finally, between Los Charcones and El Puertillo there is a small beach of stones and black sand that also has showers and footwash. The Bañaderos ravine empties here and bathing is more dangerous (there are no breakwaters as in the other two). It is where the locals of Arucas go surfing and bodyboarding most of the year. You dare?
Video of Los Charcones and El Puertillo beach
Then we leave you with some video images of these areas of the Arucas coast. If you don't want to miss more videos about plans to do in Gran Canaria, subscribe to our YouTube channel.
We hope this information is useful to you, remember that you can find more authentic Gran Canaria sites by browsing our website. If you don't want to waste time looking for information here and there, we invite you to take a look at our Gran Canaria travel guides with plans to do and places to eat on the island per day. That is to say, itineraries that we would propose to you to get to know the island on your own.