La Aldea de San Nicolás village is located at the west side from Gran Canaria, the less accessible area from the island. Why? Because it is far away from the other parts from the island and also due to its orography. This means that the road is full of curves. However, recently the road has been improved from the north and it takes less now to get there. It is only 1 hour drive from Las Palmas de Gran Canaria and the same from Maspalomas.
La Aldea de San Nicolás beach
Therefore, if you decide to visit this town and its coast, we guarantee you that you will teleport yourself to an authentic peaceful place. Moreover, at La Aldea de San Nicolás you could feel as another local and discover that this town still keep its essence. As a result, you won't have any chance and you will have to try its local food and have a bath at its non tourist beaches. How nice! Please consider that the 10th and 11th September take place the traditional town fest. So that, if you are looking for some calm you've better avoid these days.
As you could see at the beginning of this article, the beach is mainly made of pebbles. However, it has wooden tatami mats for sunbathing and, when the tide goes out, there is some sand left behind the tunnel that connects the beach with the pier area.
Places to eat in La Aldea de San Nicolás
We had a walk around the area and then we stopped to have an appetizer at Bar La Avenida. Actually, they treated us very well and they even brought some water for our dogs. The food offer is not that varied, but it is focused in local products which is the most important. They have Canary potatoes (papas arrugadas), octopus, cheese, salad and squeed. We could appreciate that the food was from good quality.
Maybe the best thing about this bar is the location because of its views and quite terrace. They also have some indoor tables, but it is small and not that pleasant.
There is also a nice pizzeria named Salento L'Aldea in the village about 5 minutes drive from the beach. They have delicious pizzas and salads.
At La Aldea de San Nicolás, besides eating yummy and breathing tranquility, you can also have a walk around the town and spend the day at its beaches. Moreover, you can visit the 'Charco' (some kind of seawater pool), where it is celebrated the well known fest 'Fiesta del charco'.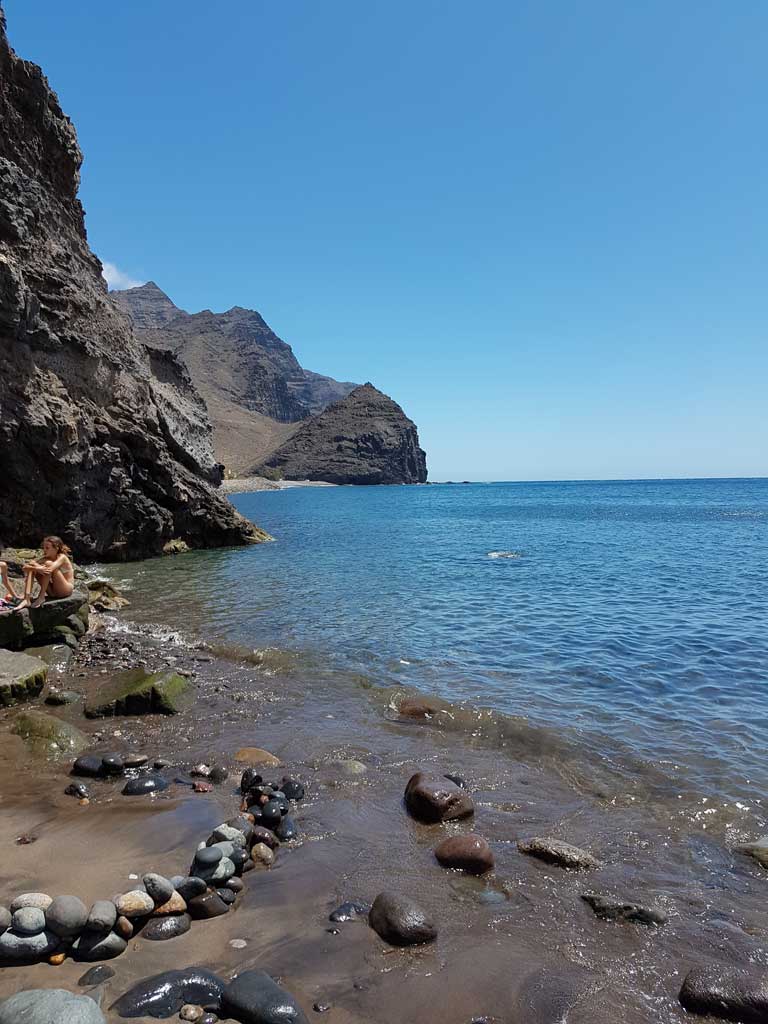 To get to the beach which is closer to the pier, you have to walk through a small pedestrian tunnel. This one could be seen from the sea promenade (check the first picture from the post).
El Charco fest
Concerning to its famous 'Charco" fest. This one takes place the 11th September. It begins at 5:00 pm with the sound of a firework. Once it has begun, all the participants get into the seawater pool to splash out and simulate the traditional fishing which was practiced long time ago. If you have face to enjoy this fest, you can see the locals wearing the traditional fisherman clothes. Bellow you can see the Charco without people.
La Aldea de San Nicolás village in video
Below we leave you with a video about the visit to La Aldea village, do not miss it! Activate subtitles for English and suscribe to our YouTube channel to enjoy more videos about Gran Canaria.
We hope you are encouraged to enjoy La Aldea de San Nicolás and tell us what you think! If you want to know more plans like this to discover the most authentic side of Gran Canaria in our Guides section you have at your disposal all our local guides. Check them by clicking on the image below!