If you are reading these lines it is because you are interested in the best Japanese restaurants in Las Palmas de Gran Canaria. We love gastronomy and, although Japanese cuisine is not typical of Gran Canaria, you should know that the capital has a good relationship with Japan. And, therefore, that is why we have good restaurants in Las Palmas. Next we will explain why our city has a certain Japanese influence and you must try here its exquisite cuisine. There we go!
Japanese restaurants in Las Palmas
In case you didn't know, it was in Las Palmas de Gran Canaria where the first Japanese restaurant in Spain was opened. Yes it is. And it is that the port of Las Palmas for decades has had a good traffic of Japanese fishing boats that come to the Atlantic coasts to fish for tuna and other large fishes. We have a very good genre a few steps from the Canary Islands. You just have to take a walk around the port of La Luz where you will see these large Japanese fishing boats like the well-known Koryo Maru.
On the other hand, there is a large community of Japanese residing in Gran Canaria. In fact, there are only two Japanese consulates in Spain and one of them is in Las Palmas. Did you know it? Well, we don't want to beat around the bush, we just wanted to give you a little more information so that you could value the Japanese cuisine of Gran Canaria. Then we are going to mention what for us are the best places to eat sushi in Las Palmas and other typical dishes of Japan.
1. Restaurant Fuji, best Japanese restaurant in Las Palmas
Fuji Las Palmas was the first Japanese restaurant in Las Palmas and in Spain with more than 50 years of experience. It was Mr. Sato who opened this restaurant and, after his retirement, chef Miguel Martínez managed it. At Fuji, their star dishes are sushi pieces like those shown below, as well as their carpaccios of butterfish, red tuna with truffle … A delight. You should know that the Fuji is not cheap, you may pay about € 35 per person or more. If you don't book in advance, chances are you won't get a table. We are talking about one of the best restaurants in Gran Canaria.
2. Restaurant Kyoto Gourmet, Japanese restaurants in Las Palmas
According to our Instagram community, Kyoto is one of the best rated Japanese restaurants in Las Palmas after Fuji. Here you will be able to delight yourself with typical dishes of Japanese cuisine such as sashimi, california makis, udon, yakisobas, tempuras and tartare. It is currently inside the Gourmet Experience of El Corte Inglés in Mesa y López Avenue. Concerning the price, depending on what you order, you will pay between € 25-35. They have a daily menu from Monday to Thursday quite affordable.
3. Hito, Japanese restaurants in Las Canteras
Unlike Kyoto and Fuji, the Hito has been in the range of Japanese restaurants in Las Palmas for less time. It is located on a street perpendicular to Las Canteras beach and we love their varied makis, sushis and gyozas. The first photo of this post is of the Hito restaurant. The price per person is around € 25. You can hardly eat sushi in Las Palmas for less than € 25 in a restaurant, you know that fish is expensive.
4. El Bento Japonés, experts in Omakase menu
This Japanese haute cuisine restaurant recently opened in the capital. Each and every one of the dishes on their Omakase menu (tasting menu) was awesome. Both in terms of fusion of flavors, and quality of raw material. We highlight the tuna belly in tempura, the enoki mushrooms rolled in sirloin sheets, their premium tuna sushi and sashimi and the foie makis. The menu has Canarian wines and the service is very good. Without a doubt, he has become one of our favorite Japanese restaurants in Las Palmas de Gran Canaria.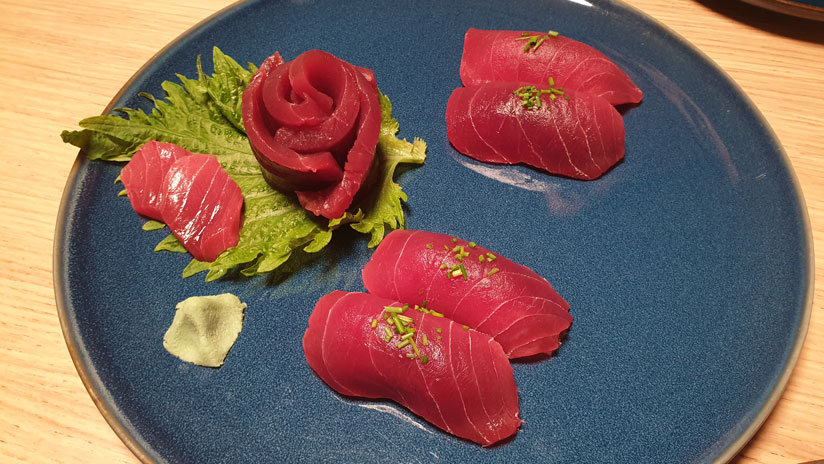 5. 218 Sushi Bar, cheap Japanese restaurant in Las Palmas
If you love sushi, but you don't always want to spend more than €30, we recommend you give 218 Sushi bar a try. It is a small place located in the port area that offers a wide range of makis and assorted sushi. We recommend you try the caramel salmon nigiris, those with foie, the crazy tuna and for dessert, don't miss the cheesecake mochis. The gyozas and the miami rainbow were also delicious. Don't expect a fancy or cozy restaurant, but the food is good.
6. Amaki Sushi, sushi delivery in Las Palmas
Amaki Suhi restaurant is a landmark of the sushi to take away in Las Palmas. In addition to being able to eat in the restaurant, it has a large display refrigerator with sushi boxes and other Japanese dishes to take away. It is located in the Triana neighborhood and it seems to us a great plan to eat healthy in the area. On the contrary, if you are at home and you fancy sushi, take note of the phone because they also do deliveries of their delicious sushi to your home.
7. Don Don Ramen, best ramen in Las Palmas
If you have been to Japan, you will know very well that ramen or noodle soups are part of their day to day. And finally, we have a ramen restaurant in Las Palmas. This is Don Don Ramen and here you can order different types of ramen, even with vegan options based on vegetables and tofu. They also have gyozas, another typical dish of Japanese cuisine. In this place you can eat for less than € 20 per person and, in addition, you will be well satiated. Their ramens are so yummy and you can choose the grams of noodles to add. Are you going to try it?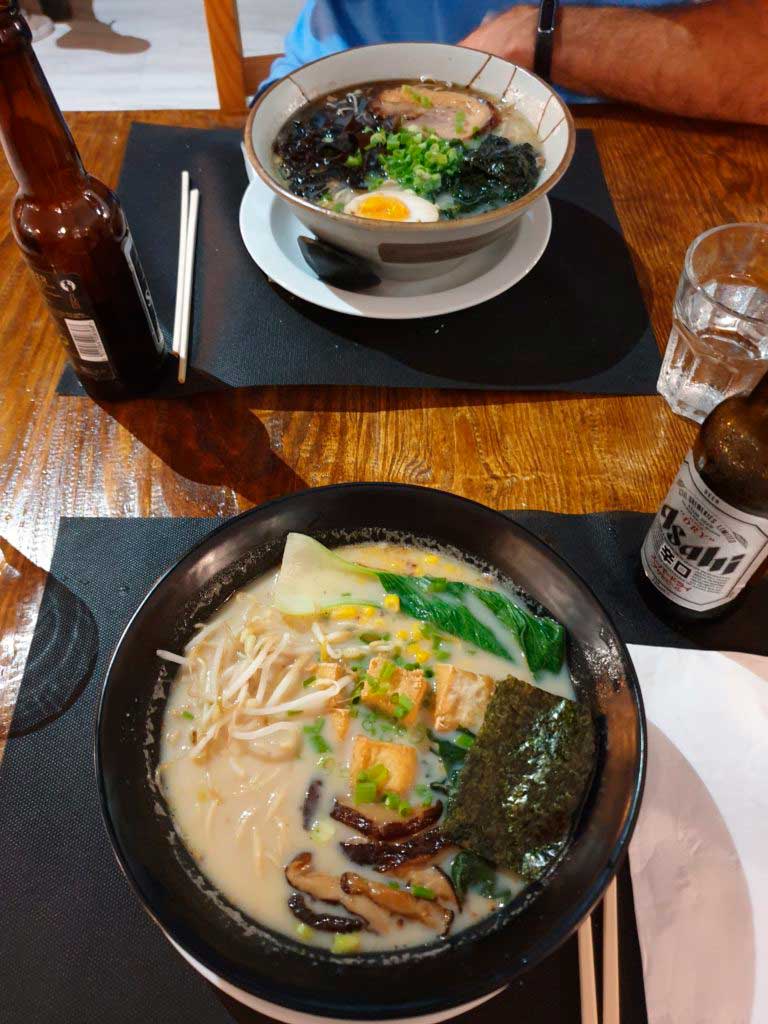 8. Sushi bar kome kome, Japanese restaurants in Las Palmas (Vegueta)
Next to the Vegueta market, in a hidden gallery, is the Kome kome sushi bar. As its name suggests, they offer a variety of sushi, quite fresh and of good quality. In the same way, their gyozas and tuna tartar will not leave you indifferent. For dessert we recommend ordering the gofio and coconut mochis, delicious.
9. Shintori, Japanese buffet in Las Palmas
Finally, although it is not my devotion, but for Jorge and other followers of our Instagram community yes, we have the Shintori restaurant. They are specialized in a la carte buffet food. They have two Chinese-Japanese restaurants, Shintori I and II. In these places you pay a price of about € 12 per person (drinks not included) and you can order the dishes from their menu as many times as you want. If you don't care about the quality of what you eat and you love eating, perhaps this is for you the best Japanese restaurant in Las Palmas.
Finally, if this is your first time in the capital, we invite you to take a look at our article on things to do in Las Palmas de Gran Canaria with all the best places to visit.
Japanese restaurants in Las Palmas
Here's a video of some of our favorite Japanese restaurants. Remember that if you subscribe to our YouTube channel you will be able to keep up to date with upcoming videos about Gran Canaria.
Well localguider, we hope this information has been helpful to you. It is clear that there is a wide range of Japanese restaurants in Las Palmas to choose from and for all tastes. Did you know them all? What is your favorite?