In this post we are going to explain you how to get to Roque Nublo. As you may know, this Monument is one of the most representative symbols of the Canary Islands and, of course, of the island of Gran Canaria. It is located within the municipality of Tejeda and is one of the highest points on the island. In addition, the Roque Nublo Natural Monument and its surroundings make up the Nublo Rural Park and in 1987 they were declared a Protected Natural Area.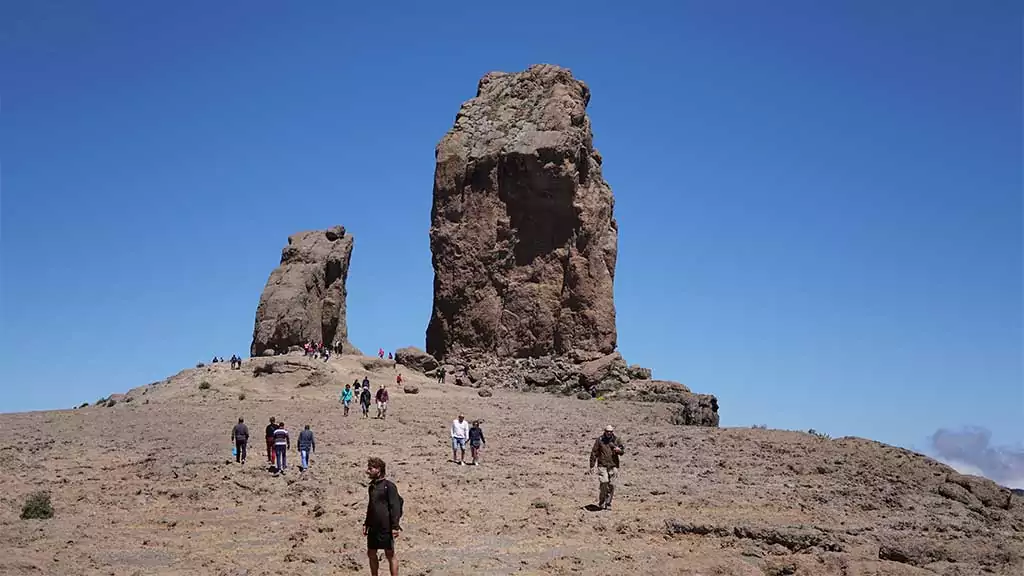 Roque Nublo, Gran Canaria
The visit to Roque Nublo is one of the best things to do in Gran Canaria. It is 1,813 meters above sea level, so you can imagine the spectacular panoramic view that you will have from here to the interior of Gran Canaria and to the island of Tenerife. According to sources from the Government of the Canary Islands, it is one of the largest rocks in the world. Next we are going to share with you one of the hikes in Gran Canaria that cannot be missing if you want to visit the most representative places of the island. Below we explain you how to get to the Roque Nublo on foot.
How to get to Roque Nublo?
First of all, you have to know that it is possible to take several hikes on foot to the Roque Nublo Natural Monument itself. Here we will talk about the shortest and fastest way to get to Roque Nublo accessing on foot from the parking lot. To reach this place, first enter "Roque Nublo" or "Degollada de La Goleta Parking" into Google Maps or Waze. The app will take you to the car park where the hike to Roque Nublo begins.
| | |
| --- | --- |
| Distance | 3 Km |
| Estimated duration | 1 hour |
| Circular | No |
| Picnic area | No |
From Las Palmas de Gran Canaria it takes about an hour by car passing through Santa Brígida and San Mateo. At the same time, we can say that it takes practically the same if you come from Maspalomas, along the Fataga road. If you would like to visit this emblematic place with an expert guide, there is a tour from the capital with very good opinions from other travelers. You have all the info here.
How long does the hike take?
The beginning of the trail is just in front of the parking lot, so you can't get lost. The hiking trail to the top is just 1.5 km out and 1.5 km back. Being a climb on the way out, let's say that in a total of one hour you could do the walk. That is, about 40 minutes on the way up and about 20 on the way back down. Unless you go with children or someone older.
To the walking time you must add something more to take pictures and appreciate the spectacular views of the summit of Gran Canaria and its Sacred Mountains. What's more, from here you can take one of the most Instagrammable photos of the island of Gran Canaria. Next, we give you a curious fact. It has always been said that the small monument next to the Roque Nublo is in the shape of a frog. What do you think?
On the other hand, on its side there is another monument and that you will find on the walk going up, it is the Roque del Fraile (Friar), since its silhouette resembles that of a friar. In the next photo we see the Roque del Fraile on the left and in the background the Pico de Las Nieves covered by the clouds. The Pico de Las Nieves is one of the highest points in Gran Canaria with 1,949 meters of altitude.
Video about how to get to Roque Nublo
Next, we leave you with a more detailed video on how to get to Roque Nublo in terms of roads, parking, trails, etc. It is in Spanish, but you can activate the English subtitles.
Roque Nublo Rural Park
Both next to the monument and throughout the Parque Rural del Nublo there are several hiking trails to enjoy one of the best natural spaces on the island. We recommend the Charco de la Paloma route that passes through Culata de Tejeda. Although, if you do not have much time, from the top you will be able to appreciate the closest towns and places of interest. For example, Ayacata, the Chira dam, the Pico de Las Nieves and La Culata. If the day is clear and there is no haze, you can also see the peak of El Teide (Tenerife), the highest mountain in Spain. You can see it in the next photo just above the clouds.
As we showed you before, the previous location is also becoming very trendy to take a photo. If you have vertigo and you are somewhat clumsy, we do not recommend it, since it is a bit dangerous to access. It is a few meters from Roque Nublo. Since you are in the interior of Gran Canaria and have had to go through all these curves, we recommend you visit Tejeda, one of the most beautiful towns in Spain. Likewise, why not stop in Cruz de Tejeda to buy local products from the island such as bienmesabe or even take another hiking route. In fact, if you like active tourism, you could do the circular route that goes from Cruz de Tejeda to Tejeda.
On the other hand, another of the rocks that you should know in Gran Canaria and that is very close to Nublo is Roque Bentayga. There is also a (short) path that will allow you to ascend to it. Many visitors confuse them because they are quite similar. Judge for yourself below.
Tips to get to Roque Nublo
Try to go early in the morning on weekends and bank holidays if you would like to find a parking place. This means being there before 11:00 am
Take enough warm clothing. Due to the heights you can be under cero degrees in winter. The rest of the seasons you can also be around 8-10 degrees.
Wear proper hiking shoes. The path is not that long, but it is a high slope with pine leaves in some parts.
Get there with children. You can get there with your kids as the trail is not that difficult and it is one of the hiking routes that we recommend to go with kids. We show you below a part of it.
If you are not used to curvy roads, you may get dizzy on the way. Both from Las Palmas de Gran Canaria, and from the south. Avoid looking at your smartphone when you're on the go, open the windows and breathe.
Also, we leave you with a picture from what happens to most of the tourists which do not read our recommendations before visiting the Roque Nublo. They take towels to wrap their selves and wear inadequate shoes and clothes. Please do not do this. It is better that you change your clothes in the car, than to twist one foot or catch a cold.
Souvenirs and local products
Also, another advice is that it is not necessary at all to bring food or drinks with you. Just before you start the trail you will find a stall where they sell local products and souvenirs. They offer orange juice, coffee, ice creams, sandwiches of cheese or chorizo of Teror or both together.
Sunset in Roque Nublo and video
As we told you before, Roque Nublo and the Nublo Rural Park is a must-see within the places to visit in Gran Canaria. It is the best way to get to know the diversity of landscapes and microclimates that we have on the island of Gran Canaria. In addition, from Roque Nublo you can enjoy one of the best sunsets in Gran Canaria.
How to get to Roque Nublo video
We have also prepared for you a video about how to get to Roque Nublo and how it is a sunset in one of the highest points of Gran Canaria. Remember to activate the subtitles for English and to suscribe to our channel. Enjoy!
Guides to Gran Canaria
Finally, we invite you to take a look at other articles about places you cannot miss on your visit to Gran Canaria.
Finally, if you want to save time planning your trip and get to know more places like this with our help, we suggest you take a look at our Guides to Gran Canaria. We are not the official tourism website of Gran Canaria, but we were born and live here and we share with you what we would like you to share with us about the places we travel to: local tips, restaurants, places that are not very crowded, etc.