In this post we are going to explain you how to get to Roque Nublo. This Natural Monument is one of the most representatives icons of the Canary Islands and, of course, of Gran Canaria. So that, you have to know how to reach it. It is located in the municipality of Tejeda and it is one of the highest points of the island with 1.813 meters high above sea level. Moreover, the Roque Nublo and its surroundings were declared Special Natural Area in 1987.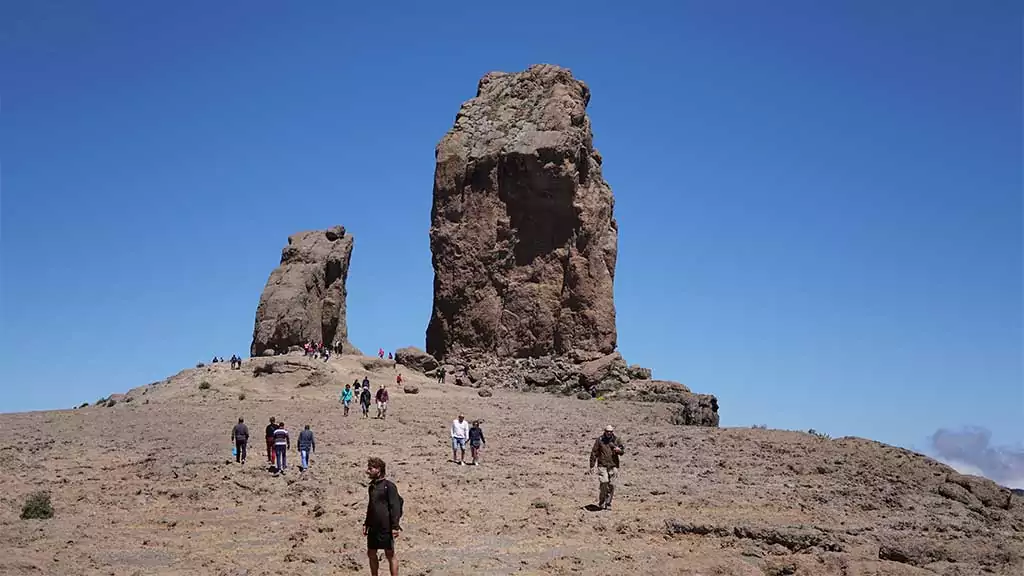 Next we are going to share with you one of the hiking routes in Gran Canaria that you cannot miss on your list if you want to visit the most representative places of interest on the island. Below we will tell you how to get to Roque Nublo on foot.
How to get to Roque Nublo?
You should know that it is possible to make different routes on foot to reach the Roque Nublo. Today we will tell you about the shortest way from the parking area. First, you can introduce in your navigator "Roque Nublo" or "Aparcamiento de la Degollada de la Goleta". Your car will take you to the parking area where the shortest hike to Roque Nublo starts. The trail is only 1,5 km per way. As it is a rise, let's say that in about 30 minutes you will reach the top and the same to go down. In case you are going with children or with an older person it could take you more.
| | |
| --- | --- |
| Distance | 3 Km |
| Estimated duration | 1 hour |
| Circular | No |
| Picnic area | No |
You should add some more time to the walking time to appreciate the spectacular views of the peaks of Gran Canaria and its Sacred Mountains, as well as to be able to take some photos. What's more, from here you can take one of the most instagrammable photos of the island of Gran Canaria.
The frog and the friar
On the other hand, it has always been said that the small monument which is next to the Roque Nublo has the shape of a frog. We show it below in order that you can let us know your opinion. What do you think?
Moreover, there is another monument which we will find during the way which looks like a friar. In the following picture you can see the friar on the left side and in the background there is the Pico de las Nieves covered by the clouds. The Pico de Las Nieves is one of the highest mountain of Gran Canaria with 1.949 meters high.
Enjoy awesome views from Roque Nublo
At the Nublo and its surroundings you can take incredible pictures. You can see from the top of the trail La Culata and Ayacata villages, the Chira dam and the beloved peak Teide, the highest mountain of Spain (Tenerife). If you want an epic picture, the spot which you can see below is getting famous. If you are afraid of heights and you are a bit clumsy, we do not recommend it, since it is quite dangerous to get there. Please, be careful.
Tips for visiting Roque Nublo
✔ Try to go early in the morning on weekends and bank holidays if you would like to find a parking place. This means being there before 11:00 am
✔ Take enough warm clothing. Due to the heights you can be under cero degrees in winter. The rest of the seasons you can also be around 8-10 degrees.
✔ Wear proper hiking shoes. The path is not that long, but it is a high slope with pine leaves in some parts. We recommend you to have a look at our article about the basic hiking kit.
✔ Get there with children. You can get there with your kids as the trail is not that difficult and it is one of the hiking routes that we recommend to go with kids. We show you below a part of it.
Also, we leave you with a picture from what happens to most of the tourists which do not read our recommendations before visiting the Roque Nublo. They take towels to wrap their selves and wear inadequate shoes and clothes. Please do not do this. It is better that you change your clothes in the car, than to twist one foot or catch a cold.
Souvenirs and local products
Also, another advice is that it is not necessary at all to bring food or drinks with you. Just before you start the trail you will find a stall where they sell local products and souvenirs. They offer orange juice, coffee, ice creams, sandwiches of cheese or chorizo from Teror or both together.
The Roque Nublo and the Parque Rural del Nublo is a must-see among the places to see in Gran Canaria. It is the best way to know the diversity of landscapes and microclimates that we have on the island. In addition, from the Roque Nublo you can enjoy one of the best sunsets in Gran Canaria. Likewise, since you are here, we recommend that you visit the town of Tejeda and go to Roque Bentayga.
How to get to Roque Nublo in video
We have also prepared for you a video about how to get to Roque Nublo and how it is a sunset in one of the highest points of Gran Canaria. Remember to activate the subtitles for English and to suscribe to our channel. Enjoy!
As always, it is a pleasure to be your local guide of Gran Canaria. And it will be a pleasure that our local guides could help you to discover the most authentic side of the island on your own. The best thing is that you do not have to waste your time planning anything, it is all done! Have a look to all of them by clicking the image below.
Finally, if you do not have your travel insurance for your next trip to Gran Canaria or wherever in the world, with us you have a 5% discount by clicking on the following picture.