Are you looking for holidays in Telde? It is not a bad choice. This location is in the east of the island of Gran Canaria. It is also the second most populous municipality on the island with more than 102,700 inhabitants (2020 data). At the same time, its capital, which is also called Telde, is the second most populous city in Gran Canaria, after Las Palmas de Gran Canaria. The beaches of Telde are one of the main tourist attractions of the municipality. However, we cannot leave behind its old town, trails, archaeological sites and wide gastronomic offer. We tell you everything below!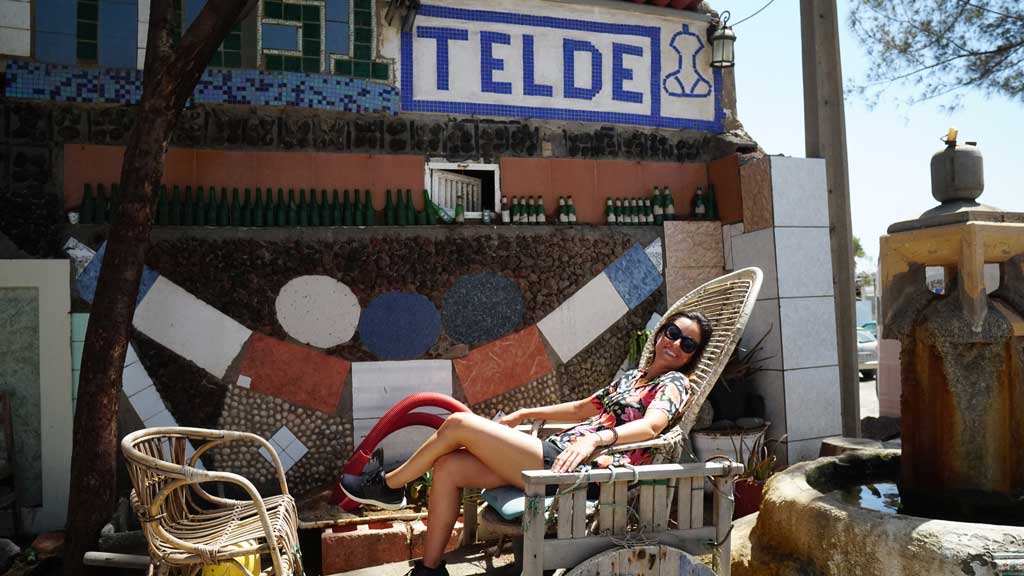 Things to do in your holidays in Telde
Below we mention all the things to do in Telde, Gran Canaria, from its urban center, to its coast, its mountains, archeological sites, museums, restaurants and accommodation. Your holidays in Telde can be better if you follow our local tips!
✔ Old town: San Juan, San Francisco and San Gregorio neighborhoods
One of the best places to visit in Telde is its historic center and its three most important neighborhoods: San Juan, San Francisco and San Gregorio. All three can be explored on foot. In San Juan we suggest a stop at the Plaza de San Juan square where you will see the Church of San Juan Bautista, also the beautiful corner of Plácido Fleitas, the surrounding pedestrian streets, as well as the well-known Lulú Park.
If it is of your interest, inside the Basilica of San Juan you can visit the holy Christ of Telde, made with corn paste, vegetable dyes and wood. It represents Jesus of Nazareth and recalls the moment in which he was crucified.
A few steps from the Plaza de San Juan is also the Telde Town Hall and a tourist office, in case you want to ask any questions about your holidays in Telde. From this neighborhood you can also walk to one of the largest parks in the city: Parque de San Juan. An ideal place to walk and play sports. And cross the street to reach the neighborhood of San Francisco, one of the oldest in the Canary Islands.
Similarly, in Telde you can discover on foot the historic neighborhood of San Francisco, one of the oldest in the Canary Islands. Here its pedestrian streets, small houses, the San Francisco aqueduct and the house of the Sall stand out. In addition, a few steps away is the León y Castillo House-Museum. Here you will be able to know first-hand the life and history of this politician and diplomat from Gran Canaria.
Finally, don't miss the traditional shopping area of the San Gregorio neighborhood, where you will find practically all kinds of shops and restaurants. Here you can also walk next to the square and neoclassical church of San Gregorio, one of the patrons of Telde with San Juan. In fact, this municipality celebrates both the San Juan festivities on June 24, and those of San Gregorio on November 17.
✔ Telde beaches
As we said at the beginning, the beaches of Telde are a great tourist attraction, but above all for the residents. The main reason is that it is a few minutes by car from Las Palmas de Gran Canaria and, when there is a donkey's belly, it is often sunny in Telde.
At the same time, its beaches are less kilometers long than the most famous of Gran Canaria. Likewise, some of them are small coves like Tufia, our favorite in Telde. In addition, they are mainly dark sand, although we have the exception of Aguadulce beach with golden sand.
On the other hand, you should know that several beaches in Telde have the distinguished Blue Flag for their services and facilities. These are Melenara beach, Salinetas beach, La Garita and Hoya del Pozo. Finally, if you are looking for a beach to surf in Telde, you can do it in Playa del Hombre, which is therefore the most dangerous as well. Finally, to eat with views of the sea we recommend the beach of Ojos de Garza, if possible, at low tide.
✔ Bufadero de La Garita
A tourist attraction of Telde is El Bufadero de La Garita, many even include it as a mandatory stop in Gran Canaria (we don't think it's that bad). However, since we are talking about things to do in Telde, El Bufadero could not be missing. Also, the sea promenade is very nice.
Next to the promenade of La Garita beach, just when the tide is low, we can see a large hole surrounded by a set of prismatic basalt figures. Therefore, when the tide begins to rise, a jet of water is expelled at high speed through the hole of El Bufadero. At the same time, this movement of the sea also emits a rather peculiar sound every time it expels and engulfs the water.
✔ Cuatro Puertas archaeological site in Montaña Bermeja, Telde
This archaeological site is located about 3 kilometers from the old town of Telde and is the largest in Gran Canaria. Its name, Cuatro Puertas, is due to the four door-shaped cavities that give access to a large cave.
This pre-Hispanic site covers the entire Bermeja Mountain, although only the upper part can be visited. In addition to Cuatro Puertas, there are other artificial caves: Almogarén, Los Papeles, Los Pilares, La Audiencia and La Cantera de Molinas.
Apparently these constructions were carved with stone peaks by the Canarian aborigines. According to experts, here the Canarian aborigines practiced religious rituals, as well as used the cavities to store grain and other functions that are still unknown.
If you are interested in archeology, in Telde there are other archaeological sites that you can visit. They are Tufia (next to Tufia beach), Tara (Tara neighborhood) and Cendro (Caserones neighborhood). The piece of clay in the shape of a woman that we showed you earlier is the Idol of Tara. At first it was believed that this piece of aboriginal art had been found at the Tara site, in Telde. Today there are certain doubts about its origin.
✔ Los Cernícalos ravine, hiking in Telde
Between the municipalities of Telde and Valsequillo there is one of the most beautiful ravines in Gran Canaria and where we can see running water all year round. It is the Los Cernícalos ravine, a few steps from the Lomo Magullo neighborhood. You have all the information about this hiking route through Telde by clicking on the above link.
Restaurants in Telde
If you are looking for places to eat in Telde, you should know that there is a wide gastronomic offer from its old town to its coasts. If we talk about the city center, without a doubt, the first option is the La Tunera restaurant. Here they make their own vermouth, gofio liqueur and their menu is one of the most original and tasty on the island. We invite you to have a look to our post about our favorite restaurants in Telde.
The restaurants on Melenara beach (La Rubia, El Mago Karlin …) are also very famous. However, on the coast our favorite is the Taliarte Fishermen's Guild. Likewise, you can eat well at the Zurita Bar on the beach of Ojos de Garza. Nor can we forget the famous places to eat a sandwich in Telde. These are the Yazmina Bar, known for its roasted pork sandwich, and the Dos Hermanos restaurant, visited for its squid sandwich.
Finally, if you want to have a drink or cocktail, we recommend you the Aquelarre Cocktail Bar.
Hotels in Telde, Gran Canaria
As we see it, a hotel in Telde is a very good option to spend a few days during your stay in Gran Canaria. And who says hotel, says apartment or vacation home. Below you can see all the options of hotels, holiday homes and apartments offered by Booking in Telde, such as the spectacular rural house Oasi Feliz or the penthouse that we show you below.
Videos about Telde
In the following video we invite you to discover the old town of Telde and La Tunera restaurant. Likewise, we invite you to subscribe to our YouTube channel here. You can activate the English subtitles!
We hope this article has been helpful to you. If this is your first time in Gran Canaria, we are sure that the following posts will also be useful for you:
If you don't want to be looking for information about the places to visit on the island, in our Gran Canaria guides and itineraries we have everything organized for you. In this way, in addition to saving time when planning your days, you will not miss the essential places that we recommend and where residents usually eat.